How to Export PST File from Exchange Server 2016/2013/2010?
Are you facing trouble to find an efficient and smart solution on how to export pst file from Exchange Server 2016/2013/2010? If so, then you at the right place. In this write-up, we will guide you to export pst file from EDB Exchange by using the professional method described here.
Microsoft Exchange Server is a mail server used by every IT organization & other industry vertical. It helps them to manage all the mailboxes (user, archive, shared, disconnected, etc..) and its data items (mails, contacts, calendars, notes, journals, etc..) stored in Exchange database file format.
To save all these Exchange data from threats that may occur in the future such as – corruption, Exchange Server crash, hardware/software failure, hacking, and many more. Due to all these reasons, users or companies will lose all its data.
Data loss makes a great impact on company productivity & growth by losing all its Exchange mailboxes data. That's why it is necessary for you to export EDB mailbox to PST from Exchange Server to keep the data safe and secure.
In case, if any disaster occurs in future than the user will have a backup file i.e. Outlook data file and they can import that file directly into MS Outlook or Exchange Server to access all the Exchange data back.
To export pst from EDB Exchange 2010/2013/2016 and any other version you can use the professional solution i.e. Exchange Export software which helps users to export all mailboxes and data items from the selected Microsoft Exchange Server versions.
One can also use the Exchange Management Shell and EAC is used as a manual method but due to certain limitations, it is recommended to use the advanced solution which provided the simplified way to export Outlook data file from Exchange Server.
Limitations Of Manual Solution
Risk of data loss
Prolonged and time-consuming method
Requires technical and in-depth knowledge
Export only one Exchange mailbox at a time to PST file
The solution does not properly work with damaged/corrupted EDB file or mailboxes
Apart from this Microsoft Exchange doesn't provide "Mailbox Import Export" permission by default. Users have to assign the role in EAC and Exchange PowerShell. So, that they can export or import the required mailboxes or data items to the PST file format.
After that, you have to create the shared folder to save the exported data and provide read/write permission to the Exchange Trusted Subsystem security group of that folder.
Note: If any of the EDB file is unexpectedly dismounted or offline then the manual method is not able to export the Exchange data. In this scenario, you can use Exchange Recovery Software, that supports dismounted/offline Exchange database file and remove minor/major corruption and recover permanently deleted Exchange mailboxes and items from loaded EDB file. It provides an export option to save the Exchange data directly to Live Exchange Server/Office 365, and PST, MSG, EML, PDF, MBOX, HTML file format.
Use Automated Wizard For How to Export PST File From Exchange Server 2016/2013/2010
Exchange Export software is an advanced solution that easily exports the various mailboxes and items such as: notes, calendars, tasks, mails, contacts, journals from Exchange 2010/2013/2016, and various other versions to the PST file formats in a single shot.
This utility auto-detect, scan, and load the Active Directory configuration. It allows users to search mailbox within sub domain and provide "maintain folder hierarchy" option that preserve the same folder structure after exporting the Exchange data to the PST file.
The software provides date filter option which allows you to export the Exchange mailbox data within a specified time period. It doesn't require any technical knowledge and skills to use the software and the user can save their time and effort by using this tool.
It supports MS Window OS (XP, Vista, 7, 8, 8.1, 10), Outlook, and Exchange Server versions from 2003 to 2019. After exporting the Exchange mailbox to the PST file, the utility creates the export report which contains the information of the exported data.
Stepwise Method For How to Export PST File From Exchange Server 2016/2013/2010
Step 1: Download the Software on you Windows system > Install > Launch it

Step 2: Insert the required details (Admin SMTP address, Password, Active directory and Exchange Server IP) > Select the Exchange Server version > Click on the "include sub-domain user" checkbox > Click on Login
Step 3: Click on the Exchange Mailboxes > Click on the Next button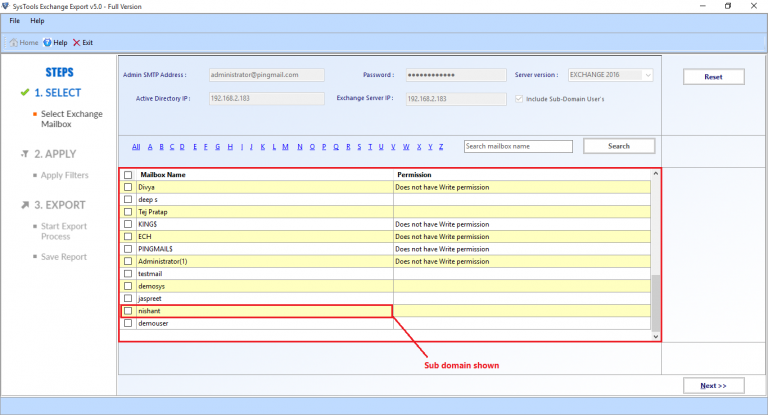 Step 4: Click on the Mailbox data items > Select the browse button to set the target file path > Click Export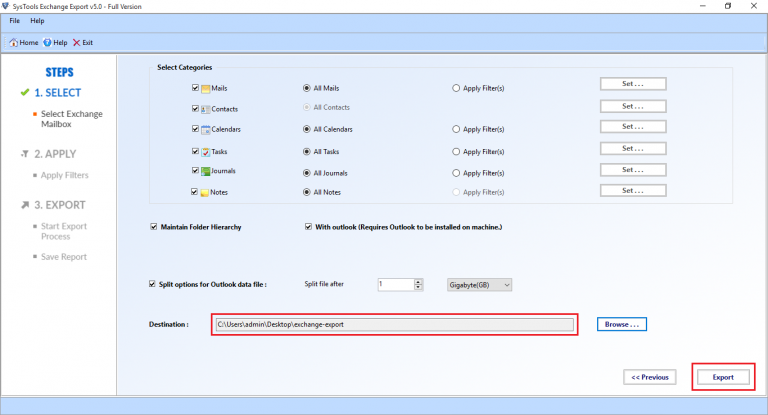 Finally, the pst file from the select Exchange Server version successfully exported.
Bringing It All Together
To export the Outlook data file from MS Exchange Server user can use the Exchange Admin Center and PowerShell cmdlet but due to certain limitation that is described in this write-up, it is recommended to use the professional solution. It provides an interactive graphical user interface and allows users to export multiple Exchange mailboxes and data items to the Outlook data file format in a less amount of time. I hope know you know how to export pst file from Exchange Server 2016/2013/2010.