Datto Export to PST – Convert Datto Saas Protection Mailbox to Outlook PST
Datto Saas Protection is an application that helps to backup multiple cloud applications such as Salesforce, G Suite and Office 365. It is an automated tool that saves the data from cloud apps to local computer in a compressed file format.
Datto ensures that the domain admin can archive and download emails, contacts and various other data items. This archive is exported in a ZIP file that furthermore contains the standard files for mailboxes, contacts, etc. The archived mailboxes are of MBOX file format supported by over 20+ email clients.
Now, the problem is, sometimes users wish to import Datto mailbox in Outlook. However, Outlook does not support the mailbox format of Datto. Therefore, it becomes a necessity to export Datto to PST file format. The reason is that Outlook uses PST file to store its mailboxes, thus it is provided with an import facility for PST file.
How to Export Datto to PST File?
Let us make it clear that there aren't any native option that allows converting Datto mailbox to PST file. The Datto Saas Protection application saves the files in MBOX format only. There are no other options that even resemble the PST format.
Take a look at this paragraph that is present in all Datto Knowledge base articles:

Even folks at Datto says: Use third-party tools to convert Datto to PST!!
So, a professional solution is a must to process the Datto files and make them readable in Outlook by converting to PST format.
Using Professional Tool for Converting Datto Saas Protection Mailbox to PST
Use Datahelp MBOX to PST Converter and easily export multiple Datto mailbox files into PST file format. It is a fast and safe utility for Windows OS that does not compromise on either performance or results. Users can easily generate PST files acceptable in Outlook 2019, 2016, 2013, 2010, 2007 & 2003.

Use the following steps to export Datto to PST file:
Launch the conversion tool and click on Select Files.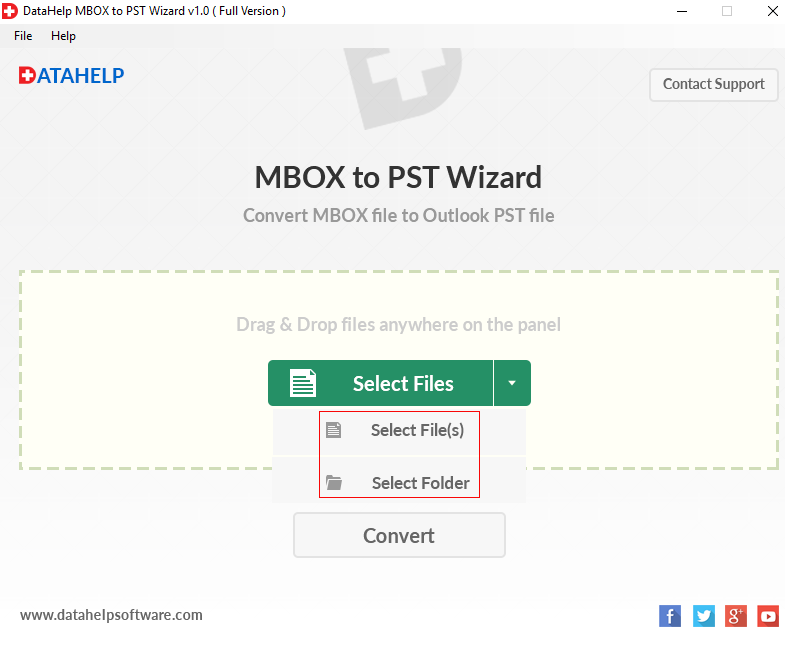 Choose the appropriate option and browse the Datto mailbox from local system.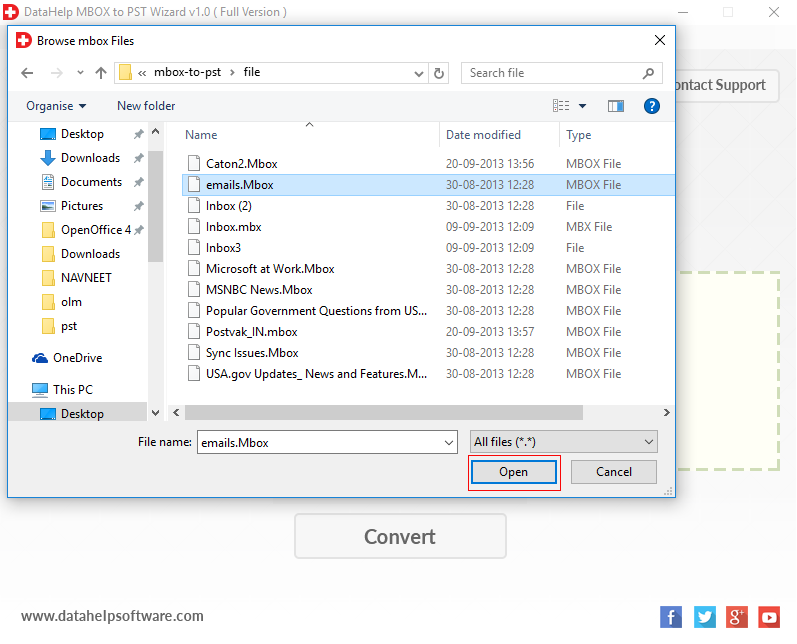 Once the file is added, click on Convert button.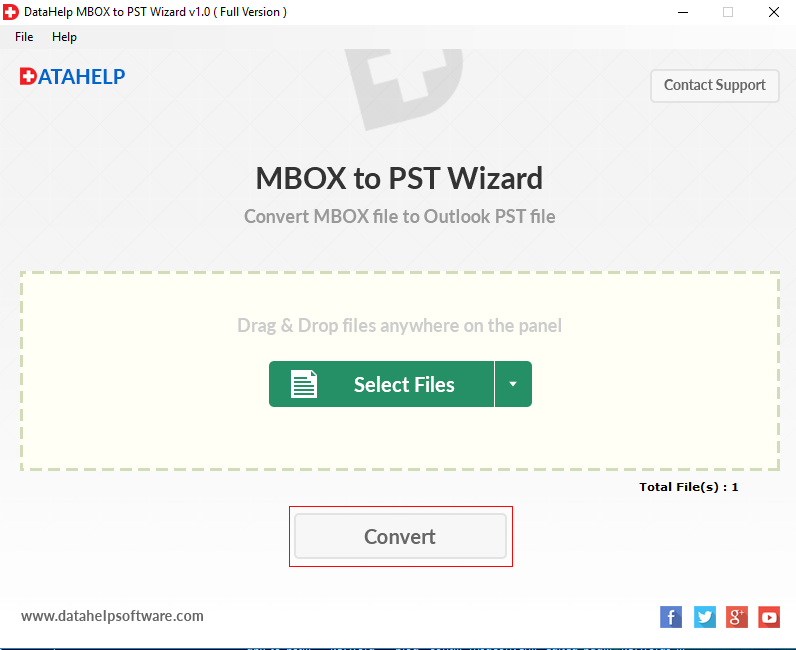 Select the destination path and choose to create single PST for all Datto mailbox as per requirement.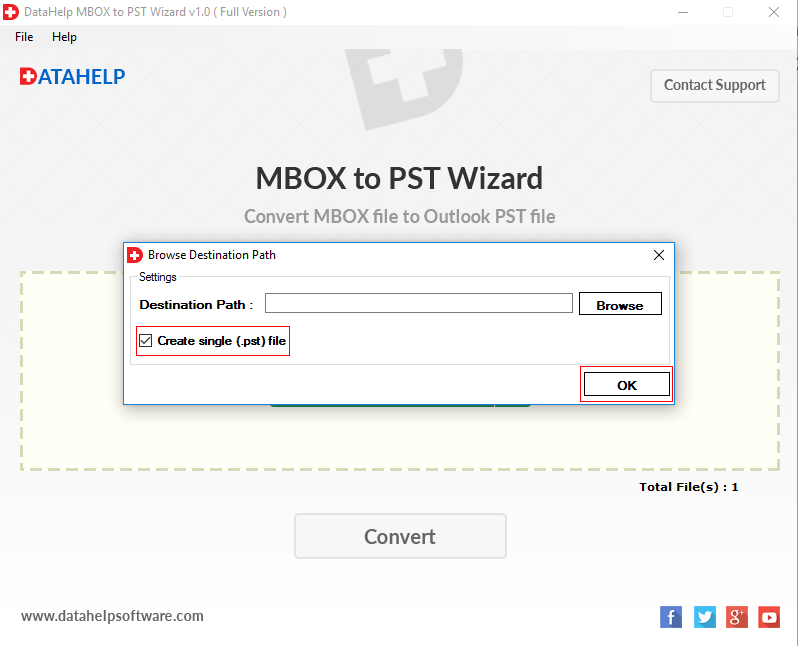 The export process will start. Let it complete and click OK button.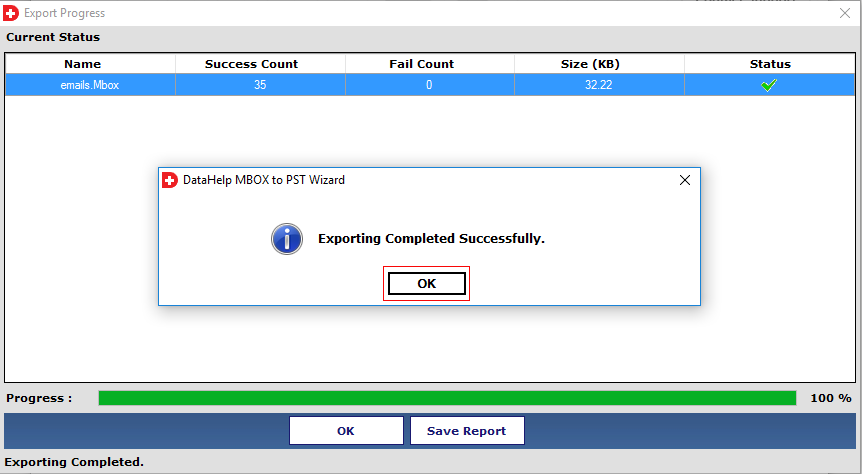 Congratulations, all your Datto mailbox files are successfully exported into Outlook PST format. Now all you need to do is to import this PST file in Outlook version of your choice.
Import PST Files Converted from Datto in Outlook
Open MS Outlook.
Hit File > Open & Export > Import/Export.
Select Import from another program > Next.
Select Outlook data file (.pst) > Next.
Browse the PST files exported earlier into current Outlook folder.
Click Finish.
The files are successfully imported in Outlook.
Wrapping Things Up
An admin can manage G Suite, Office 365, or Salesforce database via the Datto Saas Protection application. It allows him/her to export the cloud mailboxes into a compressed file. The mailboxes are further represented by MBOX files within this compressed Zip file. For users, who wish to export Datto to PST, they need to archive the mailboxes and convert this archive into PST format using a professional tool. The article contains the appropriate steps to do so. Furthermore, if the users wish to open Datto Saas Protection mailbox in Outlook, the complete import process is defined as well.