Common Errors – Export Exchange Mailbox to PST Outlook
Well, exporting the mailbox items from the Exchange account will help you to archive your data without worrying about any loss of data. Especially, when an employee moves from one organization to another, the archived Exchange mailboxes can be utilized to fetch the crucial emails or contacts in another email client such as Outlook application. So, see how to extract or export Exchange mailbox to PST Outlook format easily.
In Exchange Environment, Administrator uses Export PowerShell Commands and Exchange Admin Center but while these methods due to incorrect approaches lead to error and failed process. In this sections, we address some common queries with both the manual and the automated solution to export Exchange mailboxes to Outlook PST in a precise and comprehensive manner. We also discussed, some query regarding automated Exchange Export Tool.
How to Extract Exchange Mailbox to PST – Solution 1
Query 1: "I work as a Marketing Executive and I am leaving my current organization and switching to other organization. As my profession carries the most important contacts in my Exchange account. Hence, I am in urgent need to export all of my saved Exchange contacts to Outlook PST. So, I can access these contacts in future use. Please help me with the PowerShell commands to export Exchange 2010 contacts to PST file format."
Solution: In this case, use PowerShell shell command to export Exchange 2010 contacts to Outlook PST file format.
New-MailboxExportRequest -Mailbox "enter_name_of_the_mailbox"  -FilePath MustBeUN&IncludeThexyz.pst – IncludeFolders "contacts"
In this command, in "-Mailbox" the user have to insert the Exchange database mailbox name which is to be exported, "-FilePath" here users have to add the UNC path, "-IncludeFolders" it contains all the details of the contacts and xyz.pst is the file containing the contacts which are exported.
How to Export Exchange Mailbox to PST – Solution 2
Query 2: "I need to export Exchange 2013 mailboxes to PST file format. I have tried the PowerShell command, somehow I felt the command difficult to execute. Kindly let me know the EAC(Exchange Admin Center) steps to export Exchange mailboxes to PST format."
Since PowerShell Command becomes complex if the Administrator does not use the right parameter commands. To avoid error, use Graphical Exchange Admin Interface, the complete procedure to extract Exchange mailbox to PST Outlook is given below:
1. Open EAC and Open Recipients Section >> Mailboxes. Click More options.. to view "Export to a PST file" option.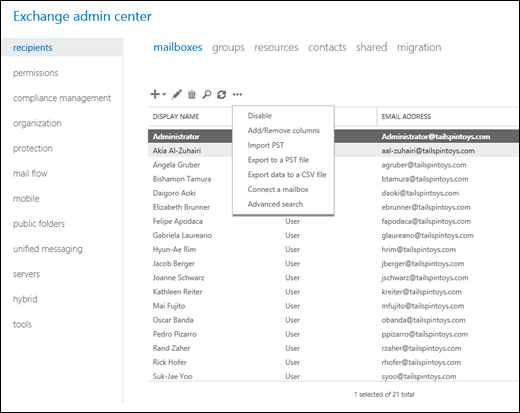 2. Under Export to a PST file wizard, browse and select the source mailbox and choose either of the mentioned options i.e., Export only the contents of this mailbox or Export only the contents of this mailbox's archive and click Next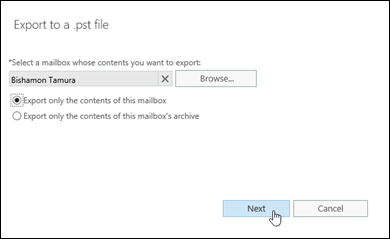 3. After that, specify the UNC path and the target PST filename and click on the Next button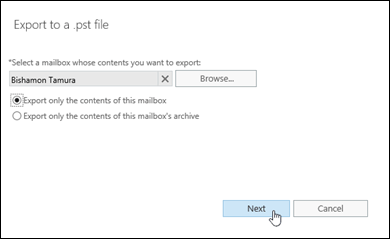 4. On the next page, select Send an email to the mailbox below when the .pst file has been exported option and click Browse to add or remove the notification recipients
5. Once the required selections are done, uncheck the Send email to the mailbox below when the .pst file has been exported option and click on the Finish button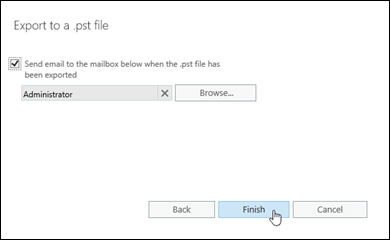 How to Extract Exchange Calendars to PST File Format?
Query 3: Use EAC to export only Calendar Details of the mailboxes but complete mailboxes items save with Calendar file. Need to save only Calendar file, use the PowerShell command process failed every with invalid parameter error. So, please let me know the Command to export Exchange calendar to PST file format.
Solution: Similar to contacts attributes mentioned in the above solution, we use PowerShell command to extract / export calendar details stored in mailboxes.
Use Command:
NewMailboxExportRequest -Mailbox MailboxName -IncludeFolders "#Calendar#" -FilePath \\PSTFile\FolderName\FileName.pst
Now, you can set a particular date range to export calendar information within the specified date range using the below command,
Export-Mailbox -Identity -StartDate"" -EndDate"" -IncludeFolders '\Calendar' -TargetFolder -TargetMailbox
Here, the StartDate parameter is used to specify the beginning date and EndDate to defined the last date.
Easy ways to Extract Exchange Mailbox data in Outlook Account
Query 4: Hey, using Exchange Export utility can i export Exchange mailbox to PST file format from MS Exchange Server in bulk?
Solution: yes, the Exchage Export Software export multiple mailboxes from Live Exchange Server 2016 / 2013 / 2010 / 2007 / 2003 to the PST file in a single shot.
Steps to Extract Exchange Mailbox to PST from Exchange Server
Step 1:  Open Software >> Enter the administrator Login credentials, Server version, Active directory IP and Exchange Server IP >> Select Exchange version >> Click on the check box "Include Sub-domain user's" >> Click on the Login button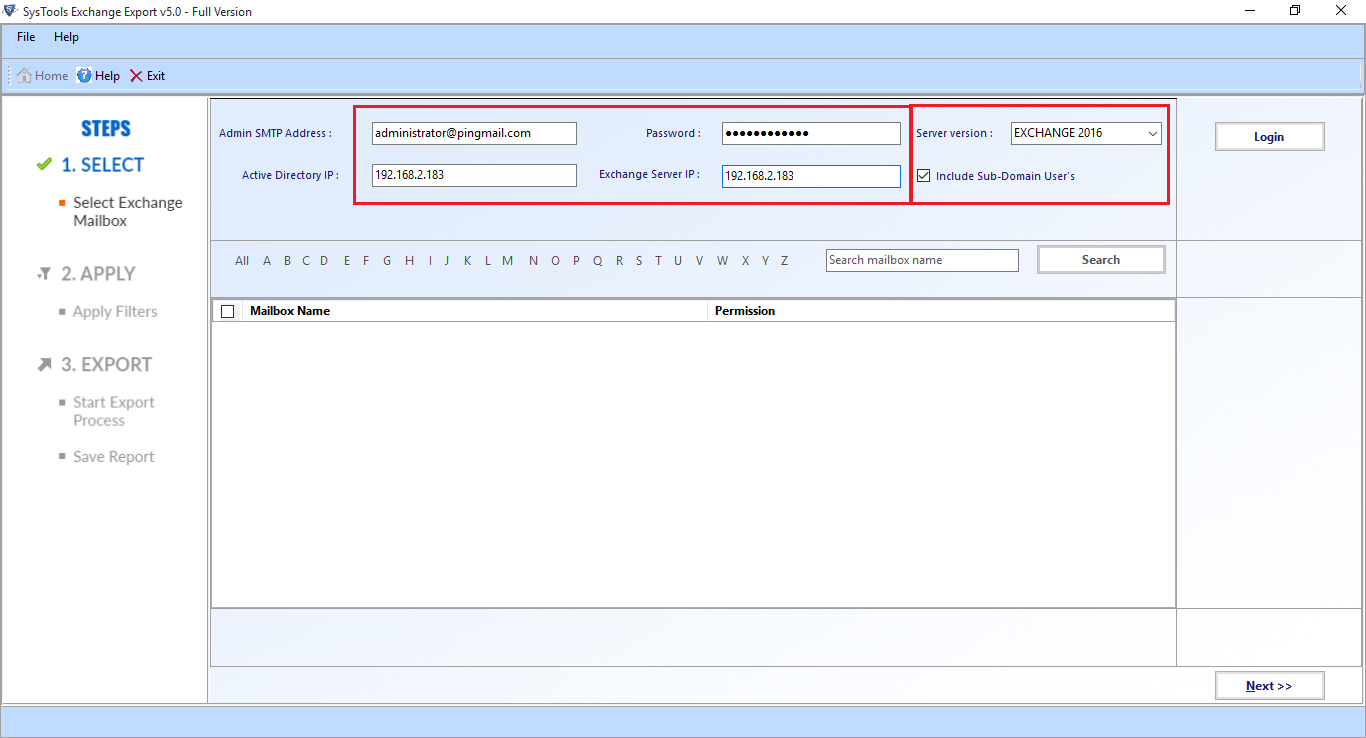 Step 2: Now, If you want to export multiple mailboxes to PST file format in the single instance then, just check the desired mailboxes >> Click on the next button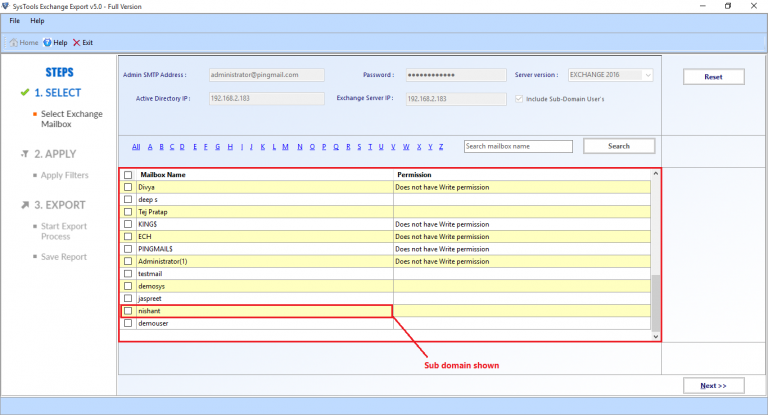 Step 3: Now, you apply Different filters along with sections such as "Mails, Contacts, Calendar, Tasks, News, and Journals". Use Set Filter option to use Date Filter to export only specific time period mailbox items.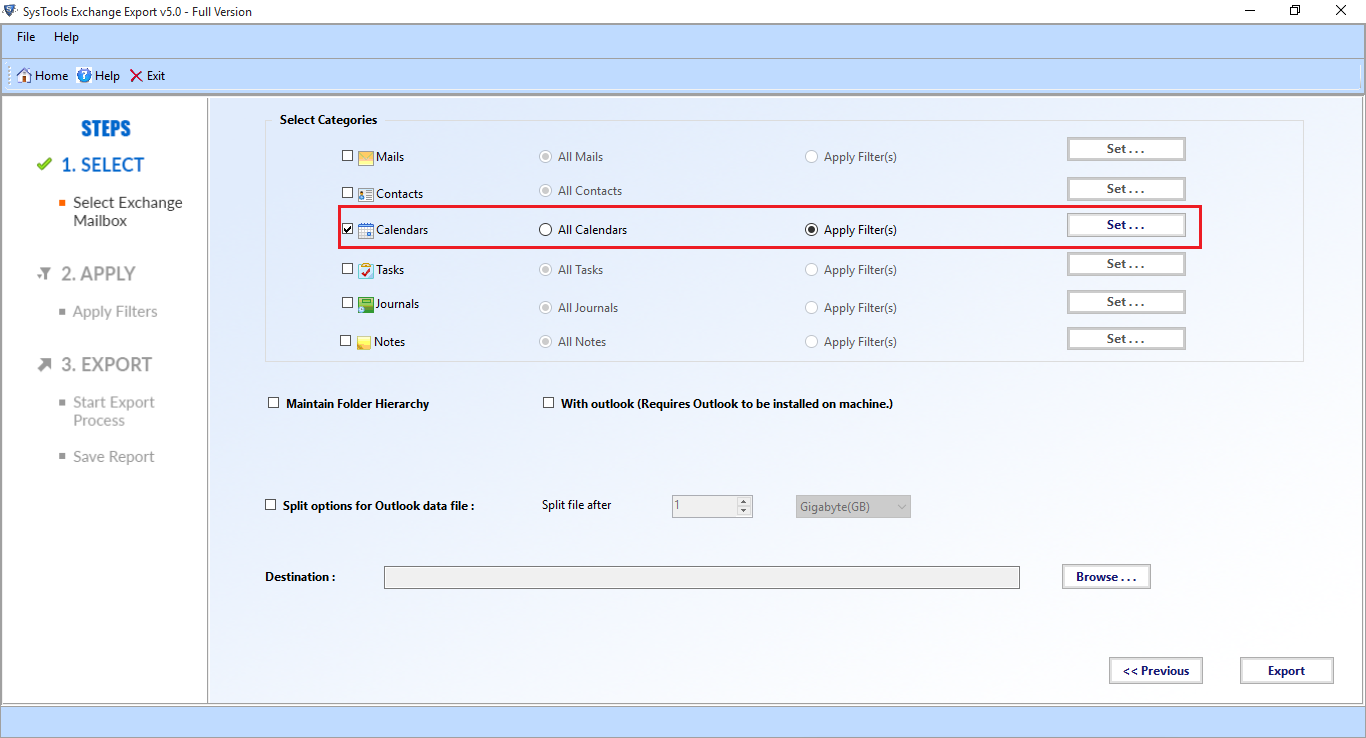 Step 6: In Filters select the Time Interval via "From" and "To" sections.

Step 7: Click on the Browse button to save the destination file path >> Click on the Export button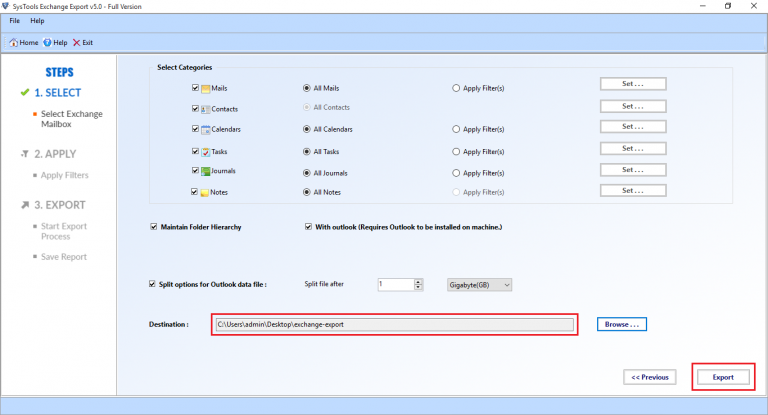 Extract Exchange Mailbox Data Using Tool – Know More
Query 5: Does Exchange Export tool allows to export only the selected sections from complete of mailbox's to save and time-consuming process.
Yes, to save space and time while exporting exchange mailboxes to Outlook PST format. Make sure that these multiple Exchange mailboxes have full admin rights.
In this scenarios, need to just check the Mailbox Section from the Preview Panel. For Example, we need to export only the mailbox of the selected mailbox's then check only the "Mail" section.
Limitation Of Manual Solution
Export Exchange database mailbox one at a time
Doesn't export offline / dismounted Exchange mailbox
Users have to face data loss while exporting if EDB file is corrupted
Requires technical knowledge, skills, and hands-on experience to use the method
Note: To export EDB mailboxes in bulk from Live Exchange Server to Outlook data file in the quickest and simplest way, for that users can opt the Exchange Export Tool mentioned here and if you have offline EDB file, then you can use the advanced EDB to PST Converter software, which easily allow any user (technical and non-technical) to convert Exchange database to PST file in a hassle free way.
Bringing It Altogether
Working with PowerShell command in Exchange environment always remaining the difficult task but Exchange Admin Center can be used to export Exchange mailbox to PST format. But with EAC, complete mailbox details exported to Outlook format. In the above section, we discussed scenarios that help you out while using EAC and PowerShell. If the manual method tempts to be tedious and tiresome, then switch to Exchange Export tool- a one-stop solution for an easy process to extract Exchange mailbox to PST format.