How to Fix Error "Cannot Start Microsoft Outlook, Cannot Open The Outlook Window"

MS Outlook is one of the most popular email clients for business purposes. However, Outlook users get stuck and face unexpected errors. Out of which one such error is "Cannot Start Microsoft Outlook. Cannot Open The Outlook Window" due to this error users are unable to start Microsoft Outlook. Therefore, in the upcoming section, we are going to discuss different ways to resolve this Outlook error. Before that, first, let us know the reasons behind the occurrence of this error.
Reasons Behind "Microsoft Outlook Cannot Start" Error
There are various reasons due to which users have to resolve them efficiently. One of the major reasons behind the occurrence of this error is data Corruption. It simply means a file has become corrupted and its size has turned down to 0 KB. Even nobody knows the reason when those things will happen, but all Outlook versions may be affected.
Additionally, when users try to start MS Outlook in the compatibility mode, or if make a profile in an older edition of MS Outlook, or if Outlook data files (.pst or .ost) can be corrupted due to wrong installation or reinstallation of MS Outlook then, the error message will prompt. Henceforth, there is a need for the most effective solutions that help to fix this Outlook error.
Different Measures to Fix This Error
The user always attempts to fix the "Cannot Start Microsoft Outlook. Cannot Open The Outlook Window" error instantly after knowing all its consequences. For the same, they must follow the given steps:
Extra Info:

If the Outlook data file got corrupted and you are unable to access it. Then you can use expert-recommended PST Repair Software. This utility will help you to make data file healthy and save into different file format.
Measure 1: Recover Navigation Pane Settings
In many circumstances, the corrupted Navigation Pane configuration file preserves MS Outlook from the beginning. So, you have to follow below points:
Click on the Start button.
Now, enter the following command inside the search box:' outlook.exe /resetnavpane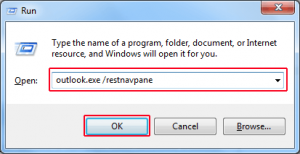 Go to the Enter key or choose the particular file in order to reset the Navigation Panel and next, open the Outlook application
Delete Navigation Pane Configuration File
If you were unable to restore the Navigation pane setting file which has provided by Microsoft, and then, tries to remove the XML file (because sometimes Microsoft outlook cannot start due to invalid XML) that can save the Navigation panel setting. Here are some of the mentioned steps:
Measure 2: Turn off the Compatibility Mode in MS Outlook
When it comes to compatibility settings in Outlook let us follow the below set of instructions: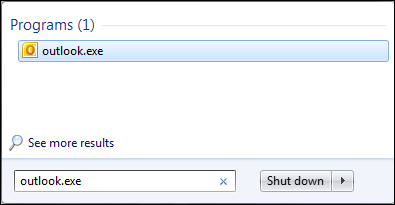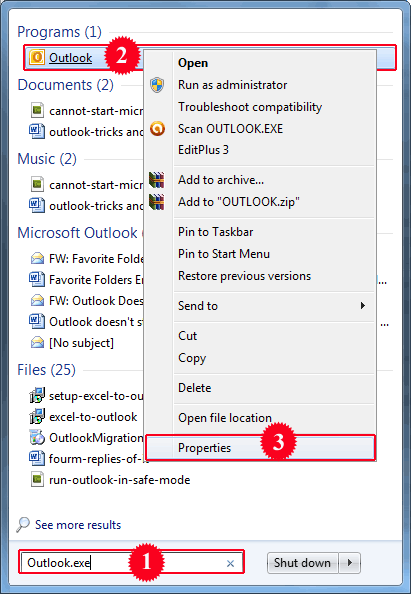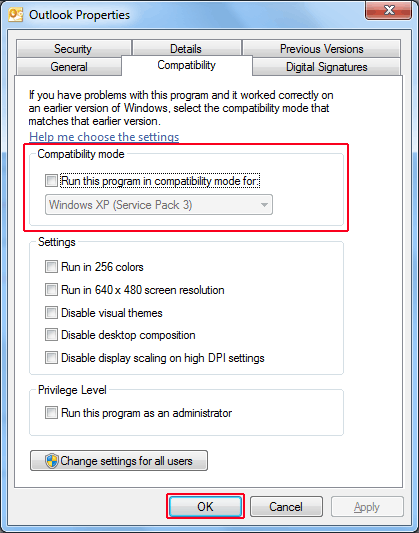 However, still, you are unable to open the Outlook window and the same message will appear like this "Cannot Start Microsoft Outlook. Cannot Open The Outlook Window" then, try to regain the older version of MS Outlook. In any situation, some email messages and appointments may get lost, but it seems a good alternative to other existing versions of Outlook. So, right-click on the Outlook.pst file and select the option Restore Previous Versions.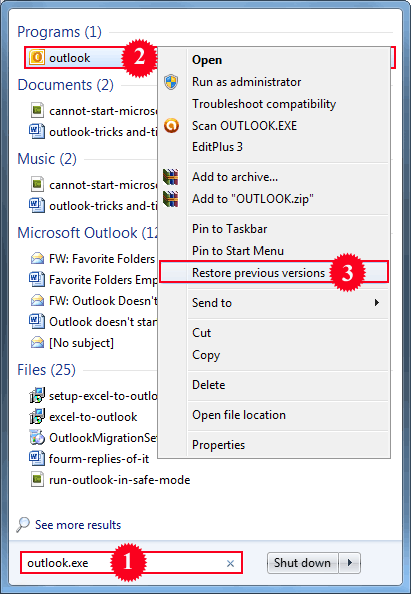 Measure 3: Make a New MS Outlook Profile
If the above-mentioned approaches would not work well then, users can create a new profile of MS Outlook to resolve this problem. If it works great, then users can make a copy of the latest Outlook data files (PST or OST) from the broken email profile to the newly created one.
a) Select File menu, hit on Open, and choose the Import option
b) Then, choose an option Import from another program of file and press Next
c) Now, select Outlook PST File and then, click on the Next button
d) After that, select the Browse button and choose previous .pst files. If users have just one Outlook profile and never rename the PST file, then it is likely Outlook.pst
e) In the end, choose the Next button and then, finish to complete the conversion process.
Note: If an older PST file was severely corrupted and the recovery process was not successful, users may receive a "Cannot Start Microsoft Outlook. Cannot Open The Outlook Window" error. In that situation, the only way is to create the new account and utilize it without importing a data file from an old PST file.
Measure 4: Open MS Outlook in Safe Mode
Alternatively, users can avail outlook.exe / without extensions which simply means the same as starting Microsoft Outlook without any file extension.
Third-Party Application to Deal With Outlook Data File
If all above solution cannot work for you and you still getting this error message from Outlook then you need to resolve data corruption of PST for this you can take the help of Scanpst.exe, but remember this utility only work for minor level corruption. If data is highly corrupted then you need to use DataHelp PST recovery software to deal with this issue.
Wrapping It Up
If users may encounter this message "Cannot Start Microsoft Outlook. Cannot Open The Outlook Window" then, they are going to be in big trouble. Due to this error, it becomes very difficult to access the PST file in MS Outlook. therefore, in this blog, we have discussed different approaches to fix the "Unable to start Microsoft Outlook" error.