Inbox Repair Tool (ScanPST.exe) Not Responding – Perfect Guide
Microsoft Outlook is one of the best email clients because of its security and other features. Even though the Outlook data file get damaged. To fix primary level issue Microsoft provides Inbox repair tool. But what if
Outlook inbox repair tool not responding? Find relevant answer in this post.
Outlook creates PST file to store emails, calendars, contacts, journals, RSS feeds, and other data items.
But this Outlook data file can be damage in some situations. There are various reasons that can corrupt PST files like sudden power shut down, virus infection, etc. But, there is an advantage that Microsoft Outlook is equipped with a Scanpst.exe tool (inbox repair tool) which scans the entire PST data file to fix the problem.
However, if scanpst.exe is not responding or not working, then it becomes a serious issue. Hence, in this post, we have covered what to do when scanpst.exe is not responding or not working properly.
Reasons Why Scanpst.exe Not Responding or Not Working
There are several reasons where Microsoft inbox repair tool not responding  and stops working. As it completely depends on the complexity of the errors and the amount of data that is corrupted or damaged.
Oversized PST Data File: Whenever the PST file exceeds more the 2GB limit, it terminates the repair process. As MS Outlook supports 2GB file size in version lower than 2003. It has increased its size limit in the later versions. In this situation you can get outlook inbox repair tool not working issue.
Highly Corrupted Outlook Data File: The Inbox Repair Tool is more focused to solve low-level corruption issues. Being a free utility, it fails to fix a high level corruption. In this case you may face Microsoft outlook inbox repair tool keeps popping up issue.
Unreadable Contents: Whenever scanpst.exe is unable to read the content even after several attempts, the contents are deleted. It considers that the entire content is corrupted and hence the essential data files are deleted.
Error While Repairing Data File: The main drawback of this tool is that it recovers and focuses only on the file which is low- level corrupted.
However, if the body section of the PST file is damaged, it only fixes the header part of the Outlook file instead of repairing the complete PST file.
Unable to Repair Protected Data File: This utility does not work if the Outlook PST files are protected with a password. In such cases, the pop-up will be shown that the Scanpst.exe is not responding.
Inbox Repair Tool Not Working Try Alternative Solution
If the free utility i.e., Inbox Repair Tool does not help to fix up the errors. Then, it is essential to switch to an automated tool such as PST Repair Tool. This tool will help you to fix PST errors when Scanpst.exe not working in Outlook 2016, 2013, 2010, 2007, etc.
It is a multi-functioned tool that provides features like recovering corrupted and permanently deleted data. It also supports recovery of files in bulk. It has a feature to save only the required data. It enables us to preview the Outlook data before saving.
Steps to Use Inbox Repair Tool Alternate Solution
If Outlook inbox repair tool does not recognize the file or not responding. Follow the below listed steps:
Step 1: – Download Software and Install on your system.
Step 2: – Browse Outlook Data File into Software Panel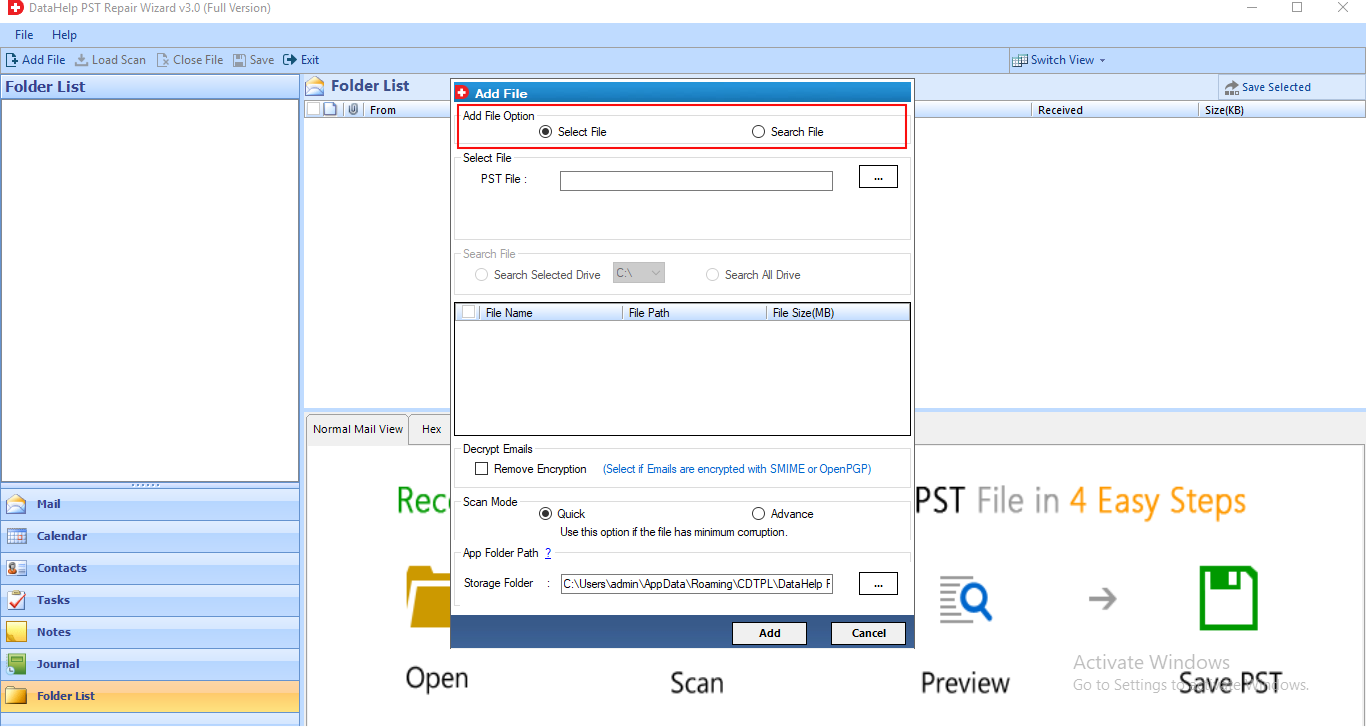 Step 3: – Select PST radio button and click on Export button.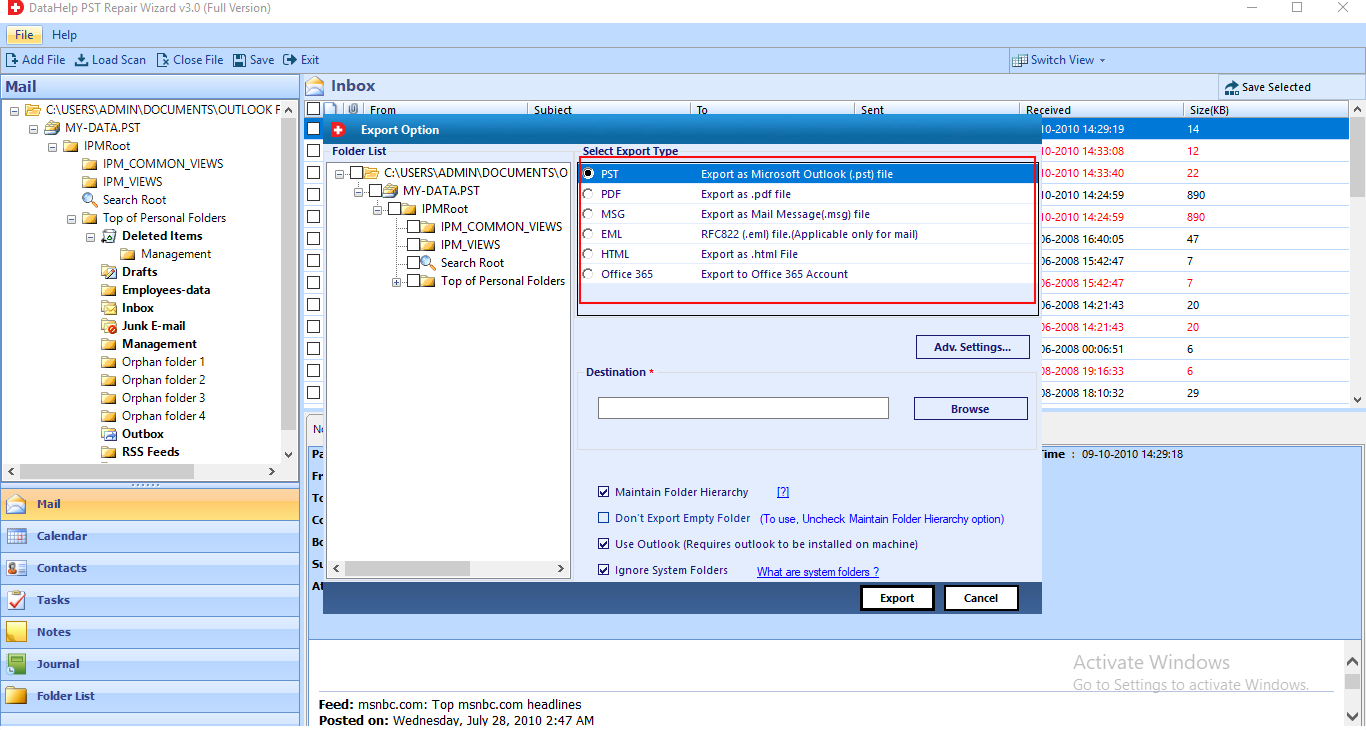 Step 4: – Save healthy PST file on your system and access in Outlook.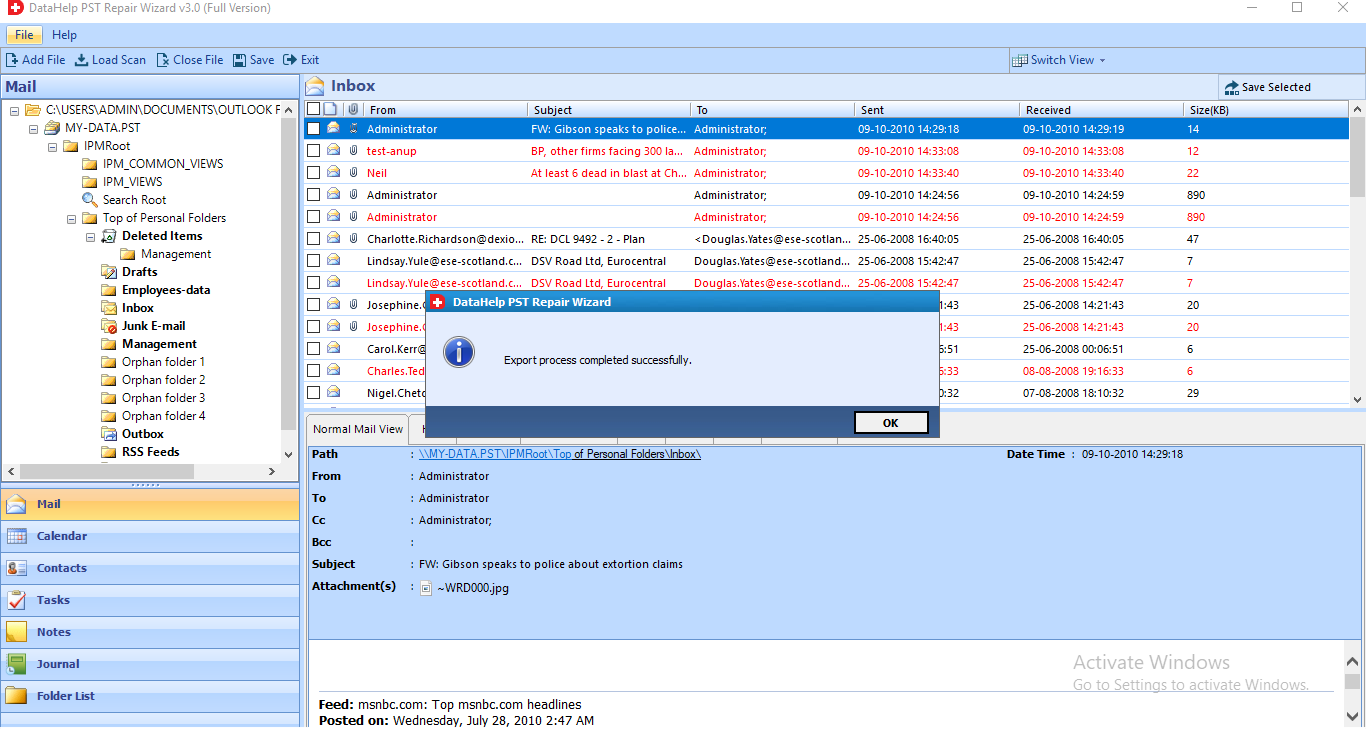 What Leads to Corruption in Outlook Data File (.pst)?
There are multiple factors that may leads to corruption in the PST file. Some of them are as follows:
1: When the file size exceeds beyond the limit which overloads and lowers the efficiency of PST.
2: Improper method of shutting down or frequent power failures may lead to not saving the data properly. It is also one of the reasons behind file corruption.
3: Virus attacks or other malicious software make the PST file totally inaccessible.
4: It can be corrupted when the firewall and anti-virus are inadequately fixed.
5: When the data storage device damage or crashes .pst files can be lost.
6: Corrupt or outdated Outlook installation can result in PST file corruption.
Based on what actually triggers corruption in .pst file, MS Outlook introduces its Inbuilt tool scanPST.exe.
When Inbox Repair Tool can be Used?
It is a free inbuilt utility that is recommended to fix Outlook errors at its initial stage. It is used to overcome issues related to minor corruptions like sending / receiving error when Outlook crashed or if import / export process is completed successfully.
This tool analyse and scans the PST file to fix the encountered problem. PST files contain structures like B-trees and reference counts. High-level structures includes messages, tasks, contacts, schedules. But the problem with scanpst.exe is that it deals only with low-level objects.
In addition to that, it will not deal with corruption and fixing issues related to high-level objects. Sometimes Outlook inbox repair tool not responding or not working properly to fix PST errors.
Steps to Execute Scanpst.exe
1: To begin with, exit the Outlook application and open the File Explorer by clicking Windows Key+E
2: Browse the following path from the program files: C:\Program Files (x86)\Microsoft Office\root\Office16
Note: If Outlook 2013 is used, ensure to use this path:C:\Program Files (x86)\Microsoft Office\Office15
3: For older versions such as for Outlook 2010, change "Office15" in the path by "Office14" and "Office13" for Outlook 2007
4: Now, find and double-click on the scanpst.exe file as shown below: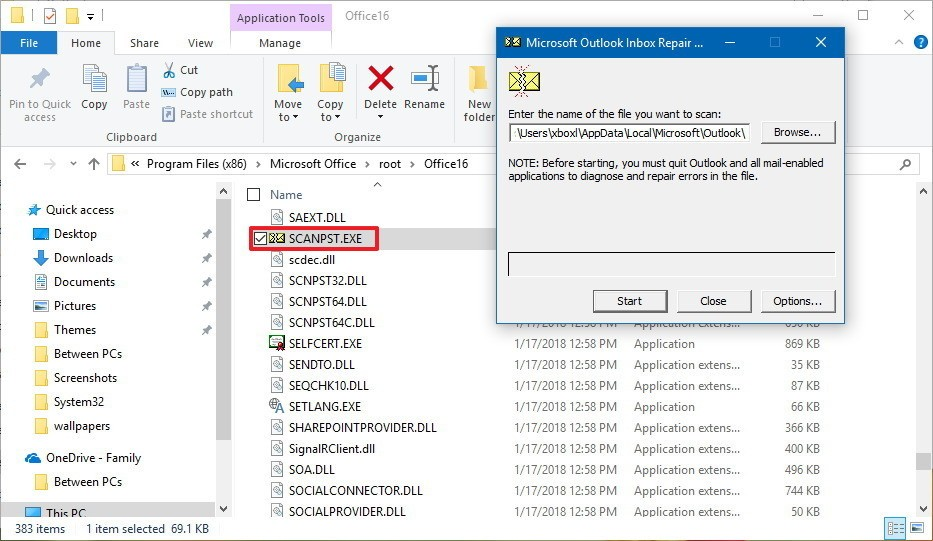 5: Browse and locate the .pst file which needs to be repaired and click the Start button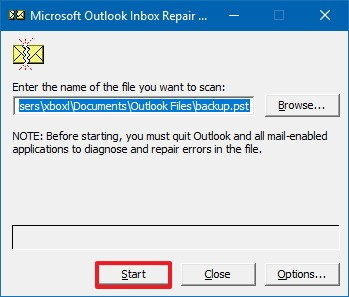 6: Now, click on the Start button, once the process gets completes it creates a backup and log file stating the information of the repair process.
Conclusion
Scanpst.exe error occurs due to several reasons such as oversized PST file, improper installation of Inbox repair tool, PST file is being password-protected, etc.
Although, there is solution to solve this abrupt issue with the help of suggested utility. It is a perfect tool to recover the damaged data without any data loss.
Hence, in this article an overview of PST, various issues why scanpst.exe does not respond has been discussed.