Want to Convert Outlook PST to MBOX? Here's What You Need to Do!
Do you want to convert Outlook PST to MBOX in a trouble-free way? Are you running from pillar to post in search of a proven yet reliable solution? If so, then you are fortunate indeed to reach out this blog! So folks, simply go through the blog and know the best approach to convert Outlook 2016 PST file to MBOX format.
Take a Look at the User-Query for a Better Understanding!
"I've been a frequent Outlook user, which is been used to manage and organize my official emails. At the same time, I am also using Thunderbird application for my personal usage. At times, I also have to work from home in which accessing my Outlook emails is a major challenge. Because of which, I need to convert Outlook PST to MBOX Thunderbird format. Doing this will enable me to smoothly access my Outlook emails in Thunderbird. Is there some reliable and genuine approach, which can be followed to export my Outlook PST file to MBOX format?"
"Been working as an Event Manager, most of the time, I need to work out of the office. As a result, I acquire very less access to my Official emails, which is in MS Outlook. In my personal laptop, I work with Apple Mail, which stores the data in MBOX format. Could someone suggest some solution to export Outlook PST to MBOX format. So that, I can access my Outlook emails in Mac-based Apple Mail email application. Waiting for a favorable response!"
Facing Similar Such Issue? Let's Know the solution to convert PST to Thunderbird MBOX file format.
Expert-Suggested Solution to Convert Outlook PST to MBOX Format
As you are aware of the fact that there is no manual solution to export PST file to MBOX format. Therefore, the only reliable and straightforward solution to avail some trusted software. The PST to MBOX converter tool is induced with the best set of features that makes the file conversion process easy.
Once all the Outlook emails are converted to MBOX format, users can instantly import the MBOX file in any MBOX supporting email applications like Apple Mail, Thunderbird, Eudora Mail, Entourage, Opera Mail and much more. Besides this, the utility is designed in a simplified user-interface that lets both technical and non-technical users to smoothly perform the conversion without facing any data loss issue.
To start the conversion, download the tool on your system (for Mac & Windows) and then follow the below steps.
Download for Windows Purchase Now
Download Now for Mac Purchase Now
How to Convert PST to MBOX Format Via Tool?
Step 1. Click the Browse button and navigate to open the Outlook PST file on the software panel
Step 2. After adding the required PST file, provide the desired location to save the resultant MBOX file.
Step 3. Select the Yes or No option to Maintain Folder Hierarchy.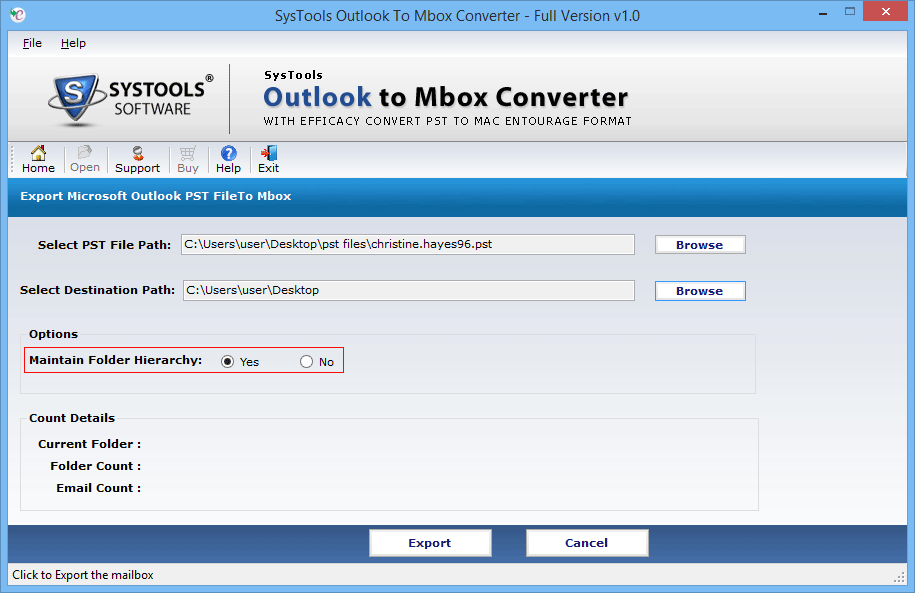 Step 4. Once all the required inputs are given, click the Export option to convert Outlook PST to MBOX.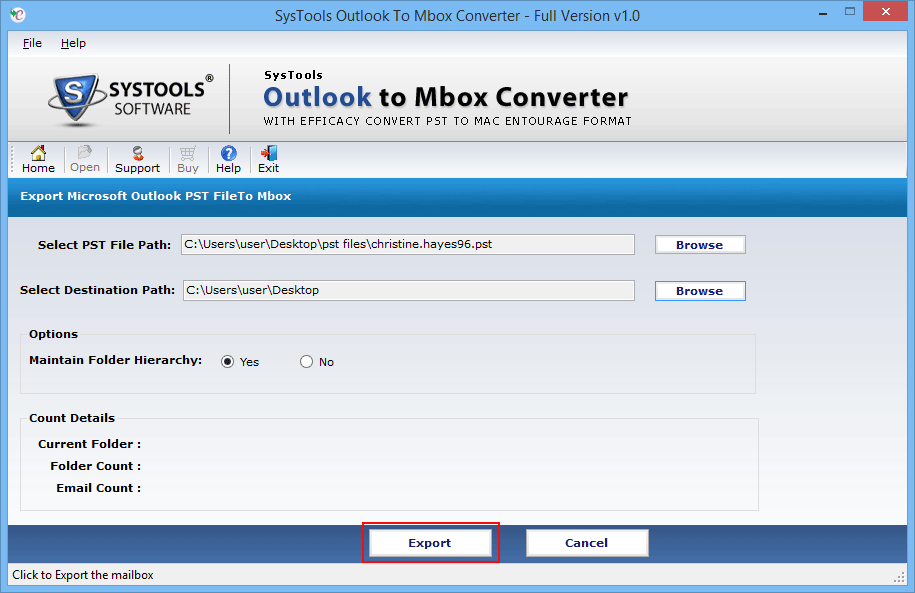 While undergoing the migration process, the software displays the Count Details. Upon successful file migration process, a pop-up message will be displayed shown in which simply click the OK button. Now, at the destination location, the converted MBOX file from the Outlook PST file will be saved, which can be used to import any MBOX supported email application.
Noteworthy Features of the Software
Successfully convert Outlook PST to MBOX within a short span of time
Resultant MBOX file is compatible on all MBOX supported email clients
No restriction on the PST file size to move Outlook 2007 PST to MBOX
Capable to convert both ANSI and Unicode file types of Outlook PST
Provides option to maintain folder hierarchy to export PST file to MBOX
Easily get installed on Windows 10 OS and all the below versions
Know the Top Reasons to Convert Outlook PST to MBOX!
In the below section, we will disclose the common needs that urges users to export Outlook PST file to MBOX format. So, let's explore the different reasons, which are listed below.
Outlook application is pretty expensive, which becomes difficult for a normal user to maintain the same for a long time. After a period of time, he/she needs to buy the licensed version of MS Office.
Outlook is prone to several catastrophes like PST file corruption, which moreover makes the data inaccessible to the end users.
Another reason to convert Outlook PST to MBOX is due to the account deletion in MS Outlook.
Outlook application has less exposure to different Operating systems. Whereas, with the MBOX file, users can easily access the data in any OS.
Finally, Converted Outlook PST to MBOX
In order to know the effortless procedure i.e., "How to convert Outlook PST to MBOX", one can easily implement the file conversion process using PST to MBOX tool as described in this post. With its cost-effective features and simplified user interface, users can smoothly undergo the file conversion process from Outlook to MBOX format without facing any technical disputes.