4 Quick Methods to Fix "Outlook Error 0x80040900"
Summary: In this blog, you will learn how to fix Outlook Error 0x80040900 by using both the manual and professional methods. We will take you through step by step procedure that you can adopt to troubleshoot the 0x80040900 error Outlook with minimal efforts.
Microsoft Outlook is the most popular and widespread email application all over the world. Despite having many advanced features, it has some flaws too. Sometimes users may face many issues while sending or receiving emails in Outlook. One of the most common errors that pop up on the user's screen is "Outlook error 0x80040900". Look at the exact error message given below: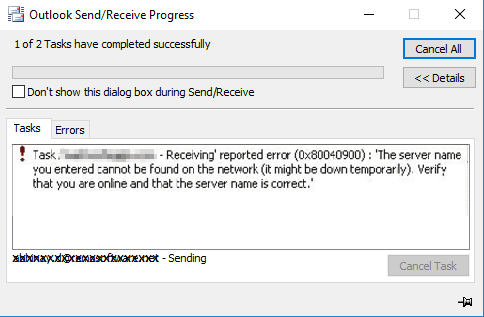 Reasons Behind Occurrence of 0x80040900 Outlook Error
There could many various causes that may result in sending receiving reported error 0x80040900. Some of them are discussed here.
1: Due to Network Connectivity Issue: Poor or unstable network connection doesn't allow users to access Outlook data files that are located on a network server. It may also result in hardware failure resulting in inaccessible PST files.
2: Presence of Anti-virus and Firewalls: An anti-virus program that has email scanning features can cause issues that may result in Outlook '0x80040900' error. This error may also occur if your server ports are getting blocked by in Firewall settings.
3: Incorrect Outlook Account Settings: The Outlook error code 0x80040900 can occur if you have done some mistakes in the incoming/outgoing server's name, port number, or server authentication.
4: Server Time Out due to Oversized Files: By default, the server connection timeout duration in Outlook is 1 minute. If you will try to send emails with large-size attachments then the emails may get stuck in Outbox due to insufficient default server timeout.
5: Corrupt PST: The Outlook PST files may get damaged due to many reasons like virus attack, malware infection, etc.
Important Tips to Avoid Outlook Error 0x80040900 Code
Ensure that your Internet connection is active.
Disable the third-party anti-virus.
Check the Firewall settings.
Regularly update your Windows.
How to Fix Outlook Error 0x80040900 Manually?
1: Configure Correct Outlook Settings
First of all, verify that you have specified the correct settings for your Outlook email account. Look at the steps required to do so:
Note: You need administrative privileges to perform these steps.
Launch Outlook application.
Click on File >>Account Settings.
Click on the Email tab from the Account Settings dialog box.
Double-click on your Email account to view or modify its account settings.
Check the Incoming and Outgoing mail server names are correct.
Next, click on More Settings.
In the Internet E-mail Settings dialog box, make sure to check the 'My outgoing server (SMTP) requires authentication'.
Click on the Advanced tab, and verify that you have specified the correct Incoming and Outgoing port numbers and SSL settings.
Hit OK and close all the open windows.
Restart your Outlook application and check if the issue is resolved.
2: Change Outlook Server Timeout Duration
Sometimes increasing the server timeout value may help you fix Outlook send or receive 0x80040900 error. Follow the steps below to change the duration of the Outlook server.
Open the Outlook application.
Click on File >> Account Settings.
On the Account Settings dialog box, click on Change.
Change the Account dialog box, click on More Settings.
A window will pop up on the screen, on that window, click on the Advanced tab and increase the Server timeout.
3: Run Inbox Repair Tool
Use Microsoft built-in repair utility (Scanpst.exe).
Close Microsoft Outlook and run the Scanpst.exe.
Now, browse for the Outlook PST files to be repaired.
Click on the Start button. If the utility detects an error, then the file prompts to start the repair process.
Click on the Repair button, and the tool will start the repair process.
The major drawback of this Microsoft repair utility is that it can't handle large-sized and severely corrupt PST files. In that case, you need to use the third-party tool that helps you to overcome the Scanpst.exe limitations.
Instant Solution To Fix Outlook Error 0x80040900
Here is come up with the best solution that is being preferred by most of the professional users. PST Repair is an application that deals in repairing all kinds of corruption issues of PST. It prevents further corruption by splitting and compacting large-sized PST files. The major functionality of the tool is that it provides quick and advanced scan mode to repair the severely corrupt files.
Final Thoughts
This blog cover one of the most frequent issues that occur in Outlook .i.e. Outlook error code 0x80040900. Generally, it occurs while sending or receiving an email due to several reasons. In order to avoid further issues, it is required to fix this error code immediately. Therefore, we have mentioned both the manual and automated techniques to fix error code 0x80040900 in Outlook.