How to Import Yahoo Mail Folders to Outlook – Yahoo to Outlook
Are you in a hurry to switch from Yahoo to Outlook 2016, 2013, 2010? Feeling distressed in moving Yahoo email data to Outlook PST file? Want to know how to import Yahoo mail folders to Outlook 2007/ 2010/ 2013? If this is your statement for searching on the web, you have reached your solution end. Here we will have a deep study over transferring Yahoo mail to Outlook application on Windows and Mac.
My Dilemma & Overcome!!
A few months back, I was in the same situation as you know. I have defined my situation in the below paragraphs. You may have the same or related scenario, I guess
I had to switch my mail service from Yahoo to Outlook. I am not a technical person and did not have any contact with anyone related to this. I searched throughout the browser for solution. I got one. I tried to Switch to Outlook from Yahoo and move all my emails into Outlook. But I was stuck up in the middle and couldn't complete the migration. I had hope to succeed a day and tried on to get another.
All my effort got worked when this solution came to my doorstep. Thanks to Yahoo to Outlook PST Migrator. It is really an amazing application that actually exports Yahoo mail to Outlook 2016 application without any efforts taken manually. Afterward, I researched all the possible ways in which this conversion could be possible and had found two methods, that can directly import Yahoo mail to Outlook 2019, 2016, 2013, 2010, 2007, 2003 desktop application.
Now I know what should be done to export Yahoo mail to Outlook format and what are you here for. I will be providing you both the solutions. Each procedure will have images enclosed so that you aren't stuck anywhere in the middle.
How to Import Yahoo Emails to Outlook 2016/ 2013/ 2010/ 2007 Format?
There are two ways to move email messages from Yahoo to Outlook. They are mentioned below
Time Consuming Method: Switch Yahoo Emails to Outlook
Efficient Method: Transfer Yahoo mail to Outlook Data File
Move down and view each method processed with a step-wise guide. At first, I am describing the easy and effortless method so that the one in hurry can get the job down easily.
Method to Convert Emails from Yahoo to Outlook Format
This method is the technique that got me succeeded in my trouble. The Yahoo Account Backup Wizard. The application has the functionality to move Yahoo mail emails to Outlook file with offered options to migrate with comfortability. Also, you get the opportunity to import email messages to Outlook from Yahoo Small Business mail. The extended functionality includes moving Yahoo mail folders to Outlook Data file. There are more to come in the below sections. Below is the answer to the simple query that you need to get answered first
How Do I Transfer Yahoo Mail to Outlook Format?
Simple Steps to Export Yahoo Mail to Outlook
Step 1: Download and Run the tool.
Step 2: Login with Yahoo account credentials (Personal / Business mail).
Step 3: Select PST format to migrate Yahoo mail to Outlook.
Step 4: Click on Browse and select the Outlook file saving location.
Step 5: Hit on the Start button.
With this, you will have the Yahoo Mailbox data downloaded to Outlook format. Their many other features offered within the method. The functionalities provided within Yahoo to Outlook application are discussed in the coming section. Now we go to the next method of success to import Yahoo mail to Outlook.
Method to Migrate Yahoo Mail to Outlook Application Format
In this method, you can either configure Yahoo on Outlook application or forward each Yahoo email to Outlook. The second option is relatively very difficult to accomplish for one with emails for more than a thousand. So I have provided the procedure to export Yahoo mail to Outlook that is seen just below.
Before you start with Outlook, just clear off the pre-requisites for a successful transfer of Yahoo mailbox messages to Outlook format.
Prerequisites:
Login to Yahoo mail account
Click on the Menu button and select Account Info
Afterward, move to Account security tab and turn on the Allow apps that use less secure sign-in option.
Create an App password, if you have enabled the Two-Step Verification option.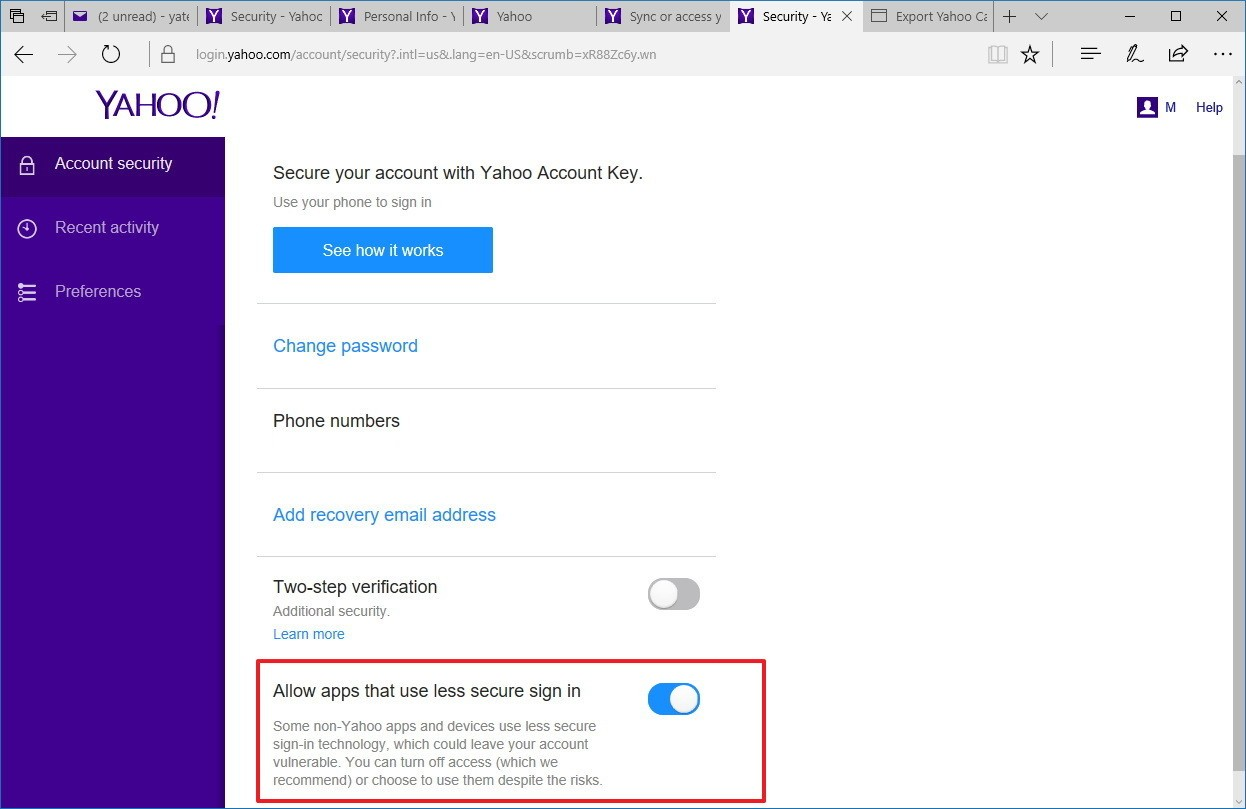 With this enabled, Outlook will not have any trouble in switching data from Yahoo mail. Once this is done move to the process shown below and perform Yahoo mail to PST file migration.
Procedure to Import Yahoo mail to Outlook
Launch MS Outlook (any version)
Click on File menu, move to Info tab and click on Add Account option
Select Manual setup or additional server types option. Click on Next to proceed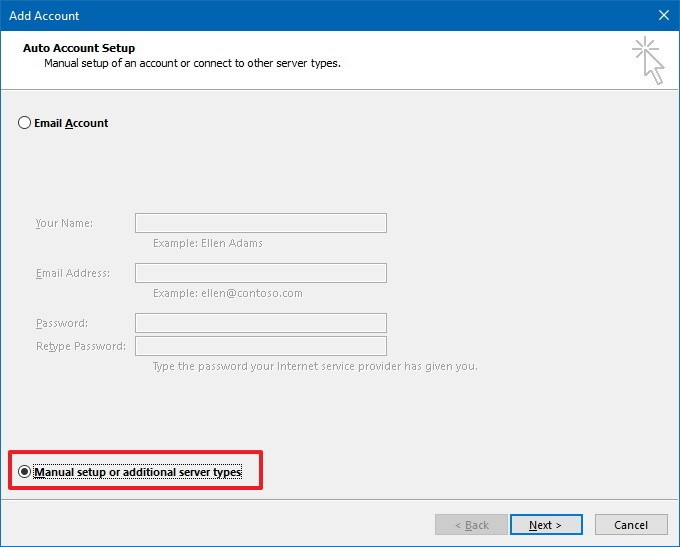 Choose POP or IMAP radio button and proceed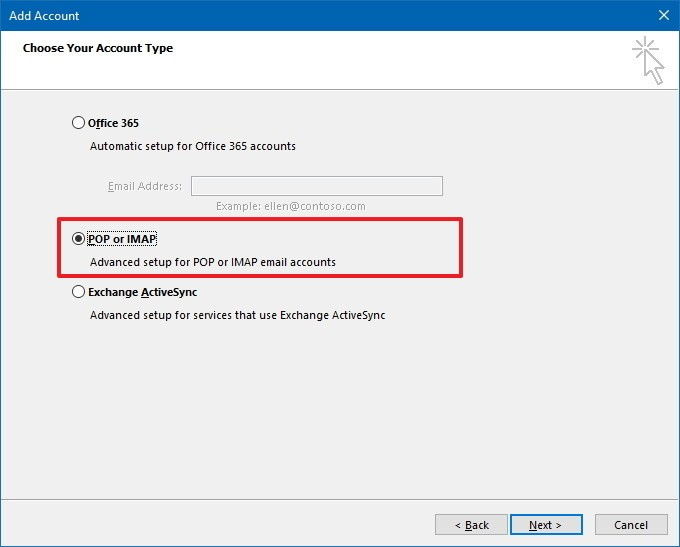 Under User & Server information section, detail the following (Main Yahoo to Outlook Configuration)

Mention your Name and Email ID
Choose Account Type to IMAP
Enter imap.mail.yahoo.com as Incoming mail server
Enter smtp.mail.yahoo.com as Outgoing mail server
Provide your Yahoo account credentials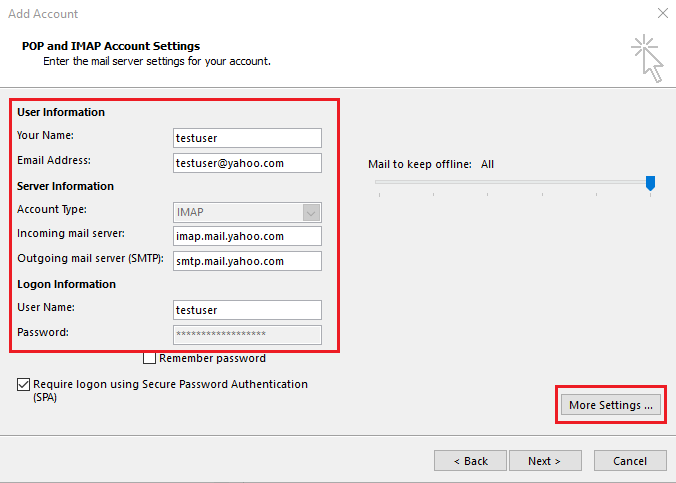 Click on More Settings

Go to Outgoing Server tab
Check for My outgoing server (SMTP) requires authentication option
Select Use same settings as my incoming mail server option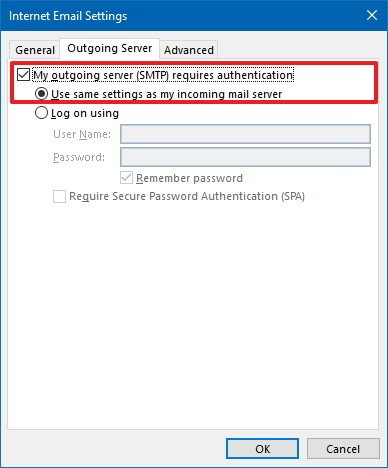 Move to Advanced tab

Enter 993 Port number for Incoming server (IMAP). Also, select SSL encryption
Enter 465 port number for Outgoing server (SMTP). Select SSL encryption mode
Click on OK button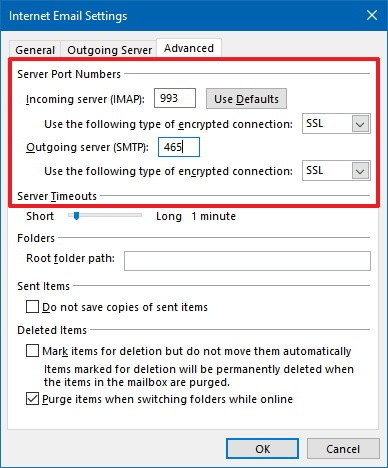 Click on Next button
On the appeared window, click on Close option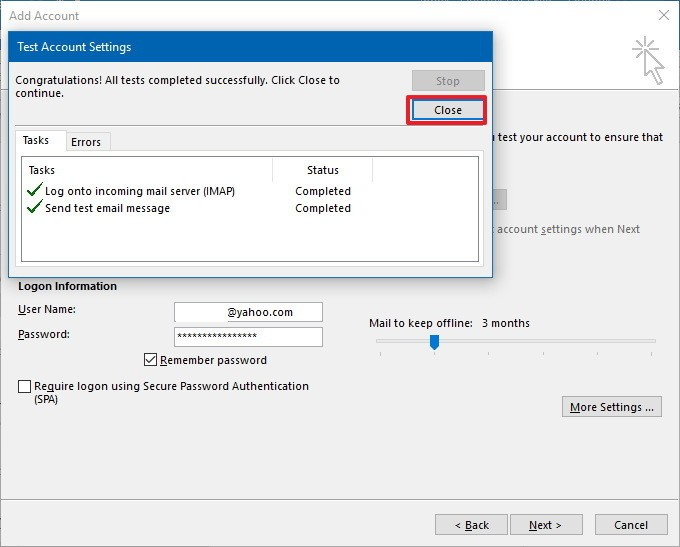 Click on Next button, then click on Finish button to exit the window.
Restart Outlook application
The Yahoo mail folder will be displayed on the Outlook folder panel. This might take some time to preview all the Yahoo emails in Outlook if the sync of Yahoo mail to Outlook is not completed.
Now, we move to the special features provided with the Yahoo mail to PST file migration application.
Features of Yahoo to Outlook File Conversion Tool
The application offers multiple features to perform an effortless and time-efficient process to export Yahoo mail to Outlook format. Some major set of features are mentioned below
Small Step Procedure:
The whole procedure includes a very less number of steps which does not require any technical knowledge to perform. You have been provided an easy and friendly interface so that the Yahoo mail to Outlook PST file migration is performed effortlessly.
Emails Filtering Option:
You can have selective emails moved to Outlook file. This is possible with the email filtering technique provided within the application. Once you set up the date range, the emails within the range will only be moved to Outlook file and the rest are skipped. This is a move towards efficient Yahoo Outlook mail migration.
Archive Yahoo Emails to Outlook PST File:
There is an option of Delete After download. This offers the user to import Yahoo mail to Outlook format and the email is moved from its origin, that is, Yahoo mail. In other terms, the emails transferred to the Outlook data file are removed from the Yahoo mail. This can help from the misuse of important data.
Manage Live Yahoo Outlook Mail Conversion:
During the migration of Yahoo, mail data is on, you can interfere in between the transferring of Yahoo mail to Outlook. Here is the benefit, if your connection is a bit lost or with low bandwidth, you can pause the migration in the midway. Afterward, when the connectivity gets stabilized, you can resume the migration. It seems like a milestone within the application.
These were some features provided to import Yahoo mail to Outlook. Now, I have a question for you; Do you know how to export Yahoo mail folders to Outlook file? I assume it's a Yes from your end.
Frequently Raised Questions
Q: How Do I Export Yahoo mail to Outlook format on Mac?
A: Simple Steps to Migrate Yahoo mail to PST File in Mac OSX
Step 1: Download and Run Mac Yahoo Email Backup Software
Step 2: Login to the application with Yahoo credentials
Step 3: Select Outlook format for backup
Step 4: Click on Browse and select the destination for Outlook data file
Step 5: Hit on the Start Backup option
Q: Is it possible to transfer my Yahoo mail email folders to Outlook PST?
A: Yes, it is possible. While moving Yahoo mail to PST, the folder hierarchy and data integrity are maintained until the end of the process completion.
Q: Can I move Yahoo email folders in PST on Mac without Outlook installation?
A: Yes, use Yahoo mail backup for Mac. This application will take the backup of your Yahoo emails and their respective folders on the Mac system in PST format. The application does not require Outlook installation for Yahoo mail to PST file migration.
Q: What is the Yahoo Outlook Configuration Settings?
A: When Yahoo is configured to Outlook, it is added to Outlook in two account types: IMAP and POP
IMAP configuration Settings:
Incoming server: pop.mail.yahoo.com Port number: 993 (SSL)
Outgoing server: smtp.mail.yahoo.com Port number: 456 (SSL)

POP Configuration Settings:
Incoming server: imap.mail.yahoo.com Port number: 995 (SSL)
Outgoing server: smtp.mail.yahoo.com Port number: 456 (SSL)