How to Migrate Domain Mailboxes Between Office 365 Tenants? Comprehensive Guide
Often large organizations procure different small organizations to enhance their turnover and expand into new markets. Just like this, there come times when an organization sells off the small companies acquired by it or breaks down into two small parts. Whether it is a re-branding or divestiture, merger or acquisition, both Office 365 organization's IT infrastructure needs to be combined with the parent organization. Let's take an example to understand all this in a simpler way.
Try to picture this scenario in your mind.Where Company Need to Transfer Domain From One Office 365 Tenant to Another
There are two different companies named ABC, XYZ, and both are using Office 365 services. Lately, ABC has acquired XYZ but, both companies are using their own domain names and Active Directory Forests. Other details of both organizations are the following:
ABC (The Parent Company with 390 Users)
Domain Name: abc.com
Active Directory Forest: abc.com synced to Azure Active Directory that is using Azure Active Directory Connect Server
Uses Hybrid Exchange Online Setup
Office 365 Tenant: abc
Tenant Address: abc.onmicrosoft.com
Uses primary email address as username@abc.com and userprincipalname
XYZ (The Child Company with 121 Users)
Domain Name: xyz.com
Active Directory Forest: xyz.org
Active Directory Domain: xyz.org used to user login and access local resources
User Object used to provision mailboxes in O365 tenant
Now, XYZ users are facing issues as their Office 365 userprincipalname is username@xyz.com yet, the primary address is username@abc.com. This is burdening users as they have to manage two different object passwords for the Active Directory domain. So, ABC has purchased a new tenant, and now it needs to move all user mailboxes of xyz.com to this new domain. How this can be done?
Smart Way to Migrate Office 365 from One Domain to Another?
In this section, we will demonstrate the means that can be utilized to perform migrate domain from Office 365 tenant to another Office 365 tenants.
Important Considerations: Before using the given utility you need to consider some important things:
1: Destination user's account should be created on destination tenant.
2: Create a project in Microsoft Azure, enable permission & generate application ID,
Office 365 to Office 365 Migration Tool is a prominent and automatic solution to transfer or move a domain from one Office 365 tenant to another.
Some highlighted features of this tool are given below.
1: It allows users to migrate entire user mailboxes from one Office 365 domain to another tenant even without losing a single bit of data.
2: The software migrates emails, contacts, calendars, and documents of the Office 365 domain.
3: It provides an Import CSV option to add Office 365 source and destination mailbox information.
4: It supports Windows 10 and all below versions to migrate Office 365 domain to a new tenant.
5: Capable to Migrate domain data from Office 365 tenant to another Office 365 tenant.
6: Date-based filter option to move selective data.
7: Provides account-based priority migration between tenants.
Follow the Instructions to Move User from One Domain to Another Office 365:

Step: 1 Launch the Software to Transfer Domain From One Office 365 Tenant to Another. Select Office 365 as source & destination.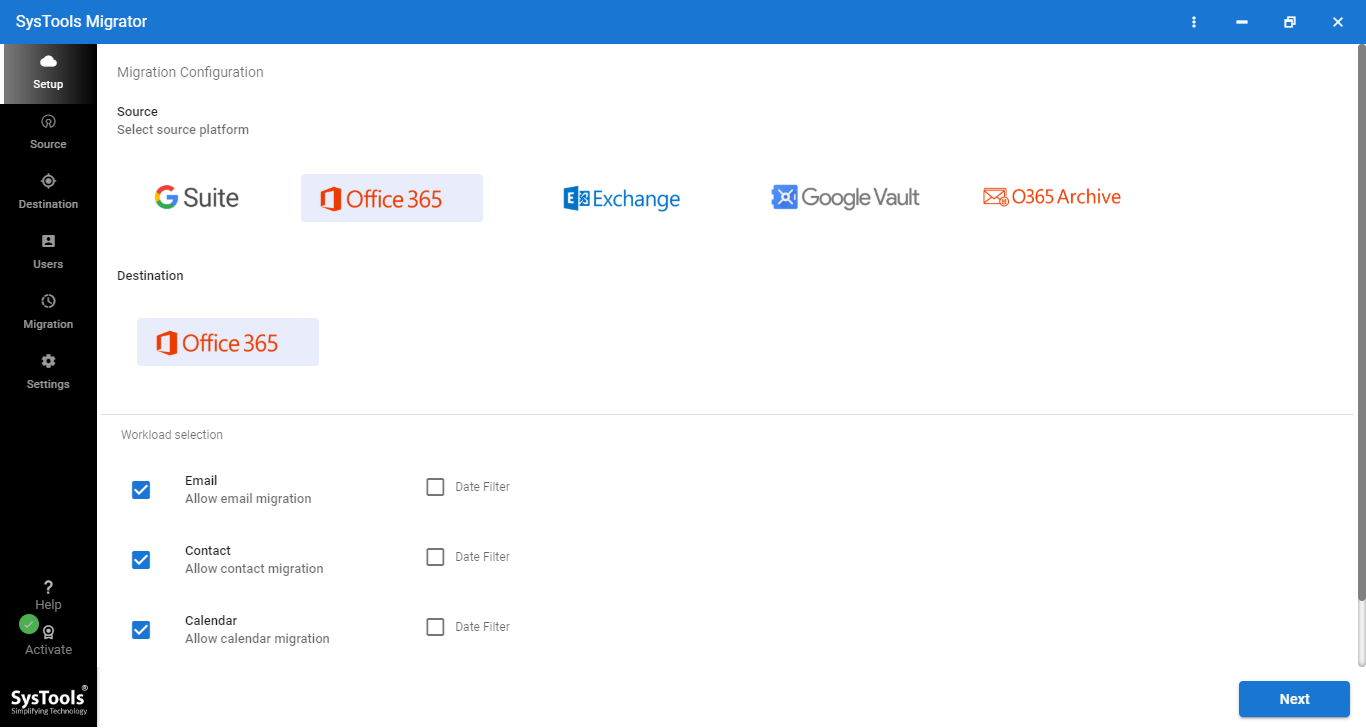 Step: 2 Select data (email, contact, calendar, document) which you want to migrate.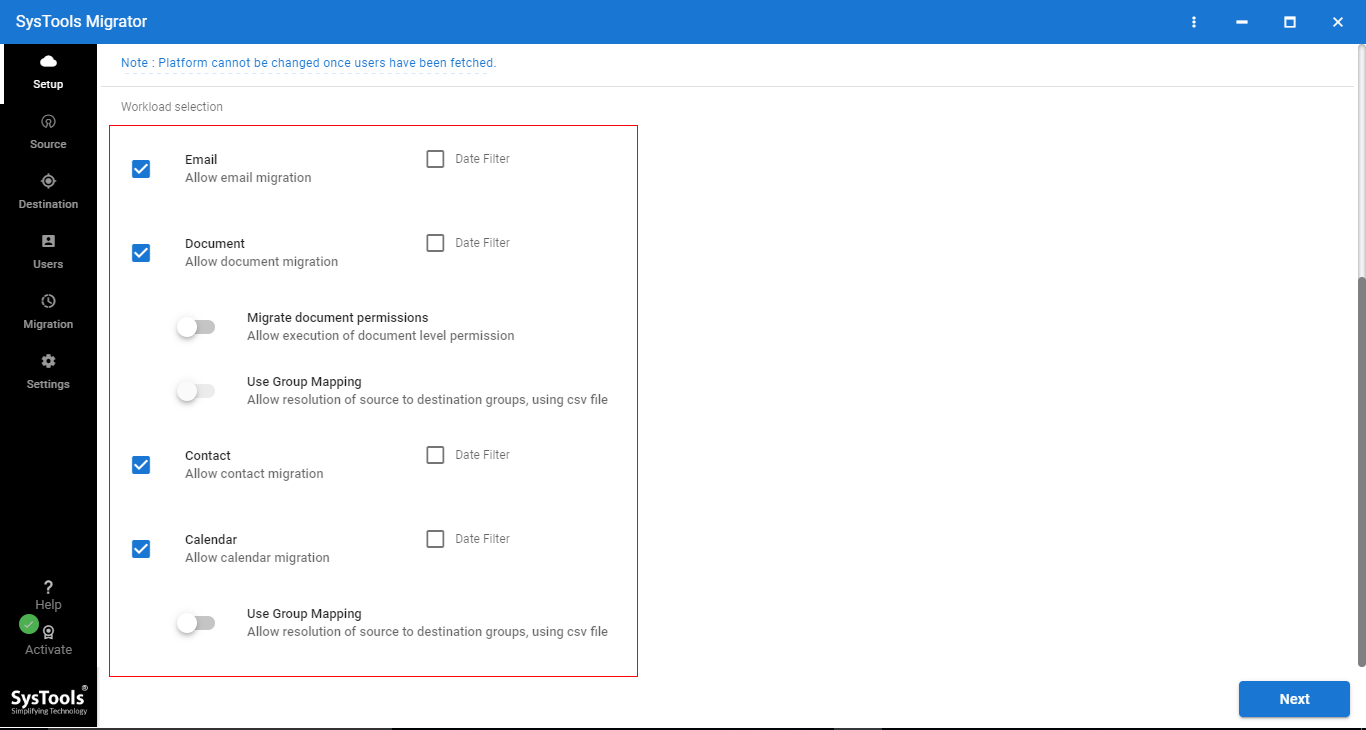 Step: 3 It provides Migrate document permission, Use Group Mapping, Date-based filter option. You can enable options according to requirements. Click on Next.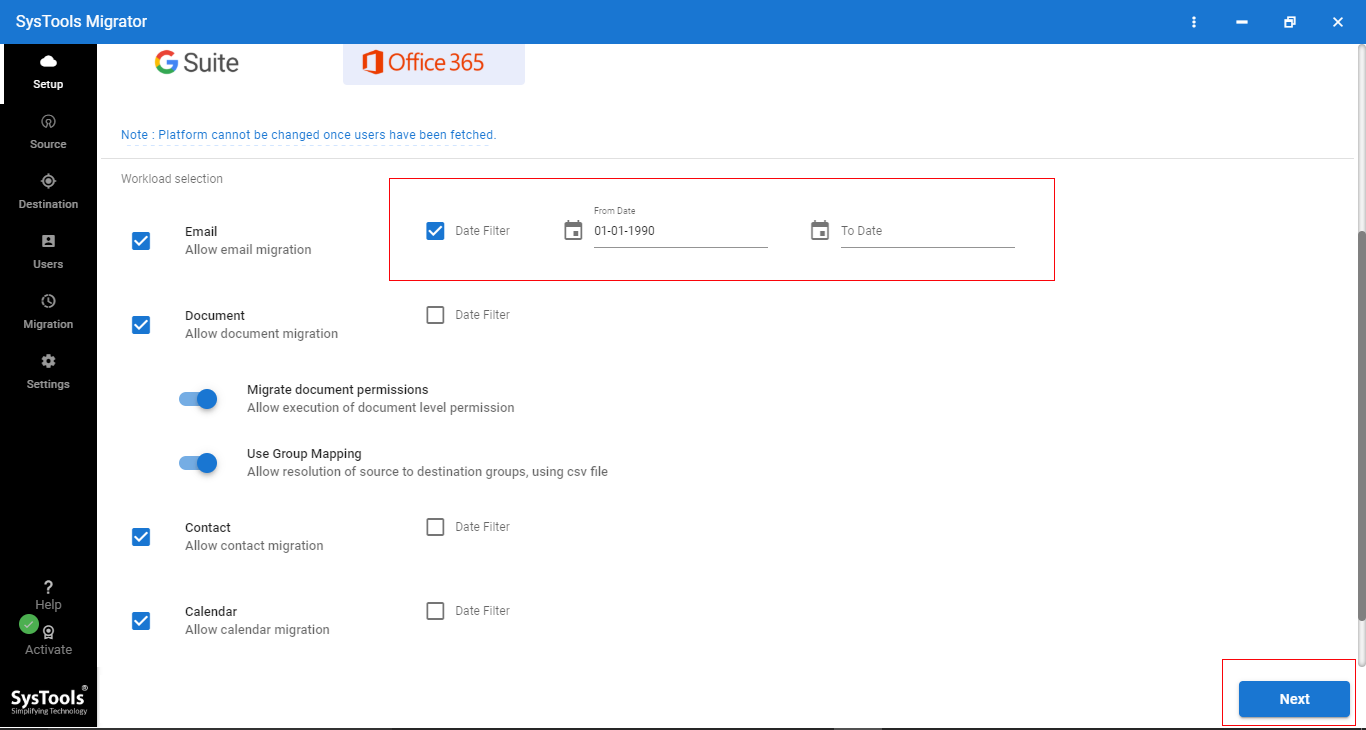 Step: 4 Now, log in Office 365 source tenant with the Application ID, Admin ID. Then click on Validate to validate permissions. Click on Next.
Step: 5 Now, login Office 365 destination tenant & validate permissions. Then click on Next.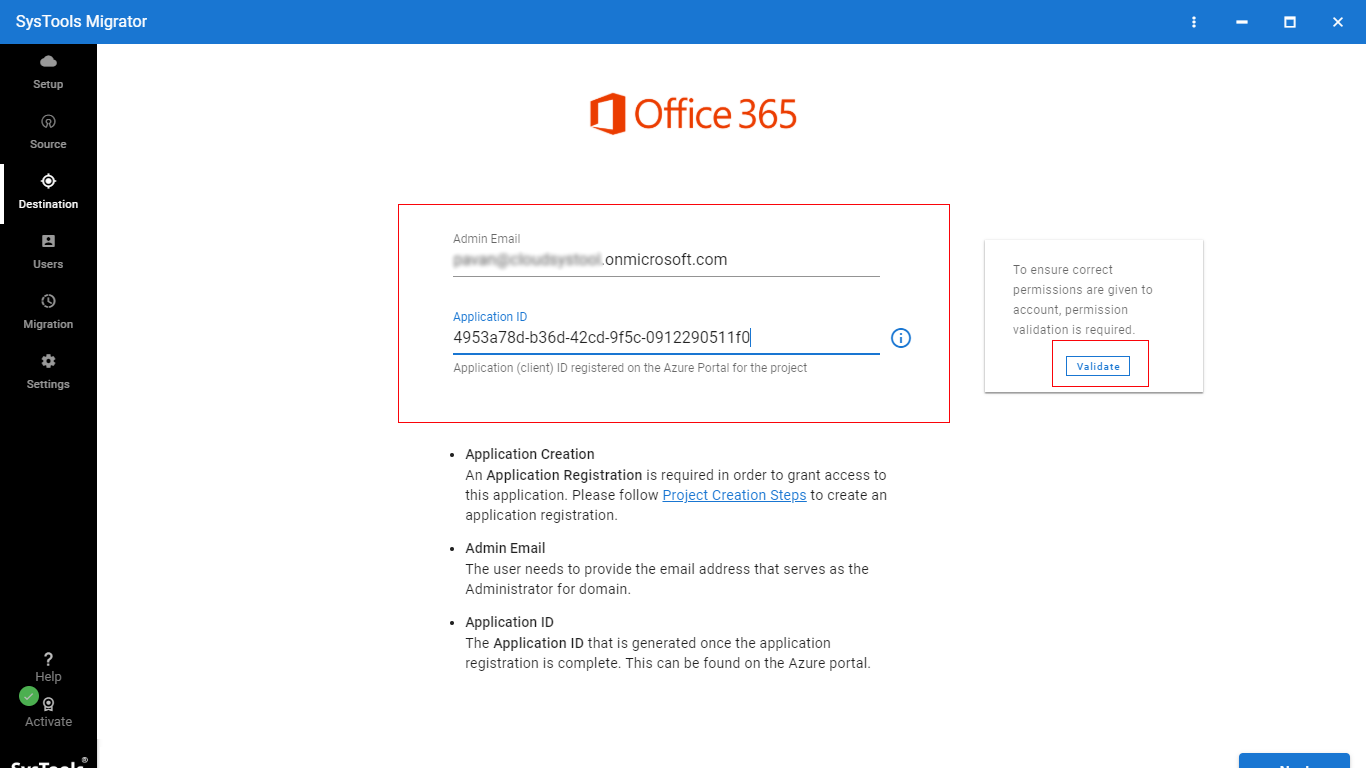 Step: 6 Now, from this screen, you have to Download the Template. In this template (CSV file) you have to enter source & destination user ID.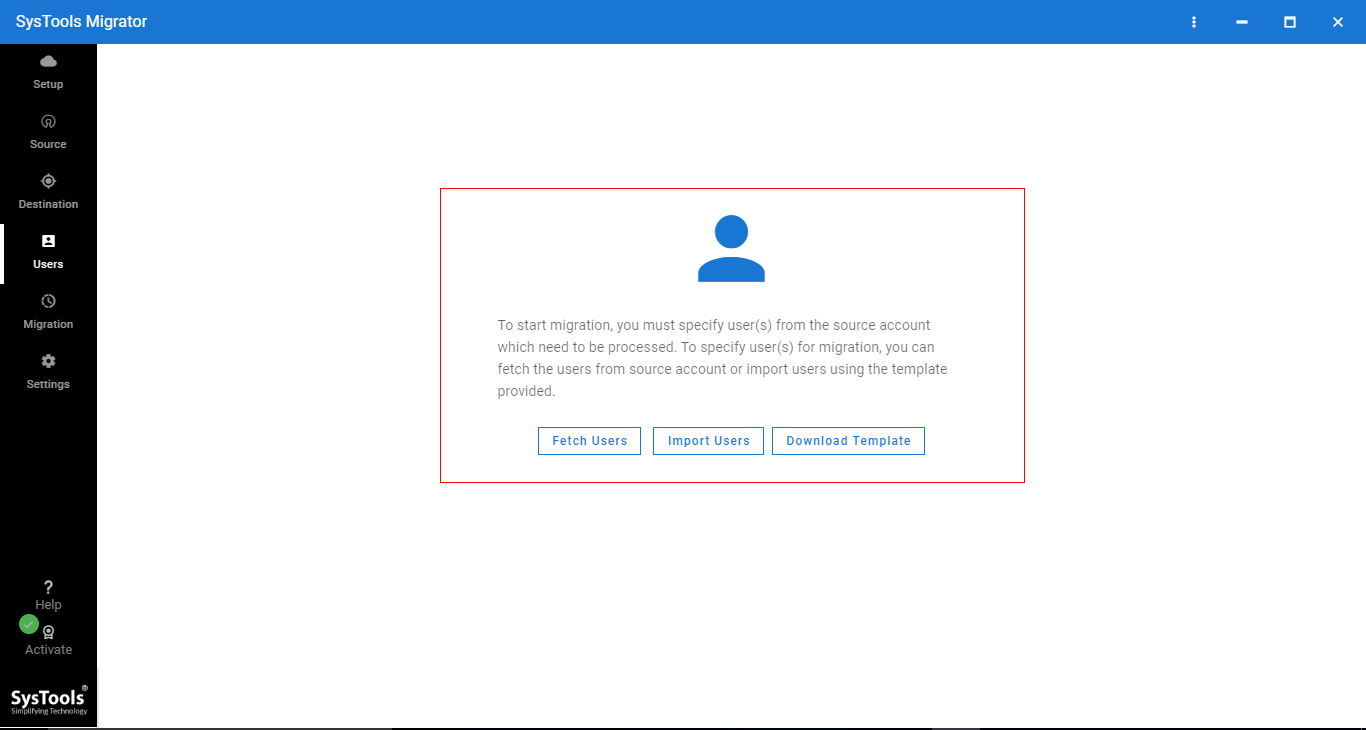 Step: 7 Now, browse the CSV file and upload this file in the software.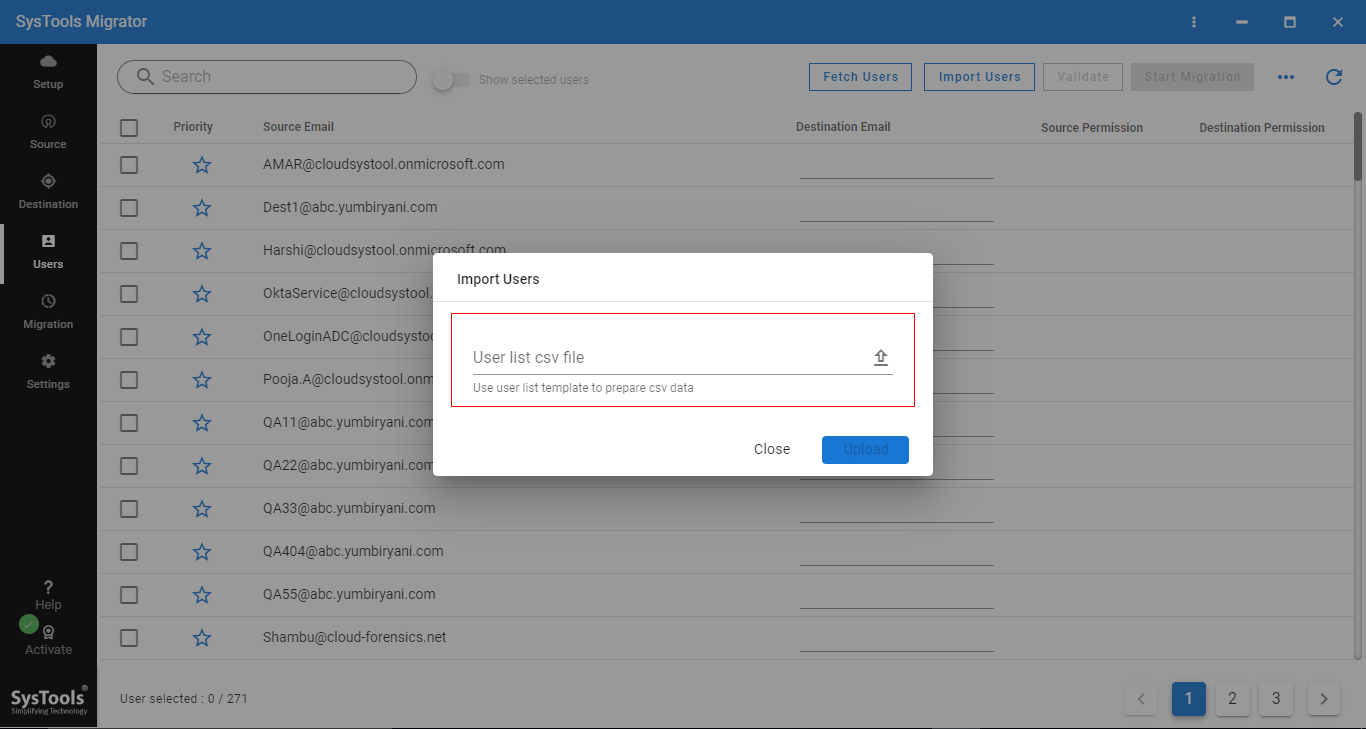 Step: 8 Now, users are mapped successfully. Click on Start Migration to migrate domain data from one Office 365 tenant to another.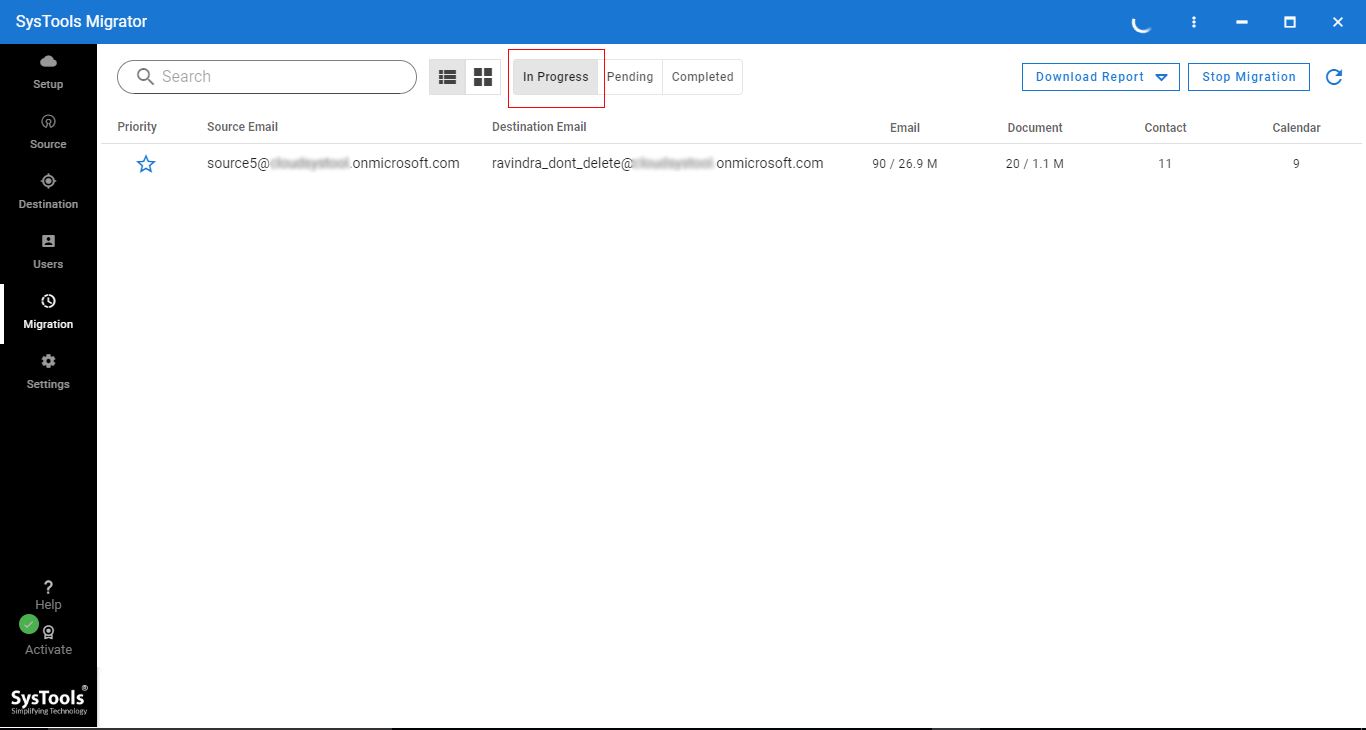 Step: 9 It will take a few minutes to transfer domain from one office 365 tenant to another, then you can access data in a new tenant.
Wrapping Up
Migration-related queries are arising quite often nowadays and in absence of any direct way or tool provided by Microsoft. It becomes a conundrum task to perform, which lead to data loss and multiple errors,
Hence, to make it easier, we have described the most reliable solution in the above section, anyone can easily move user from one domain to another in office 365 without any hassle.
FAQs
Does this software support Windows 7 Operating System or only the new version?
This is a one-stop solution for users seeking Office 365 data migration and therefore, it is designed in this way so that it can work on any Windows OS irrespective of its older versions. So, the answer is yes, it works fine with all Windows OS.

Can we work on our Office 365 user accounts when data migration takes place with this software?
Yes, the software provides a seamless data migration experience to its users and hence, allows them to use their user accounts by running this data transfer operation in background. So this software does not hamper the running business.

Does this tool keep data folder structure when migration gets completed in Office 365?
Yes, this is a remarkable feature of this tool, that it keeps the data file's and folder's integrity and hierarchy as it is, as it was in the source user account.