How To Open DBX Files In Windows 10? Find the Solution
Do you want to open DBX files in Windows 10? If so, do not worry. In this post, you will learn a simple process of View and read DBX File without any hassle.
The DBX file extension is primarily an email file format created and saved in Outlook Express. The DBX file efficiently stores email messages and other additional file formats. The DBX files extension is used by the MS Outlook Express email client. The .dbx files contain all the folders created by the MS Outlook Express DBX email program
How To Open DBX Files In Windows 10? – Step by Step Process
DBX Viewer is one of the best software for related purposes as it allows users to access DBX data files. This utility allows you to open, view, and read .dbx files. Users can view email messages and all other items. It provides a preview of all emails with their respective properties, such as dates and topics sent, received, etc. It provides several options in a simplified way to open and view DBX email files. Mail, hex, properties, message headers, mime, email, HTML, RTF, and even attachments to your DBX files can read emails. A user can easily search and analyze the DBX file to get useful information. One can find a specific email from a large DBX file.
A Step By Step Process To View DBX Files In Windows 10
1: Download & Run DBX Reader Tool in your system.


2: Click on Add File button and select the options: Select file or folder from file system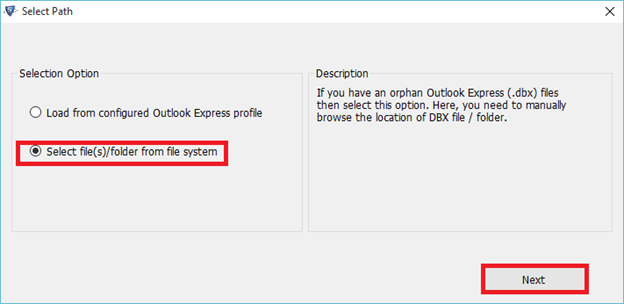 3: After that, Browse & select the DBX data File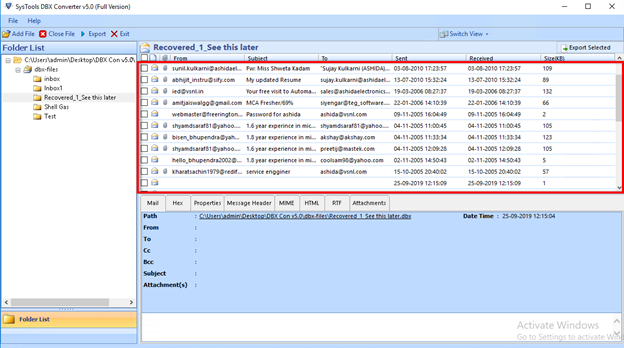 4: Preview DBX data items in an original folder hierarchy.
Key Features OF DBX Viewer Tool
Multiple Preview Modes: It Provides switch view options for viewing emails in horizontal and vertical modes.
Auto Search Option: The tool provides auto detect feature to detect .dbx files on the local system and open DBX files in windows 10. You can check the auto-detection checkbox and find hidden files on the system
Fast, Easy and Secure: This is a fast, easy and secure solution for Outlook Express users. There is no time and prior technical expertise for DBX file Viewer. This does not cause any adjustment or change in the process.
Complete Preview: It allows you to preview emails with attachments, headers, meta properties.
Support & Compatibility: It supports all major versions of Outlook Express and Outlook including the latest version.
Maintain Data Integrity: – Maintains data integrity and confidentiality during processing Provide 100% successful and accurate results in almost all cases.
Outlook Express is Not Required: The user does not need Outlook Express to view and read DBX files
Final Words
This blog describes a successful and easy solution to open DBX files in Windows 10. Here we have introduced the DBX Viewer tool, which can help you view and read DBX files with attachments. Download the software and see the equipment possibilities and operations for free. The utility is also compatible with all versions of the Windows operating system.
Frequently Asked Questions:
Q: Can I use this tool to open DBX file without Outlook Express?
Yes, DBX Reader is a separate utility that loads and displays DBX email, even if the Outlook Express application is not installed on your system.
Q: Is there a size limit for DBX files?
No, there is no limit on the size of DBX files. You can open DBX files of any size using the DBX File Reader.
Q: Is the application completely free or do I have to pay for it?
The Utility to view and open DBX files is completely free.
Q: Can I view attachments with Outlook Express email with this DBX viewer?
Yes, It is designed to preview DBX emails files with their attachments.