Let's See That How to Recover Lost Personal Folders in Outlook 2019?
What if your personal folder in Microsoft Outlook 2019 / 2016 / 2013 is lost? Of course, you'll be unable to access your appointments, attachments, and emails. This will result in a halt of business communication work. Worried?
Sometimes Microsoft customers have to face a situation where they notice that their Outlook personal folders missing. In such scenario, they get worried or stressed, resulting in demand for a quick solution to recover lost personal folders in Outlook 2019, 2016, 2013, etc. This article is going to provide probable reasons and approaches to perform Outlook personal folder recovery.
Causes Due to Which Outlook Personal Folders Get Lost
There are several causes due to which end users face the loss of Outlook personal folders. If you know the reason due to which the folder loss situation has occurred, it becomes easier to recover missing folder in outlook.
Time to Start Reading Out the Solutions
It's possible to recover Outlook personal folder via Inbox Repair Tool. You can easily recover missing folder in Outlook 2016, 2019 versions using this tool. Without wasting much time in explanation of this utility, we are simply going to assist you with the steps to use it. So, let's begin the steps to retrieve lost personal folders in Outlook:
1) Close MS Outlook 2019, 2016, 2013, etc., email client on your PC, if opened
2) Launch Microsoft Windows Explorer or My Computer program on your system
3) Dependent upon the version of MS Outlook in which you want to recover lost personal folder, locate towards the path where scanpst.exe utility is present.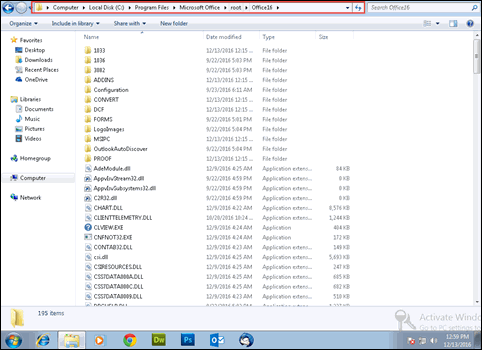 4) When you reach the destinated location of Windows Explorer search for scanpst.exe tool to recover Outlook Personal folder.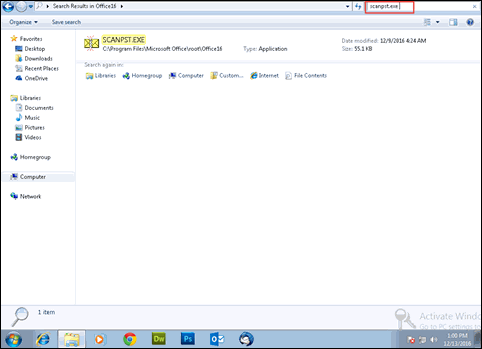 5) Once found, click on it to highlight it with blue color and then attempt a right-click. This opens a menu where you have to click on Run as administrator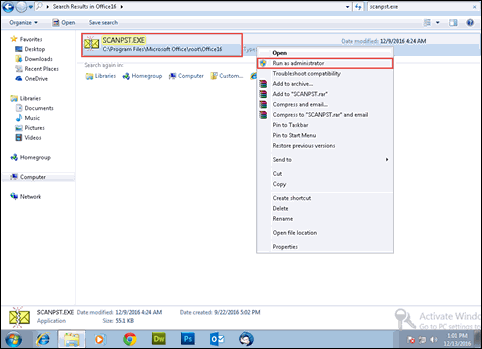 6) A 'User Account Control' window prompts where you have to click on Yes button to recover lost personal folders in Outlook via inbox repair tool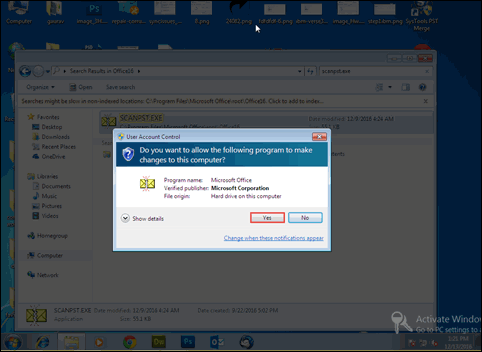 7) Now you can see the screen of Microsoft Outlook Inbox Repair Tool where you have to click on Browse button. Here you only have to select and load the PST file whose personal folders are missing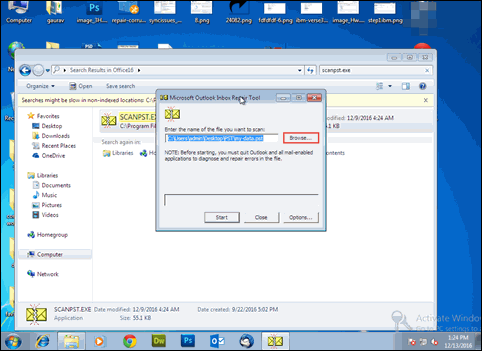 8) Check the presence of corruption level present in browsed PST file, by clicking on Start button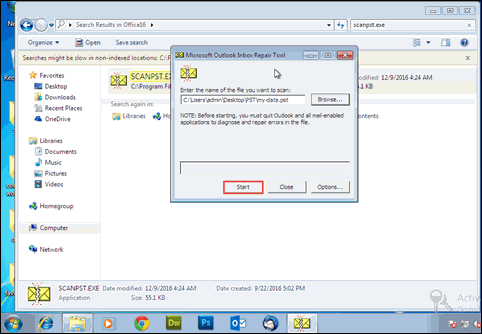 9) When the scanning procedure gets completed, deeply analyze the scan report. If errors are found in the file, don't waste a single second. Quickly enable the checkbox of 'Make backup….' and click on Repair button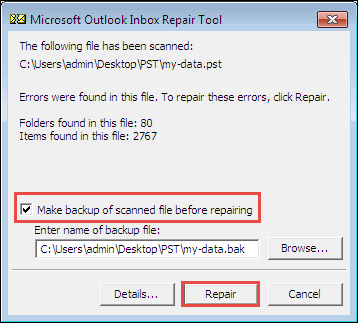 When the repairing procedure gets finished, check whether your PST file's personal folder is regained back or not. If yes, congratulations; finally you accomplished your task successfully to recover missing folder in outlook 2016 / 2019. But, if no, the only option left is to use Outlook PST Recovery tool.

More About The Software
It is a third-party application that users can use to retrieve back their permanently lost folders and files from PST file. This application gives 100% assurance retrieve lost personal folders in Outlook 2019, 2016, 2013, and all below versions. The software has the capability to fetch the permanently lost content without any hard efforts from the browsed PST file. Also, it eliminates all the errors (if any) from the processed PST file and enables clients to work with a healthy / error-free Microsoft PST file. This approach is one of the simplest solutions to recover back the lost data in no time along with the ensuring of data integrity. The software is compatible with ANSI as well as UNICODE PST file, which means that it works flawlessly with PST file of any size.
Observational Verdict
Our intention behind recommending a third-party solution to recover lost personal folders in Outlook 2019, 2016, 2013, etc., is to save lots of precious time, which people usually waste in picking up a suitable recovery solution. We had tested this product in all aspects of recovery and found it the best among all. If you don't believe us, without purchasing the software you can test its trial version and clear out all your basic doubts.