Know How to Import Outlook MSG Files to Thunderbird
Do you have MSG files and want to import them to Thunderbird application? Then this blog is dedicated to you only.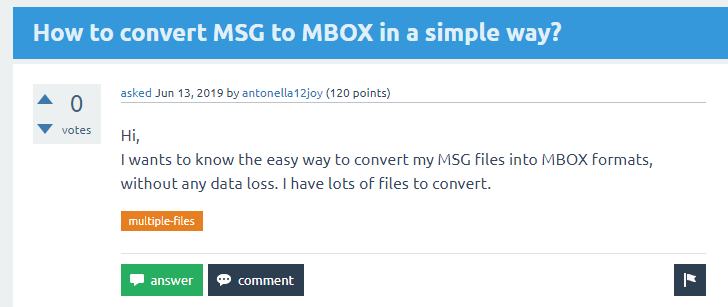 Here you will get complete insight about MSG files and methods to export to Thunderbird in a pretty straightforward method.
User Query – I want to Import Outlook MSG Files to Thunderbird
Friends! I have some MSG files in my Outlook mail account, but now I want to import them all to MBOX format in Mozilla Thunderbird. Is there any efficient and safe solution that can help with this conversion process? Has anyone encountered this situation? If yes share your practical solution that can also work for me. Thanks in advance.
Reasons to Import MSG files to Thunderbird
Difficulty to maintain – MSG file only contain a single message. After a short period, the user finds a large number of MSG files which becomes really difficult to manage.
Accessibility to multiple MSG files – User refers to Thunderbird after Outlook to organize and store their emails in a better way. Upon it, MSG files can be handled thoroughly.
Unavailability of Outlook – If users do not have Outlook applications on their system then the MSG files cannot be opened. Whereas Thunderbird being the free email client comes in handy to manage and open files.
Finest Approach to Open MSG file Thunderbird
You will need to perform two tasks for inclusive MSG files conversion.
 TASK FIRST – Import Outlook Messages to MBOX file Format
 TASK SECOND – Import MBOX Format to Thunderbird Application
Let's start the process to import Outlook MSG Files to Thunderbird
TASK FIRST – Transfer Outlook Messages to MBOX format
To avoid any complication to import MSG files to Thunderbird choose the trustworthy method.
Below mentioned tool comprehends with MSG file framework. It works effectively to export corrupted and damaged MSG files too. For bulk file conversion you can rely on it. Below mentioned steps are desired to convert Outlook message files to MBOX format.
Step 1. Add the MSG files to the converter
Launch the MSG to MBOX converter on windows system.
Add the MSG files to the utility.
Step 2. Select the MSG files/folders
It will automatically upload the MSG files.
Select MSG file(s) and folder(s) to import in MBOX format.
Click on Export Selected to convert into MBOX format.
Step 3. Choose MBOX as the File Format
In the next prompt window message, you will see various file format options.
Choose MBOX as your desired file format to export MSG files.
Step 4. Select Destination Location
Click on the Browse button to choose the system location to save the converted files.
Next, click on the Export button to initiate the conversion process.
Let the process complete. Now the converted MSG files are saved in the chosen location in MBOX file format.
SECOND TASK – Import MBOX files to Thunderbird
Run Thunderbird application.
Go to the tools menu by clicking on the three dots icon on the right top corner.
Choose Tools >> Import option from the list.
The next prompt will ask you to import the files, choose to import MBOX files to import. This will upload all the MBOX files to your Thunderbird account.
Now you have to extensively import Outlook MSG files to Thunderbird without disturbing its structure and meta-data.
Some Accentuated Elements of Utility
Supports various file formats to transfer MSG files to PST, PDF, EML, MBOX, etc.
Keeps the Meta properties of MSG files intact.
Compatible with both Windows and Mac Operating System.
Naming Conventions for sorting of MSG attributes.
Manual Method to Import Outlook MSG files to Thunderbird (Not Recommended)
Warning – This method is not authentic and is not approved by Outlook and Thunderbird. It is a makeshift method; results are uncertain. So before choosing this option, make sure to keep a backup of your original data.
Prerequisite for manual conversion
Must have Configured Outlook application
Installed and setup Mozilla Thunderbird
Import Outlook MSG Files to MBOX Manually [Not Recommended]
Neither Outlook nor Thunderbird has provided any facility to convert MSG to MBOX file format. But for curious users who are willing to try the out of the box method can try this method.
Note – This method is not recommended for your crucial MSG files. This can lead your MSG files to an uncertain state.
Select the MSG file and right click on it.
Choose Rename option.
Change the extension from .msg to .mbox extension.

You will receive warning prompt telling you that changing file extension can make file unusable. If you do not worry about the originality and data of MSG files, then simply click on Yes tab.
Well, Thunderbird doesn't clearly provide a way to import .mbox files, but you can copy and paste renamed .mbox files into Thunderbird's Store Folder.
Loss after Unreliable Manual Method
1. As the renamed .mbox files are not standard format. These files will get corrupted when you will try to access them.
2. The .mbox renamed files are added erratically, it will just add disorientation and mess in the Thunderbird platform.
3. These files will be shown in the sender mail.
4. All this mismatch will create more chaos which can disturb the rest of mailbox too.
Users' FAQs – Import Outlook MSG Files to Thunderbird
1. Is manual import of MSG files is possible from Outlook to Thunderbird?
Neither Outlook nor Thunderbird has facilitated this feature. So there is no authentic manual import method available for this requirement.
2. I want to import MSG files to Thunderbird in bulk, and I do not have an Outlook account associated with those files. What is the solution?
You can choose the direct conversion method which does not need Outlook or Thunderbird application on the system.
3. Is there any single tool that can import MSG files to various other formats too?
Yes, MSG converter is the direct and instant solution to transfer bulk MSG files to various file formats including PDF, PST, EML.
4. Does it work for the corrupted files too?
Yes, it allows users to import MSG files to its respective application.
5. Is any free version available of this tool?
You can try the demo version to get the understanding of the tool. After complete satisfaction, you can go for the full-fledged version for unlimited conversion of MSG files into Thunderbird file format.