Know All About the Lotus Notes Names.nsf File

There is a separate database created for storing mailbox data in IBM Notes and Domino servers. It stores contacts in an address book format in a Names.nsf file. Each and every saved phone number, email address, and other details are saved to this file on the back end. A number of users are unaware of this repository and get confused when exporting contacts. This post sheds some light on this topic and discovers all about the Names.nsf file. It mentions all that there is to learn about. Find out more from the following section: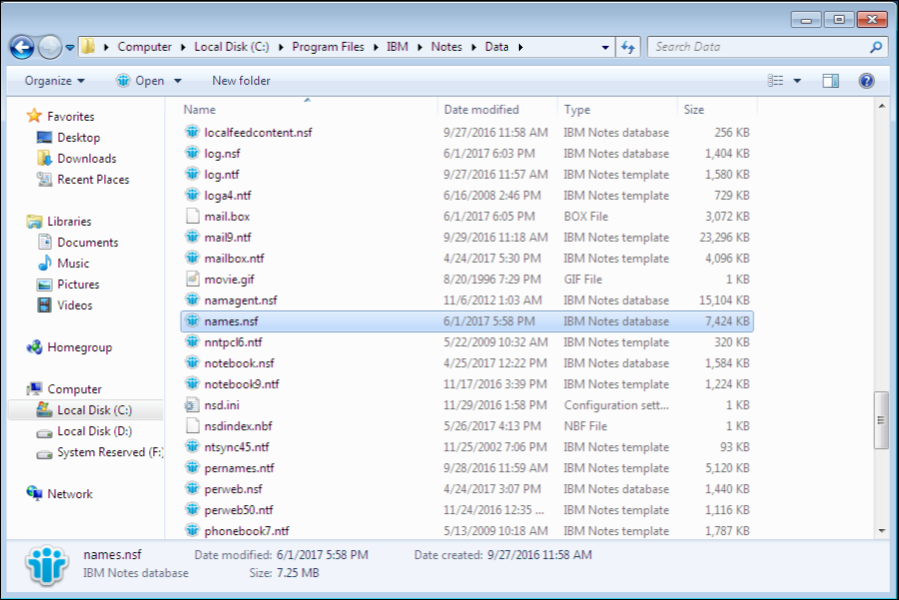 What Information is Stored in Names.nsf File?
It is the address book format used by the Lotus Notes client for storing just the contacts. It is also used in the Domino Server directory. It is a single database file that contains all the contacts in a mailbox of a user. Each new contact created is added directly to the Names.nsf file. It maintains a contact list on the front end. It is available to users to send and receive messages from.
How to Create a New Names.nsf File in Lotus Notes?
There is an option available to generate new contacts files in the IBM Notes client. It is by using a personal address book template i.e pernames.ntf file. The file can be named in a variation of names.nsf (like names2.nsf), This is to keep different contacts files in the same directory.
Extra Info:

Experts recommend from all Lotus Notes users. If you are planning to migrate on Microsoft Outlook. Then you must have NSF to PST Converter. It will help you to migrate complete data.
How to Delete Names.nsf File in Lotus Notes?
The Notes contact file can be deleted easily by going to the path where it located. Then, right-click on it and select Delete. It is as simple as that. However, make sure that there is at least a single 'Contacts' file within the email client. If there is none, the application will not run.
How to Change Names.nsf in IBM Notes
Here is a step-by-step guide to changing between different contact files in the email client:
First, go to File>>Preferences.
Then, click on Mail>>Sending and Receiving to change the Name NSF file.
From the 'Local Contacts' section, choose from one of the following:

To replace the original: First, delete the existing Names.nsf file. Then, Browse to the path where the new contact file is saved.
Adding New Names.nsf File: Browse to the location where the new file is saved. Then, add it to the list. Repeat the steps for more than one file.

Finally, click on the OK button to change Names.nsf File in Lotus Notes.
Note: Make sure that contacts lists are synced to match the one in the Notes desktop client with the Web Access one.
How to Sync Contacts in Lotus Notes 8.5?
There are two copies created for storing contacts: one for the Domino server and another on the local machine. A simple sync operation can be performed to match the Names.nsf data between the two.
What is The Need for Syncing Contacts
Sometimes data need to be transferred to another machine for mailbox migration or upgrade. Or one may need to simply save some contacts to file and send them as attachments. This requires complete synchronicity of contacts. Important addresses can be lost if new contacts added to the local machine are transferred during mailbox migration.
How to Sync Lotus Notes Contacts?
Mentioned below are the instructions to sync contacts in Lotus Notes.
First, go to IBM Notes>>File>>Preferences>>Contacts.
Then, select the option to 'Enable Synchronize contacts on Replication'.
Finally, click on the OK button.
How to Sync Contacts in Replication Page?
First, go to Open and hit replication
Make sure that the Synchronize contacts option is enabled.
Finally, click on the Start Now button to sync Lotus Notes contacts.
Note: – In this post, you came to know about names.nsf file and also you can understand Methods to resolve Lotus Notes: Error 0x1A5.
Conclusion
It is a great thing to have a complete understanding of the Names.nsf file. It is part of the storage structure followed by the IBM Notes and Domino server. It is very much essential to the smooth working of the client. Without it, the application may not even run. All this is more is discussed in this post.