Solve the Issue: Outlook Calendar Not Responding by Proving Different Techniques
As a user, these issues might be aggravating at times. The error Outlook calendar not responding or Outlook calendar not working is a typical occurrence. We've put together a comprehensive post that will answer all of your concerns and help you cure this mistake and decrease your difficulties.
For many people, Outlook's Calendar is an essential aspect of their day and future planning. There are a few dos and don'ts to ensure that you can rely on it. There are a few things to keep in mind while handling meeting requests, having delegates assigned to your Calendar, or being a delegate yourself.
Failure to do so may result in your Calendar becoming Outlook calendar not responding or causing corruptions that cause Outlook to crash whenever you try to use it.
What to do if Outlook Calendar Not Responding?
There are many ways to tackle when Outlook not responding when opening calendar:
Alter your email service provider.
Disable Outlook add-ins.
In Safe Mode, open Outlook.
Create a brand new user profile.
MS Office Suite should repair.
Fix the data in Outlook.
The Microsoft Support and Recovery Assistant can use.
Manual Techniques for Outlook Calendar Not Responding
When users send emails or open files with Outlook, it's not uncommon for the application to hang. Some customers have also reported that when they access the calendar in Outlook, the software hangs (Calendar not syncing in outlook).
When the email software hangs, it freezes and displays a Calendar not showing in outlook error message at the top of the window. As a result, the email program has basically crashed, and users will need to restart it.
When you switch to Outlook's calendar, does it also hang? If that's the case, the options listed below may help.
Method 1:- In Safe Mode, Start Outlook for Outlook Calendar Not Responding
You can alternatively launch Outlook in Safe Mode, which disables the application's add-ins. Press the Windows key + R hotkey to access the email software in Safe Mode. Then, in the Open text box, type 'outlook /safe' and click OK.
Method 2:- The Inbox folder Used to Process Meeting Requests, Not The Calendar
Meeting Requests are automatically erased when you process them through the Inbox. The requests will remain in your Inbox if you process them using the Calendar. While they're synced and processed by another client, they could find up returning to your Calendar. If you've set up delegations, this could cause problems as well.
Method 3:- To Repair The Calendar, Reset The Folders and Files
Restart the computer as usual after closing all Outlook programs, including the email account.
To access the Windows menu, press Win + R.
Type "outlook/clean reminders" into the search box. To finish the file cleanup, press OK.
Type "outlook/reset folders" in the Win + R box. This allows users to clear all folders in the Microsoft Outlook application. It reset all of the files to their default or factory settings. To begin the resetting procedure, press OK.
After you've completed the instructions above, turn off your computer.
Restart your computer and look at your MS Outlook calendars.
Method 4:- Make a New User Profile
This is the blog's final manual solution Outlook crashes when opening calendar difficulties. This procedure will repair Outlook calendar by making a new user profile in MS Outlook.
With the Windows key + R keyboard shortcut, you may launch the Run accessory.
Click the OK button after typing Control Panel into the open text box in Run.
Go to the Control Panel and click on it.
On the Mail Setup window, click the Show Profiles button.
Remove your current profile by selecting it and clicking the Remove button.
To confirm, press the Yes button.
Select the OK option.
Open the Outlook program.
To open the Add Account window, go to File > Add Account.
Then, in the text boxes, fill in the relevant information.
Continue by pressing the Next button.
To create a new profile, use the OK and Finish buttons.
The next sections of the article will cover how to use third-party software to fix Microsoft Outlook calendar not working issues.
Expert Technique for Outlook Calendar Not Responding
You can fix the Outlook 2016, 2013 not responding when opening calendar issue in one of two procedure: manually or by using a third-party alternative. The professional solution can view as a response to the user query mentioned before. Because the user stated that he attempted to open the same PST file under a different account, it is evident that the chances of the PST file corruption are greater. The most effective way to fix a huge corrupted Outlook PST file is to use a Third-Party Tool DataHelp Software Outlook PST Repair Software. This program may effectively cure Outlook not countering when sending emails, contacts, calendars, tasks, notes, journals, and other items without causing any loss of data.
Steps for the Third-Party Tool
1. Download and install this software, then click the Add Files option for the corrupted file.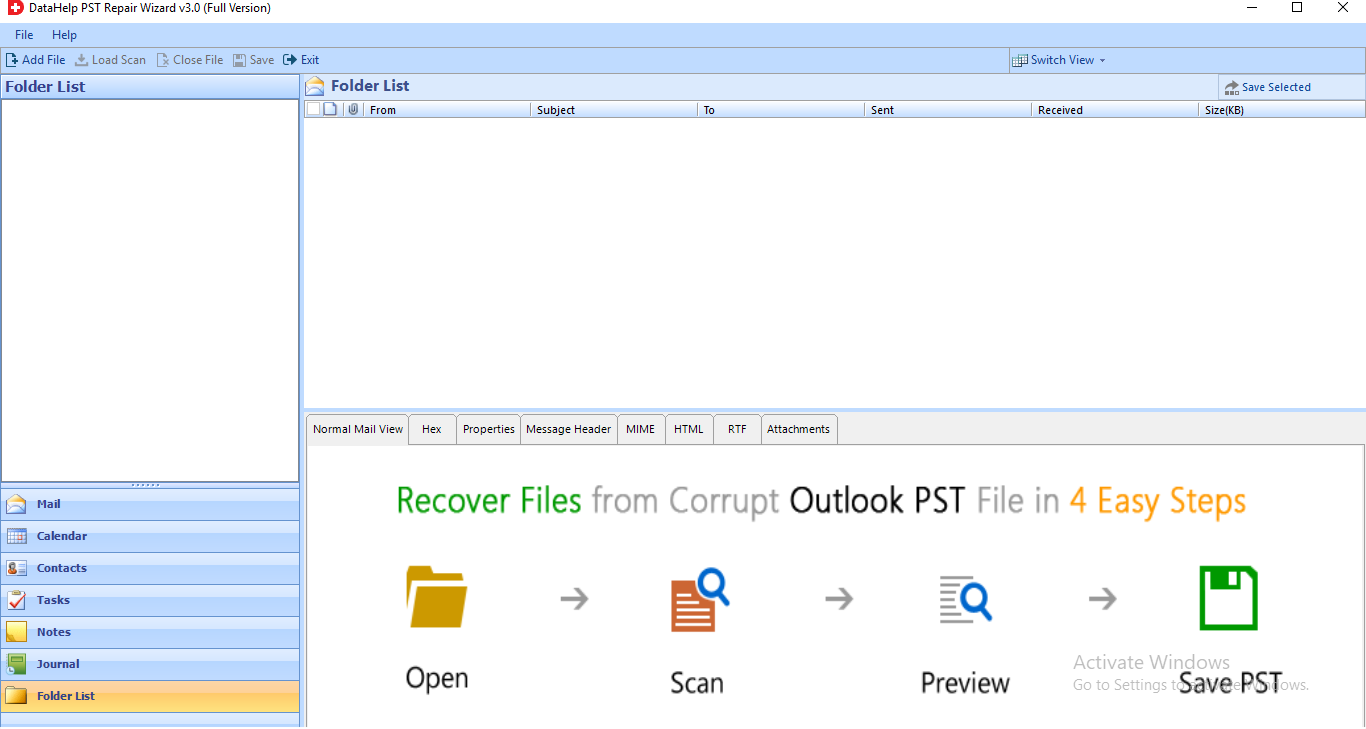 2. The software has a Select File/Search File option for PST selection.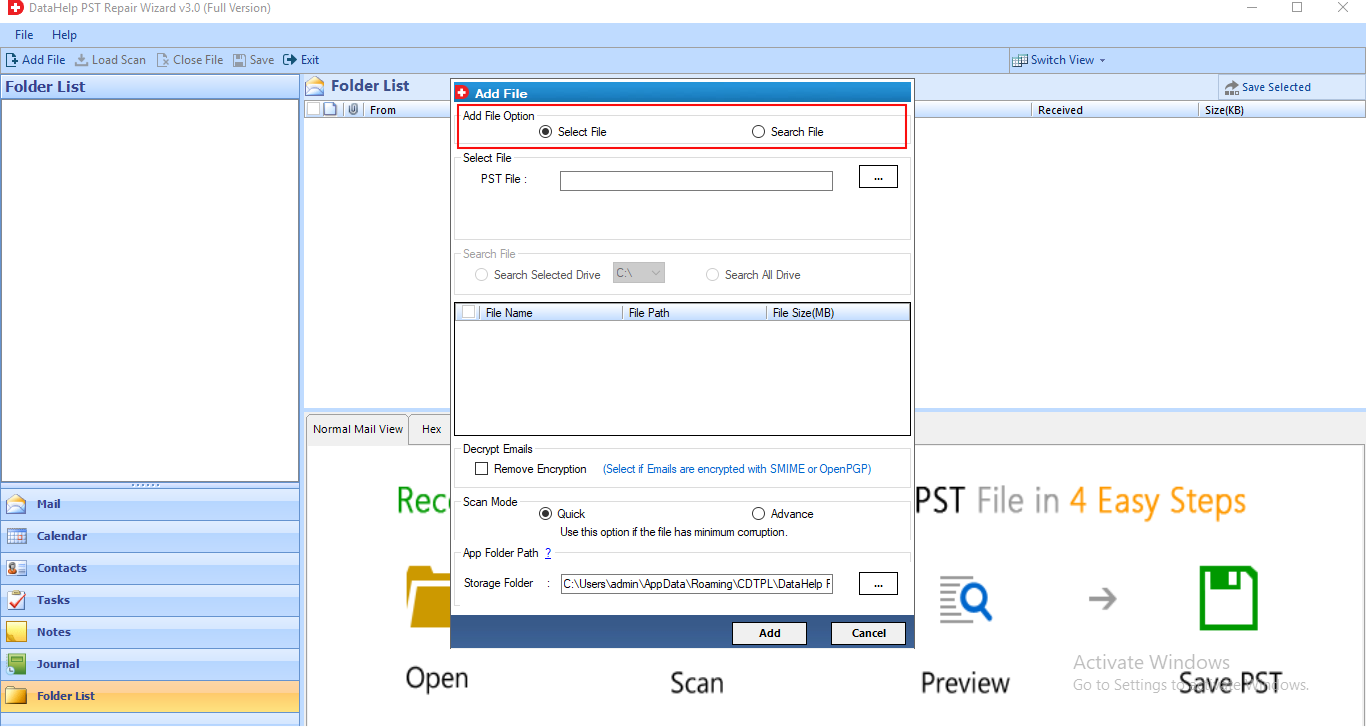 3. In a Preview window, you may see the surfing data from the selected file.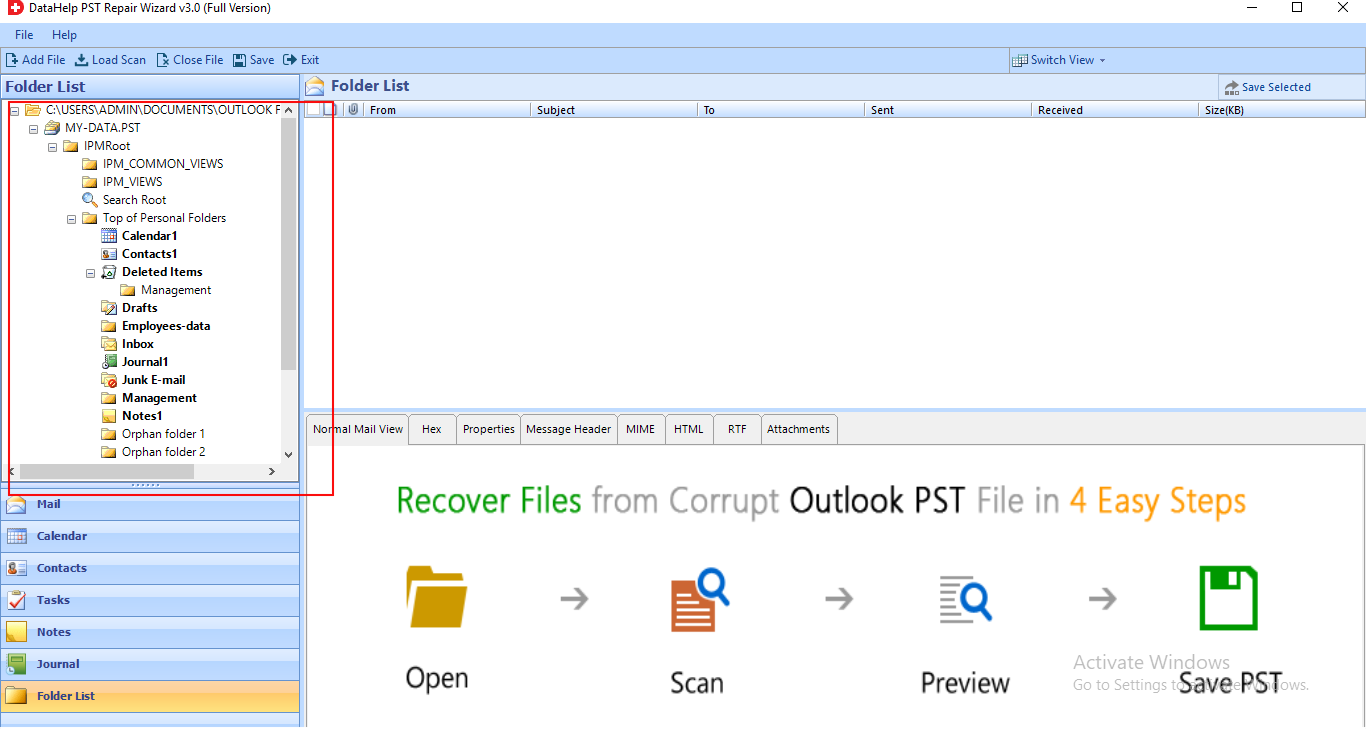 4. Browse to the destination directory and look for the exported file.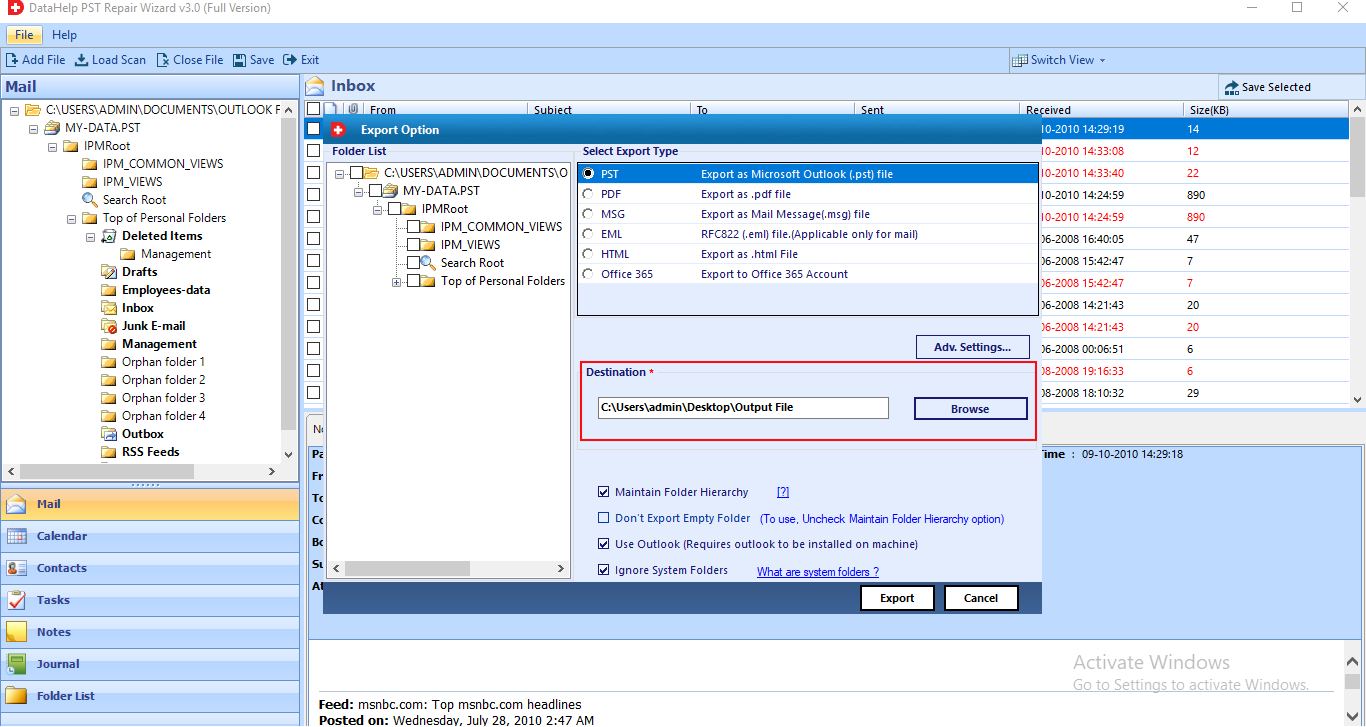 5. Once the export has complete successfully, you will get notified.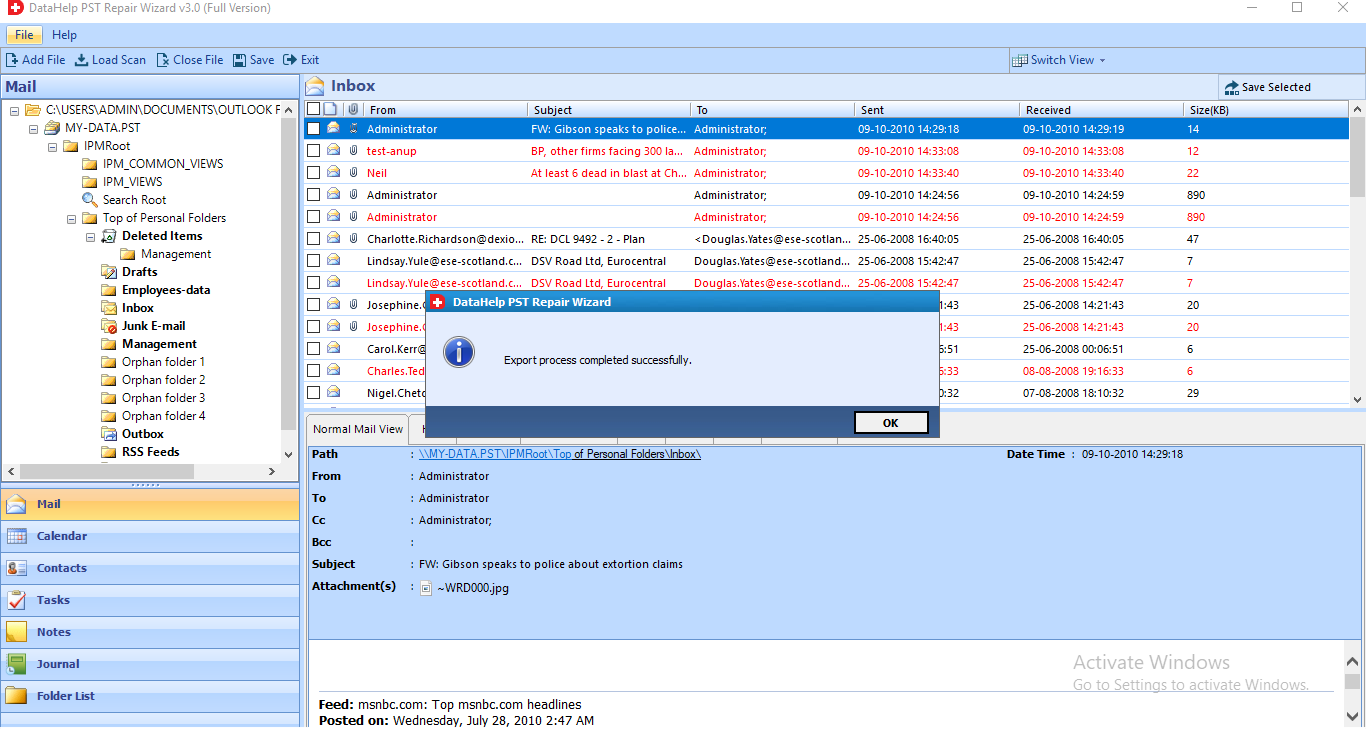 Conclusion
We explored numerous easy and simple strategies to fix the issue Outlook calendar not responding in this article. Outlook's calendar is a very helpful and crucial feature that allows you to manage and organize your daily tasks. As a result, it is critical to restoring them in order to gain access to these well-organized activities.