Different Solutions to Share Entire Google Drive in Just Few Clicks
Users continue to share entire Google Drive for a variety of reasons. A lack of storage capacity is one of the most typical explanations. Because Google Drive is now utilized by both personal and business users, the topic of how to share entire Google Drive in a single click is a common one. A user can explore a number of different methods for data or file sharing between Google Drive. Simply read the blog to learn everything there is to know about it.
In the world of cloud storage, Google Drive is a behemoth. It's by far the most popular storage solution, and it's no slouch when it comes to file sharing. Because of its ease of use and clear interface, Google Drive is one of the best cloud services for sharing.
However, as simple as file sharing is for those who are already accustomed to cloud storage, it might take some time for novices to adjust. We'll walk you through how Google Drive file sharing works in this guide so you can start making use of all of its great features.
Share Entire Google Drive: Doing the Same Thing in a Few Different Ways
Google Drive is capable of storing a vast amount of data. As a result, sharing any file or folder from it is completely understandable. The biggest issue is figuring out how to share Google Drive storage with another domain or account. Go through the section below to learn about all of the options for sharing entire Google Drive with another user:
Solution 1: Share Entire Google Drive by Professional & Effective Manner
We've created a fast and dependable option called Google Drive Migrator for your convenience when you want to share the entire Google Drive with others. This simplifies and expedites the entire migration procedure. It was made with non-technical people in mind.
This is a migration method. You can migrate the files from one domain to another. For sharing methods, kindly opt for the next methods.
The interface of this tool is self-explanatory. It offers extensive features that allow you to save slides from one Google Drive account to another and is one of the best applications with the least amount of effort necessary. It also includes the ability to share all of your Google Drive storage at once.
Aside from that, the application does gradual migration between the same accounts in the following try. As a result, it will not create duplicates in Google Drive and will also manage storage space. Following are the ways to share full Google Drive:
1. Select the Source and Destination accounts after the utility has been successfully deployed.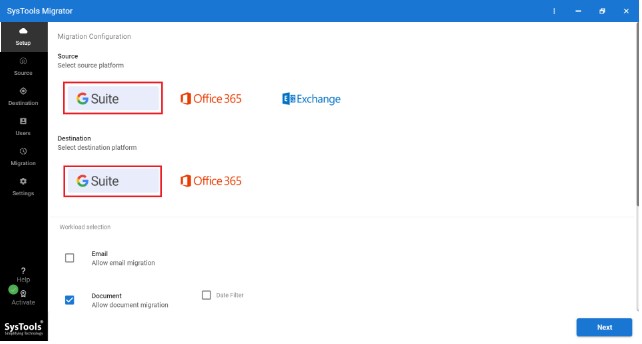 2. Now, from the Workload Selection, select Document as a category and apply filters.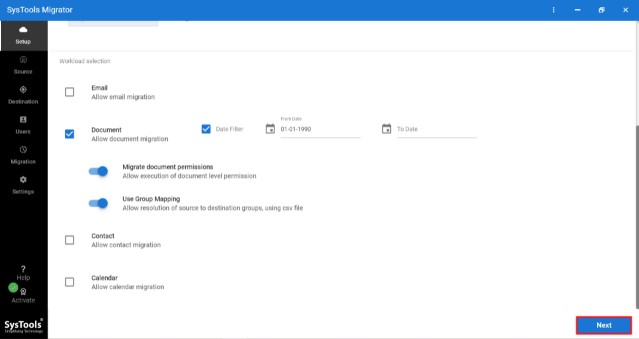 3. Fill up the admin source user data carefully in the Source Screen and Validate to proceed.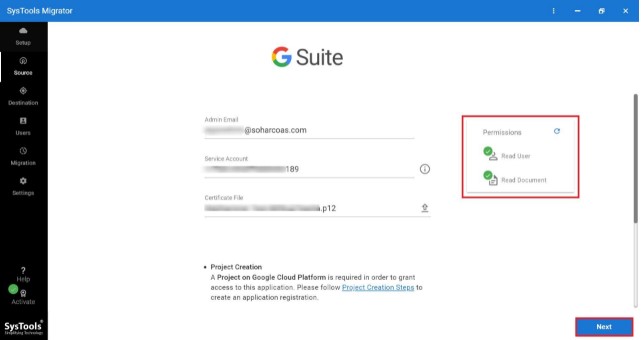 4. Fill out the details in the Destination screen after that. To grant permissions, validate here as well.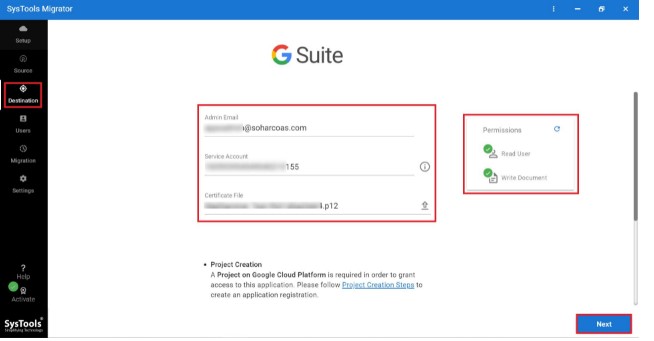 5. Add users from the Source account to the Google Drive account that has to be copied to another Google Drive account.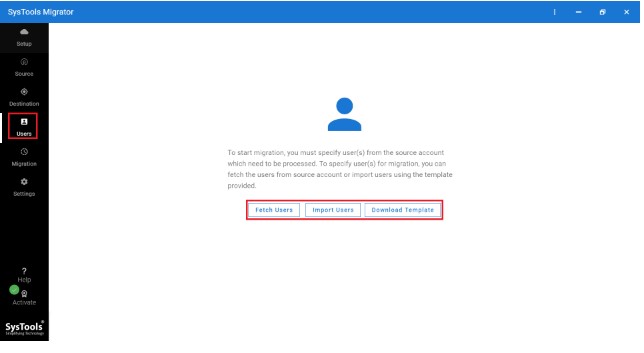 6. Once the users have been added, they must be validated before the migration may proceed.

Solution 2: Google Drive How to Share Entire Drive Manually
Many users are hesitant to invest in a professional service. We'll talk about the manual approach for them here. There is one Share option in it that allows you to share files between drives. To begin, a user must choose all files and folders from My Drive, Shared With Me, and the Trash folders one by one. After that, select the Share option for each folder to finish the process.
Via Downloading and Uploading
Another option is to share the entire Google drive with another domain or account at the same time. Simply download all data from one Google Drive account to a local machine and transfer it to a Google Drive account. It's one of the most popular manual methods for sharing full Google Drive folders.
Drawbacks of Manual Approach
Without a doubt, the manual approaches outlined above can be used to share Google Drive storage. However, there are a number of drawbacks that a user may encounter when utilizing them:
You must manually select each thing that he or she wishes to export.
To transfer data from Google Drive's Shared With Me or Trash Folders, you must go through the entire manual process for each folder separately.
In the event of significant amounts of data, both manual solutions are rather lengthy and time-consuming.
In any of the manual approaches outlined above, incremental migration is not feasible by default.
Manually sharing entire Google Drive data is not possible.
Conclusion
Google Drive is the ideal platform for storing essential files that can view from any location. However, people occasionally attempt to export numerous files from Google Drive. As a result, we've covered a step-by-step technique for how to share the entire Google Drive without a hitch in this blog. Pay strict attention to each step. However, if a user is looking for a simple solution, the Google Drive Migrator tool is a must-try. It removes all of the drawbacks of manual methods, such as transferring permissions from one Google Drive to another.