What is OLM File Format?
Technical Specifications of .olm file extension
| | |
| --- | --- |
| File Developer Program | Outlook For Mac |
| File Type | Database File |
| File Extension | .olm |
| File Signature | NA |
| MIME Type | Application/octet-stream |
| Default Location | ~/Documents/Microsoft User Data/Office 2011 Identities/Main Identity/ |
Full Form of OLM File
The term 'OLM' stands for Outlook for Mac file
Description of OLM File Extension
An OLM file or Mac Outlook Data file was initially introduced by Microsoft, which is supported and created by Outlook for Mac or Mac Outlook 2011 email client. Basically, this database file comprises of different mailboxes in it. An individual OLM file contains all Outlook folders of end users and stores messages with their associated data archived by the program connected to the Exchange server.
Note: This Mac Outlook 2011 stores its data in an individual database file, which can be exported by an end user. Initially, the email program does not stores data in the OLM file format.
Create OLM File in Outlook 2011 for Mac
Step 1: Launch Outlook 2011 email application on your machine and then go to File >> Export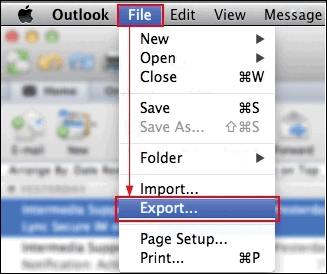 Step 2: An Export wizard will get open in front of you where you have to choose the items that you want in OLM file. After finishing up with entire mailbox selection, click on Right arrow to continue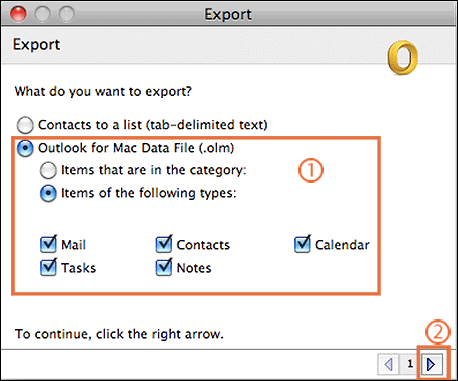 Step 3: Choose No, do not delete items option from the current screen and hit on Right arrow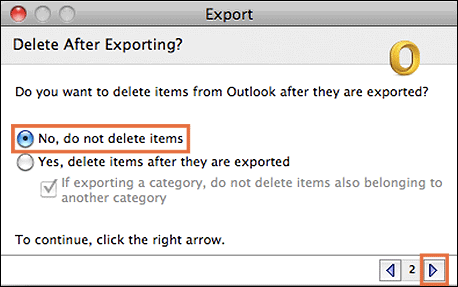 Step 4: Now, a Save dialog box will appear in which you have to mention the OLM file name and location where you want to locate exported OLM file. Click on Save button to continue

Step 5: After the completion of entire commands for exporting procedure, you will now see live status report to create OLM file in Outlook 2011 Mac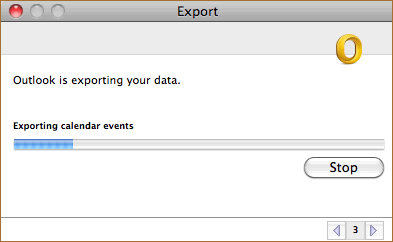 Step 6: Once the process is completed, click on Done button and open .olm file that you have created from Mac Outlook email program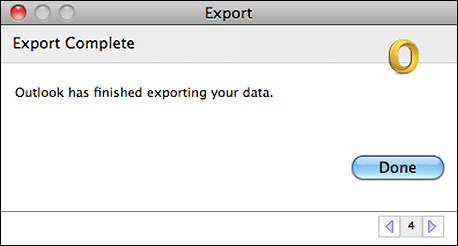 Mac outlook OLM file location
database file: ~/Documents/Microsoft User Data/Office 2011 Identities/Main Identity/
storage folders: ~/Documents/Microsoft User Data/Office 2011 Identities/Main Identity/Data Records
Difference Between OLM and PST File
There are different versions of Outlook on Windows and Mac operating system. Microsoft had provided Outlook 2011 for Mac and Outlook 2016 email program for Apple users. Both these are equipped in MS office suite. However, the only difference between files is that .olm is created by Mac Outlook 2011 and a .pst file is originated from Outlook for Windows program.
Note: Is there any need to access Mac Outlook data into Windows Outlook then we suggest OLM to PST converter. This tool will make OLM file compatible to Windows Outlook.
More About OLM File With Its Error
The Outlook for Mac email client is well integrated platform where numerous features makes life easier but, a situation occurs where things get tricky when .olm files generate error while accessing them. Out of multiple OLM errors, let us take OLM error code 17897.
In general, this error message occurs when users try to send a message from Mac Outlook 2011 and the procedure breaks due to the issue of server authentication. However, if you think that server authentication is not at all a problem then, the only cause left is problem with OLM file. Therefore, it now becomes important for an individual to rectify the issue immediately, for eliminating the interruption as soon as possible.
There are several methods to handle this error and those are highlighted below:
Examine and validate your Outlook for Mac account settings
Rearrange / Reset the mode of authentication server
Rectify the credentials of SMTP port
Wrap All Knowledge Regarding OLM Files
OLM file is not at a new thing, its just a database file for Mac Outlook 2011 users. The file storage working or functioning all is similar to other Outlook file format. Therefore, one needs not to get very much conscious when they are asked to learn about .olm file extension files. In this informative page, all the technical points related to OLM file format are illustrated with creation of the same on Apple OS.