How to Bulk Export Office 365 Mailbox to PST? Step By Step Solution
The advanced features of Office 365 make it different and high valued services from the other.  Due to several reasons many organizations & users searching for methods to create a copy of their Office 365 mailboxes.
So that this article is going to more focus on the topic of how to bulk export Office 365 mailbox to PST. Here you will know the detailed information with the step-by-step procedure of various methods to save your Office 365 mailbox data as PST file. Includes both manual as well as most secure 2 alternative solutions. Which will help you fast & securely perform the bulk exporting process. Let's begin with automated solutions.
Automated Solutions for Save Office 365 Mailbox to PST
Yes, manual methods are free to use but is it worth the effort after having that many amounts of limitations? After all the safety of important mailbox data during extraction is the biggest concern for anyone.
That's why they use dedicated third-party tools such as Office 365 Export and Office 365 Backup tool is the most recommended choice.
In this section, we are going to see two different automated solutions to backup Office 365 mailbox to PST file. Even if both the tools give the same results the features make the difference between them. You can select any one method to save & export the Office 365 mailbox to PST in bulk.
Solution 1: Office 365 Extractor – Most Relevant Way to Export Office 365 Mailbox Data to PST in Bulk
Office 365 Export is one of the most recommended choices for extracting selective files or entire mailbox items in bulk. It will allow you to export your mailbox items such as emails, contacts, calendars, tasks in a hassle-free method. Also providing the date filter options to selective downloading of data. Download Office 365 Export :
Launch the software and then click Login.
Enter your credentials and click on the Sign In button to log into your O365 account. Once you select the user Ids/ folder(s) depending on whether you logged in as Admin or not, click the Next button.
Here, select the Email Format as Microsoft Outlook (PST) and choose to split the PST upon conversion(if required).
Choose from the categories option to bulk export Office 365 mailbox to PST including emails, calendars, tasks, contacts, and even archive mailboxes.
Set any date filters corresponding to each category and browse the destination path where you want to save the data as PST.
Click on the Start button and wait for the process the complete.
You can then find all your Office 365 mailbox items as PST file(s) in the destination location.
Solution 2: Office 365 Backup Wizard for Efficient Save Office 365 Mailbox to PST File
Office 365 Account Backup Tool is another alternative solution that helps you to save Office 365 user mailbox to PST. On the other hand, this tool will help you in the restoration of the backed-up mailbox back into the O365 account without any additional requirements.
The tool offers various magnificent features that can't be beaten by any other solutions. Office 365 backup utility facilitates the Pause & Resume option which will help you to avoid hazardous situations and protect your data while backing up.
The tool also allows selective backup through various filter options. The features like cross user restore, folder hierarchy maintenance, etc. make the utility unique from other tools.
Follow the step by step procedure to save Office 365 mailbox to PST:
Step: 1 Launch the software after downloading it on your computer. Choose Office 365 as the source platform and choose Outlook as the destination backup platform.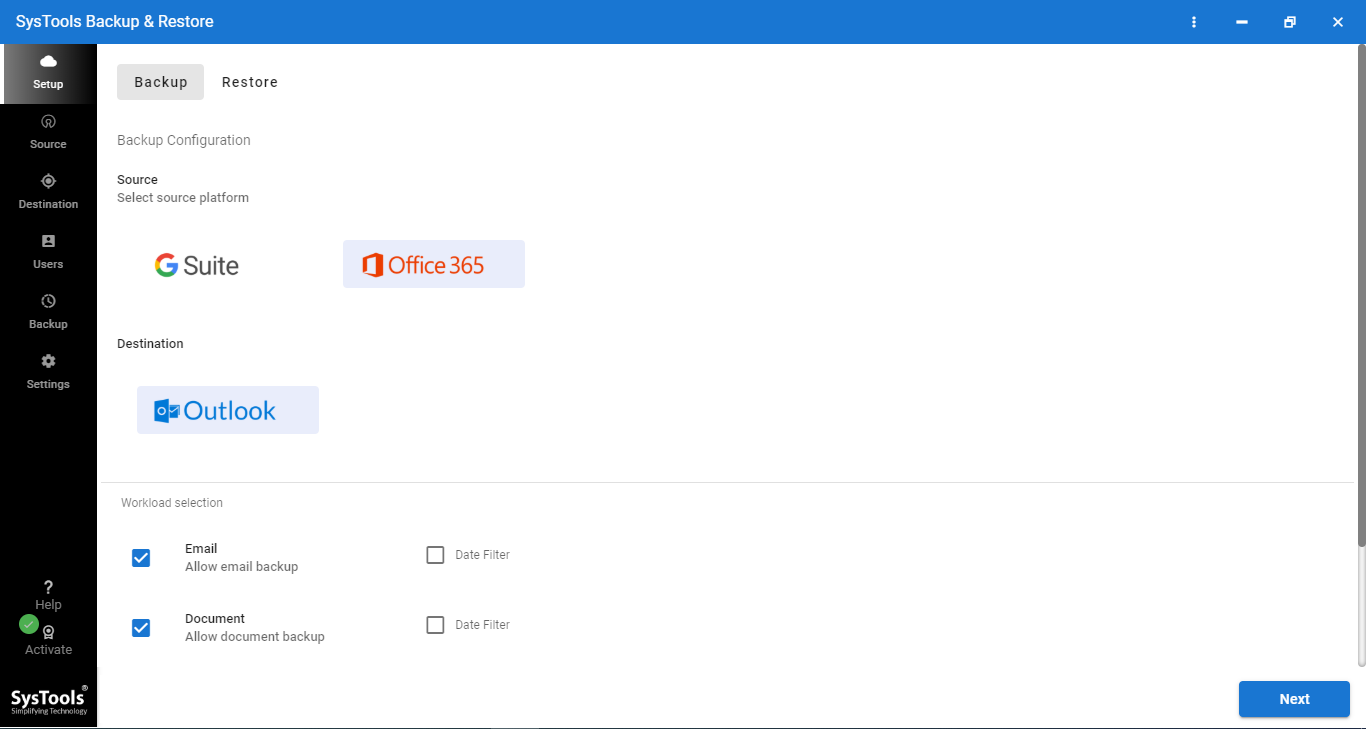 Step: 2 Select preferred mailbox item categories from the given options. You can also use the smart date filter provided by this utility for specific and selective backup according to a date range.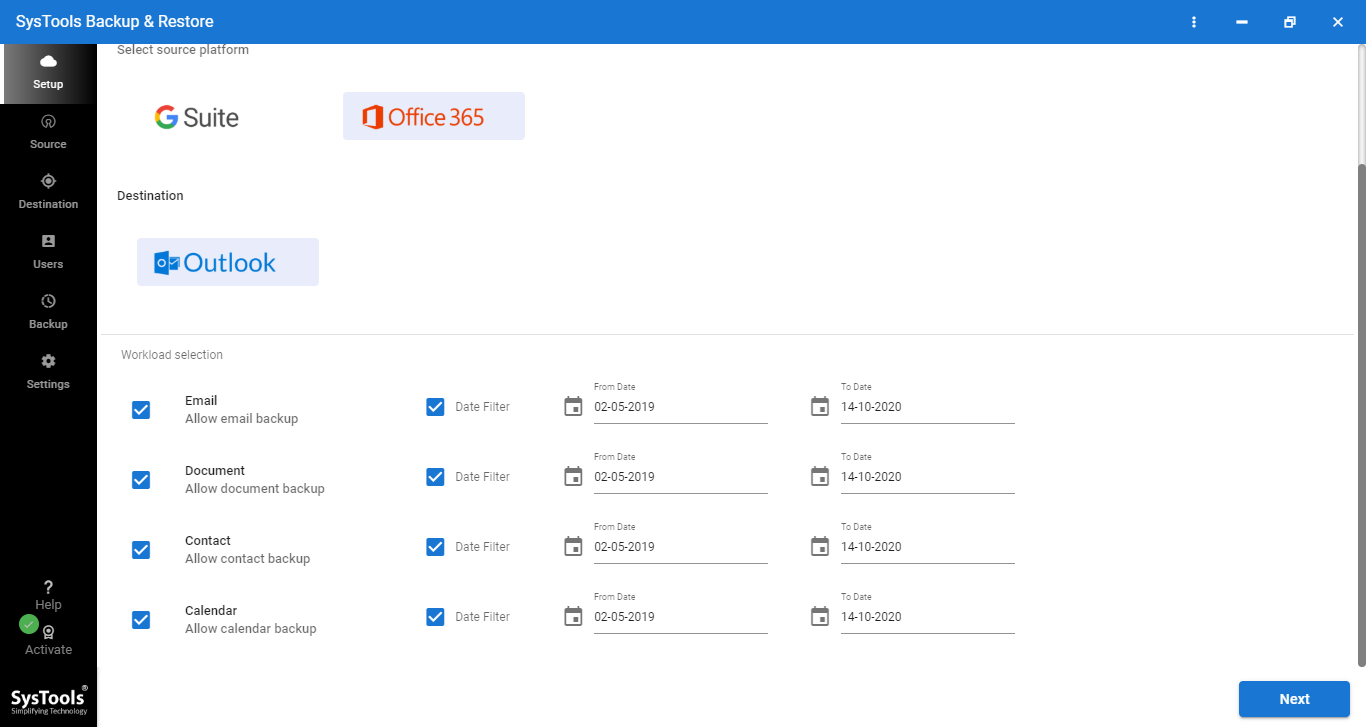 Step: 3 You have to log in using the admin ID and Application ID in the software and you have to click on validate button. It will validate the required permissions.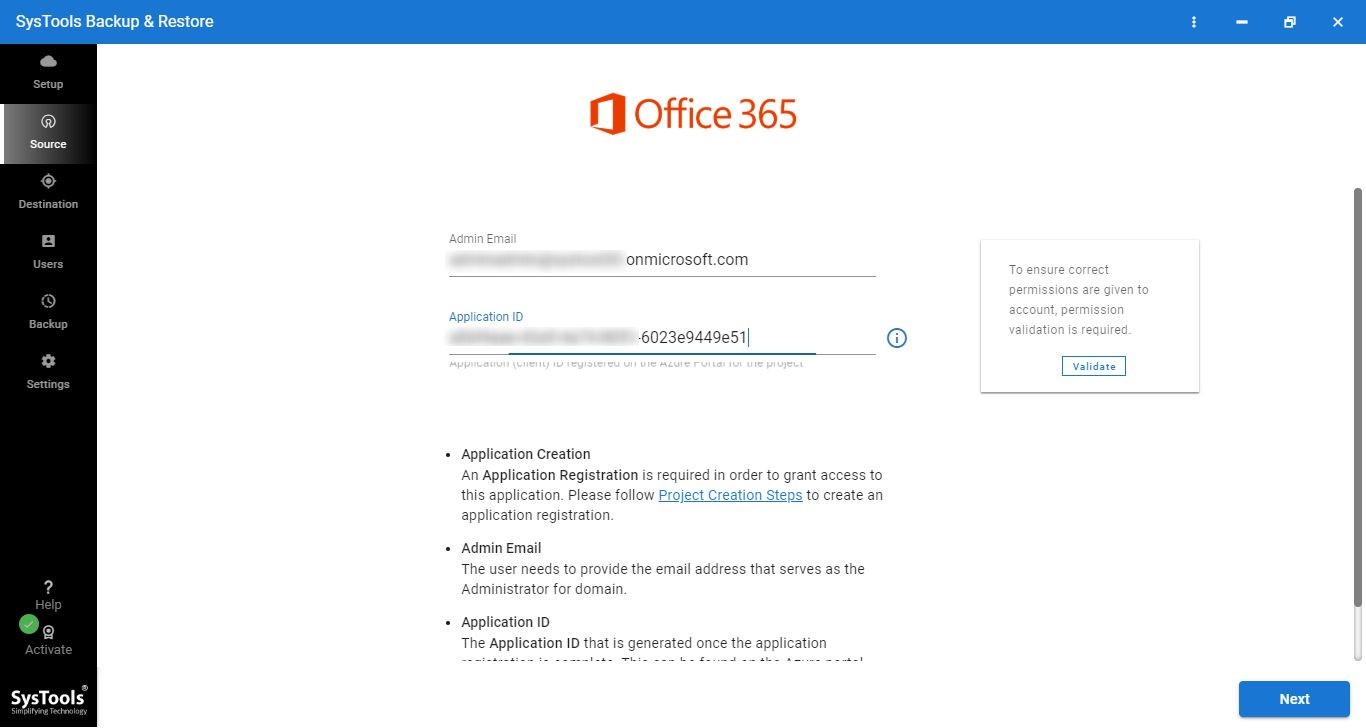 Step: 4 Specify the destination path and location on your computer for storing the resultant PST file on your local storage.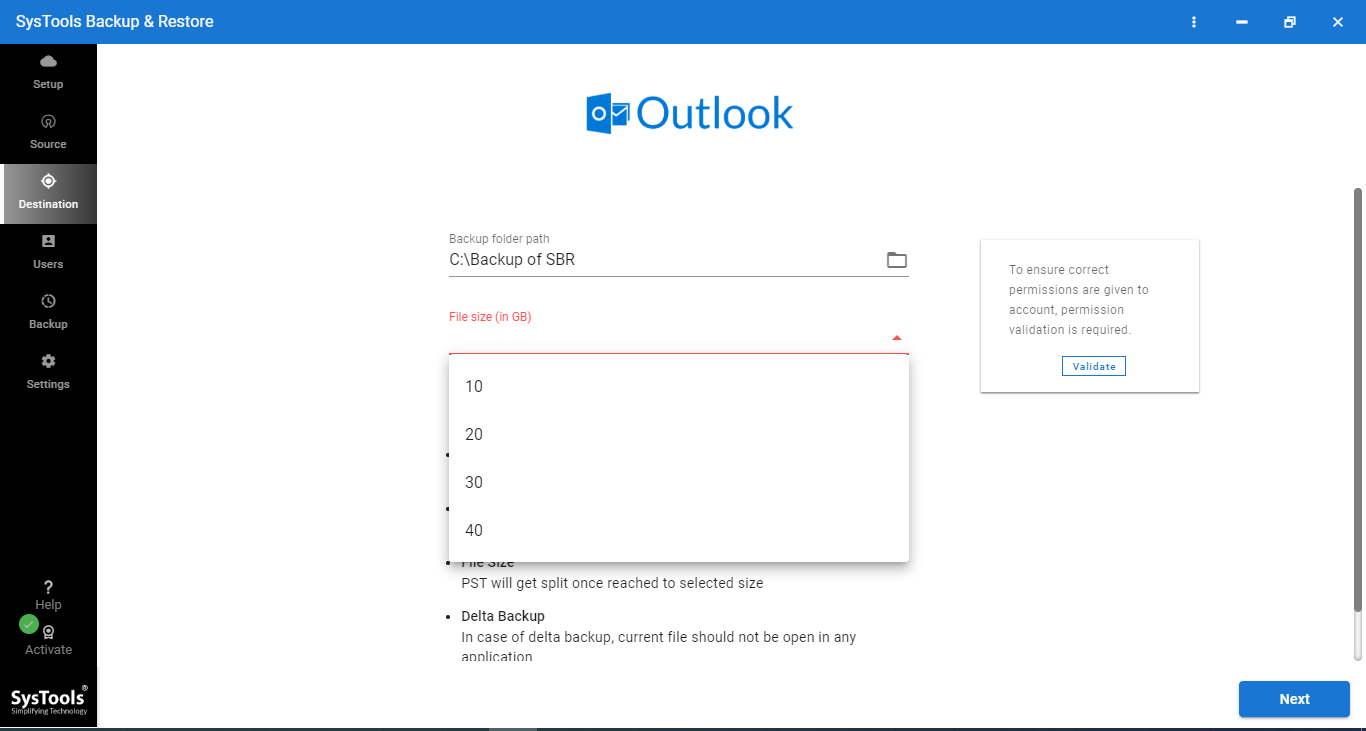 Step: 5 Now, from the given list of user's accounts, select the desired user's account and click on the Start backup button to initiate the backup process.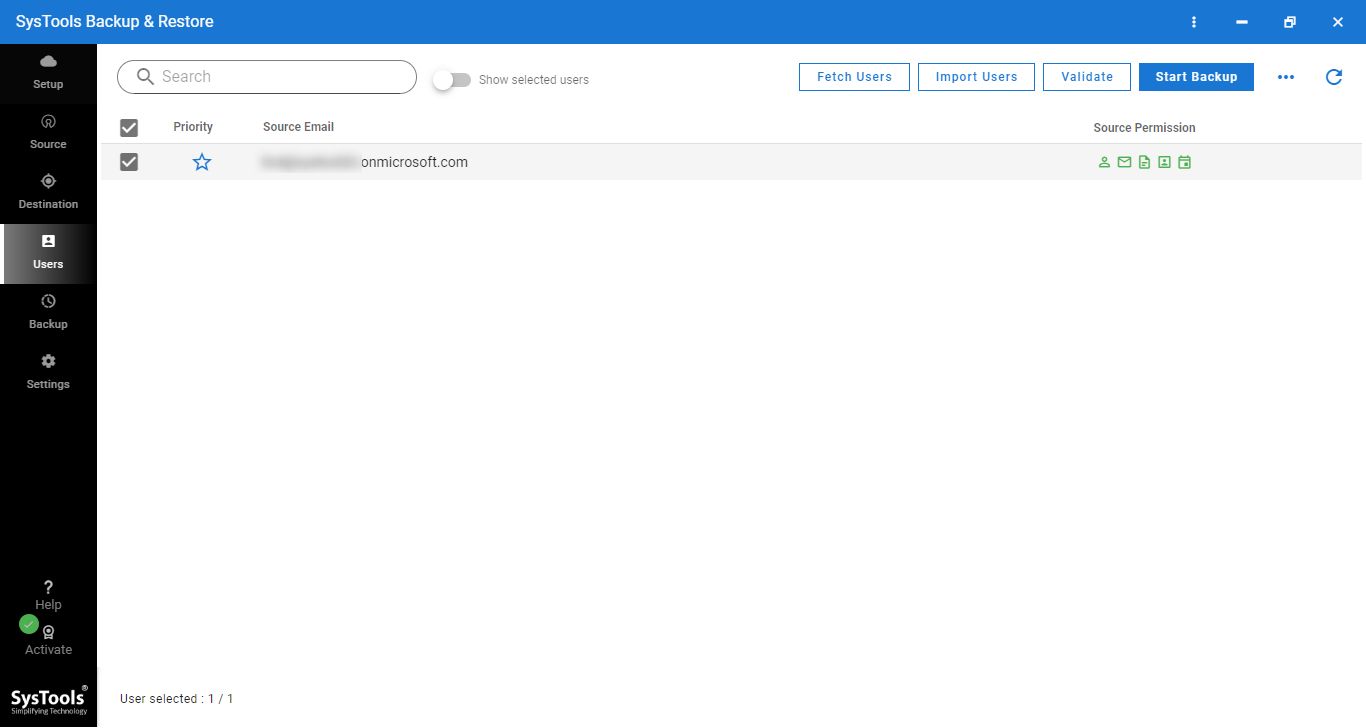 Manual Solutions to Save Office 365 Mailboxes as PST File
In the below section we are going to see a few of the manual methods which will help you to export mailbox data in PST file format. Whoever looking for a free manual solution this section will help you to find various approaches.
Method 1: Use eDiscovery to Bulk Export Office 365 Mailbox to PST
You will require permission for using the in-place eDiscovery mechanism to export Office 365 data to PST in BULK. Only an eDiscovery administrator can operate this tool.
So we are going to guide you with the complete process of setting up and using this manual mechanism.
1. Log in to your Office 365 account and click on the Admin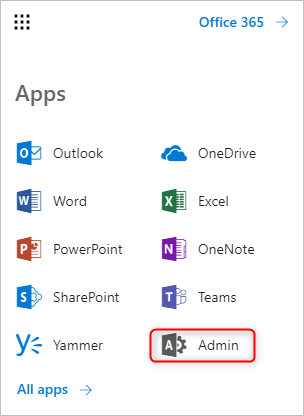 2. Here, click on Admin centers and select Security & Compliance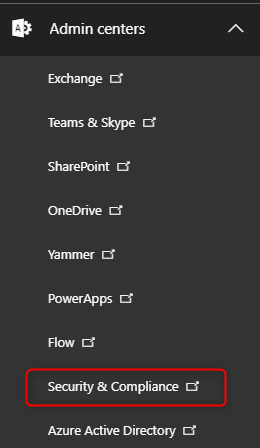 3. Now, go to Permissions and check the eDiscovery Manager option. Make sure that the role of Export is assigned. If not then click on Edit to assign it accordingly.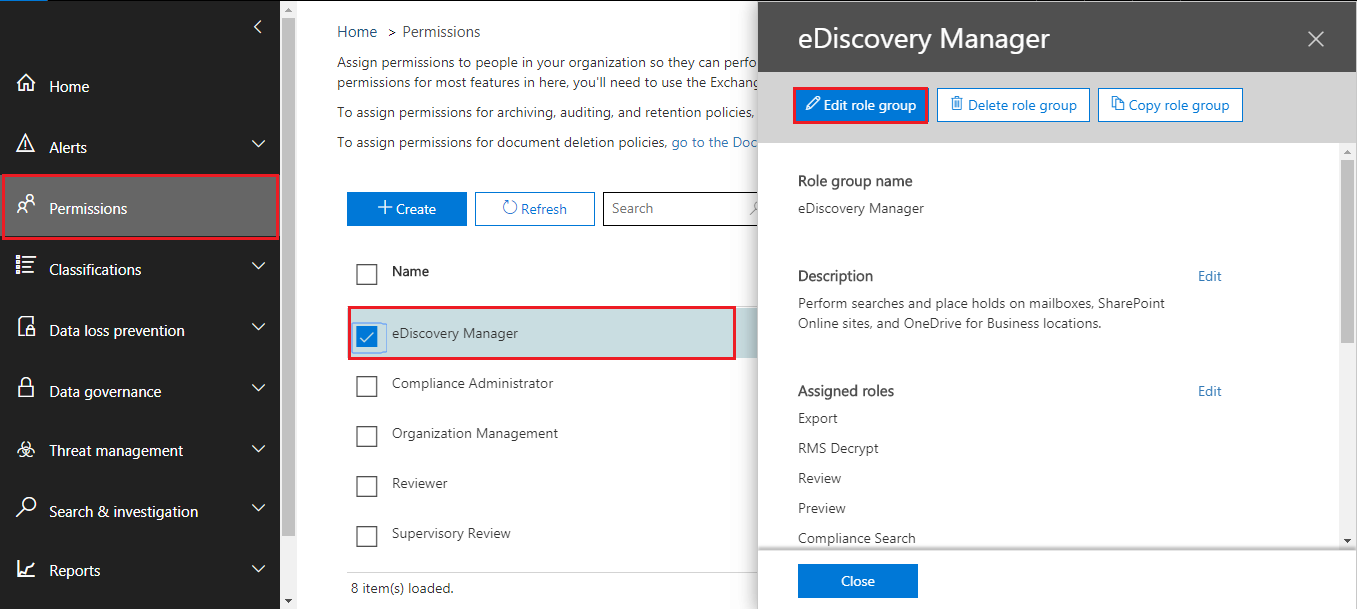 4. Now click on Edit corresponding to eDiscovery Administrator and then continue to add a new user in the follow-up window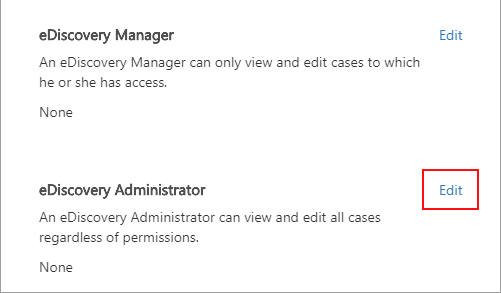 5. Once done, move to Search & Investigation tab >> Content Search. Here, click on the + New search button to open the content search wizard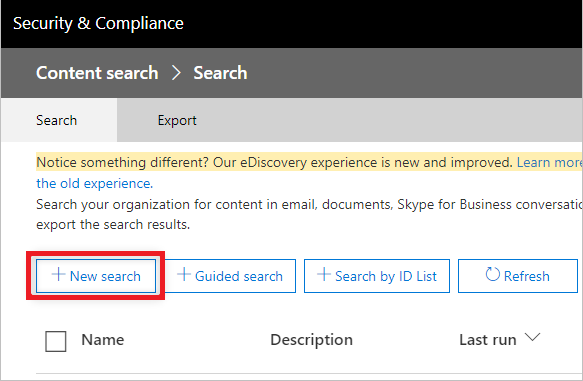 6. This wizard lets you search for specific mailbox data to export later. Choose from the 2 given location options:
Note: There are various filters associated with this export process such as location filter (all or specific), conditions(date, sender, size, etc) and keywords(AND, OR, etc.).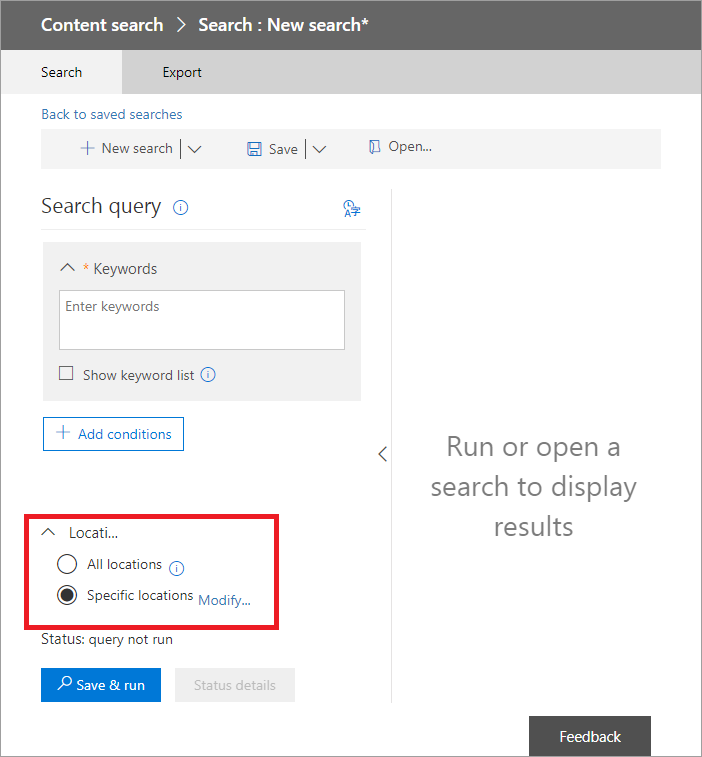 7. Click Save and run, then enter the Name of your search along with the description and click Save on the displayed window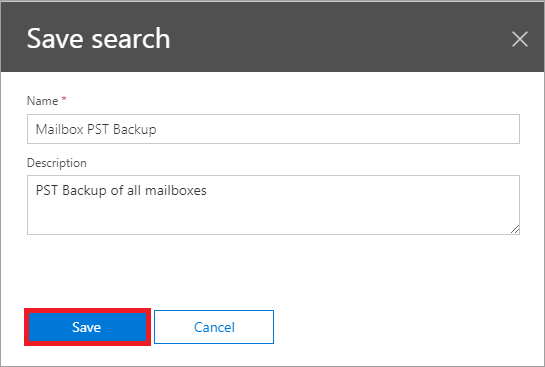 8. Go back to Content Search, refresh, and then choose your search result. Next, to bulk export Office 365 mailbox to PST, click on More >> Export results
9. Choose from the list of export options as per your requirements and click on the Export button.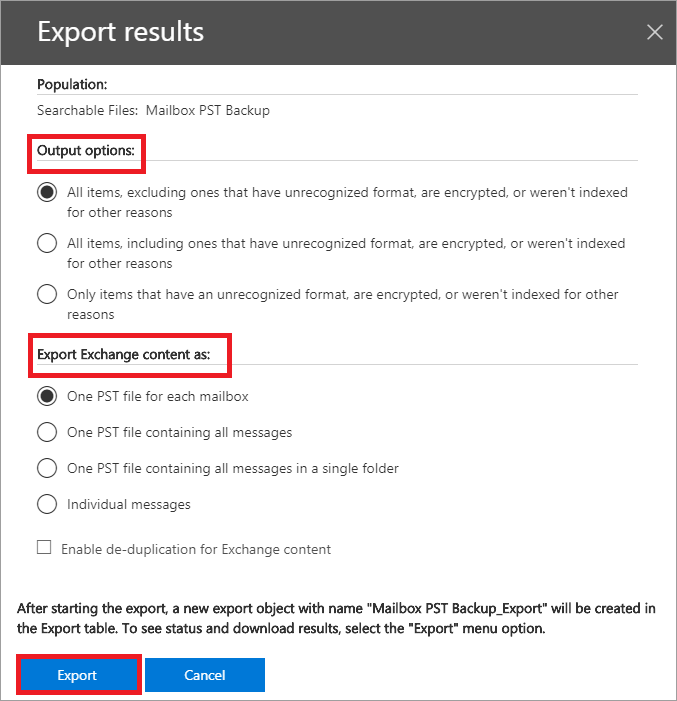 10. Now you can choose for the export process to complete first or directly click on Download results. If chosen, both the export and download process will complete at the same time.
Also, click on the copy to clipboard option to copy the special export key that you are gonna need later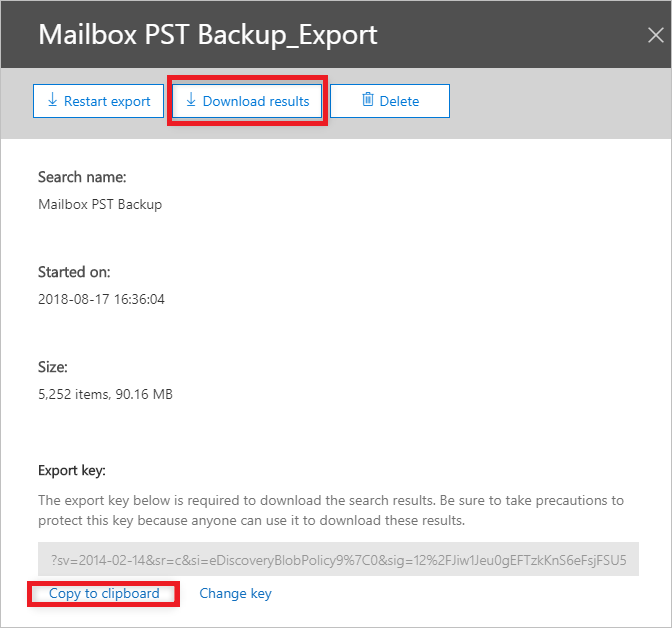 11. The eDiscovery PST export tool will start running. Here, paste the copied key, choose destination location, and click Start to finally save Office 365 emails as Outlook PST.

Limitations:
The process is too lengthy and time-consuming. Furthermore, the steps are complex and confusing to implement.
It requires a high downtime to complete.
eDiscovery has a problem of hanging quite often during the process.
Users need to have relevant technical knowledge in order to perform this method.
Only emails can be extracted. Saving other mailbox items such as calendars, tasks, etc are not supported by this tool.
Method 2: In-place eDiscovery & Hold
In-place eDiscover & hold is another manual e-discovery method to bulk export Office 365 mailbox to PST file. For performing the In Place-Hold you need to be the Office 365 admin user. Follow the steps given below to configure the In-Place-Hold and know how to export Office 365 mailboxes to PST.
1: Sign In to your Office 365 account using the Admin credentials. Then Go to the Admin center.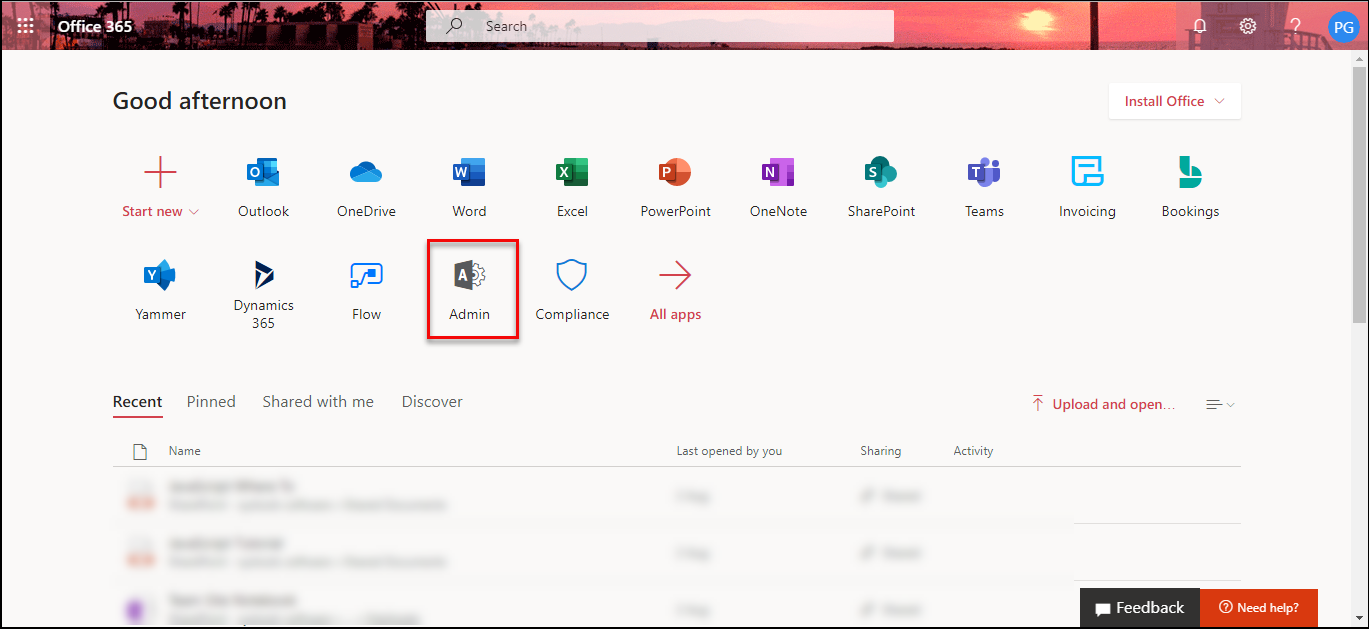 2: Select the Exchange option from the left panel to go to the Exchange Admin center.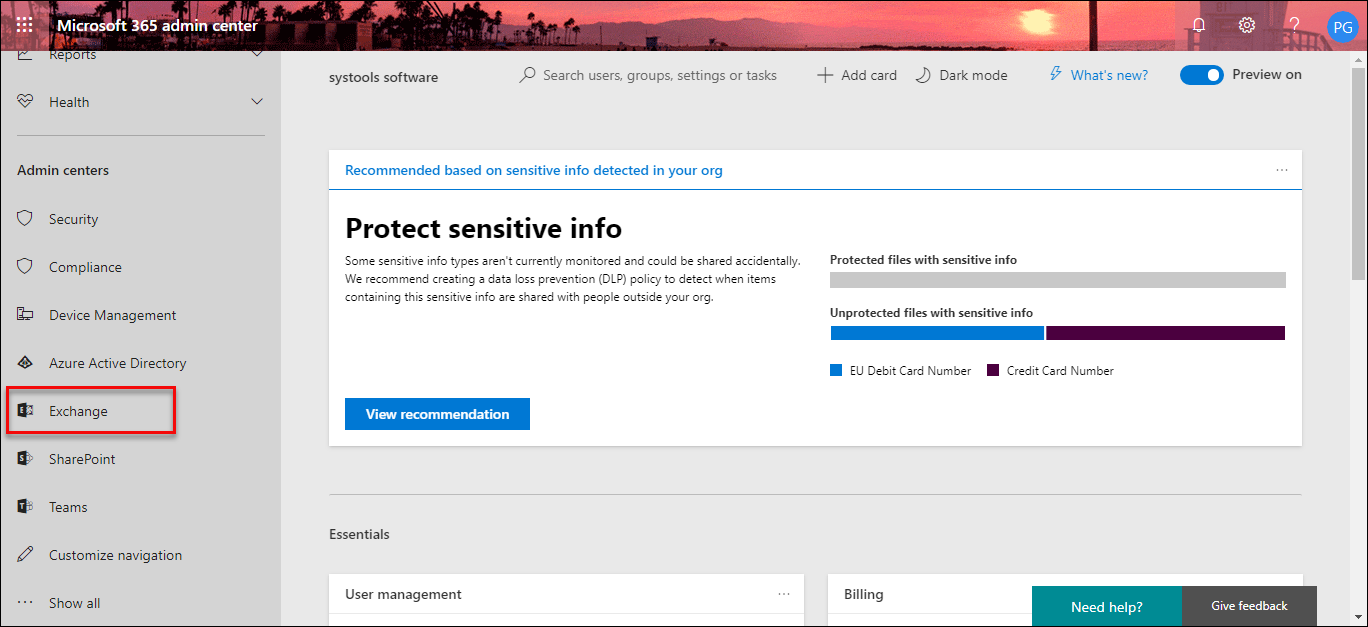 3: For performing Discover, you should be a member of the discovery management. For that go to the Permissions and click on Discovery Management. Add the member list in it and Save.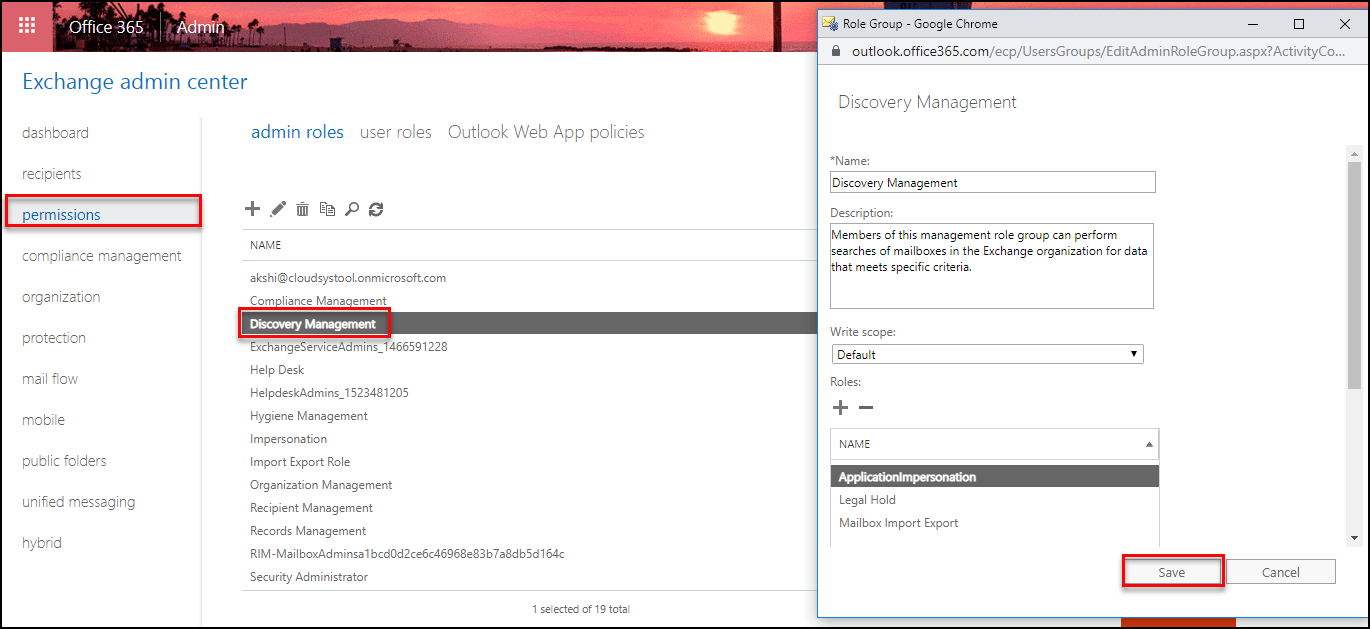 4: Click on the compliance management option. To perform the new eDiscovery process. Click on the New (+) button under the In-Place eDiscovery & Hold tab to perform new eDiscovery & save Office 365 mailbox to PST.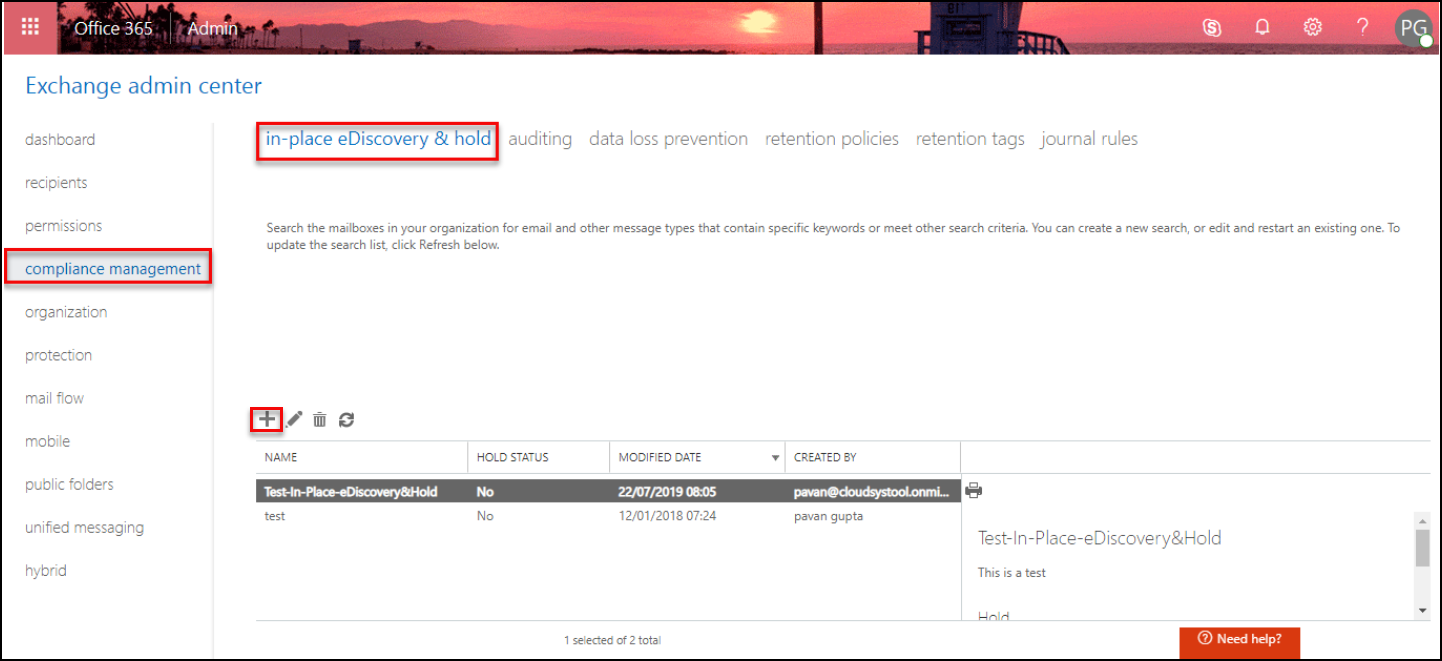 5: A new In-place eDiscovery & hold pop-up window will appear. In which enter the name and description. After that click on the Next button.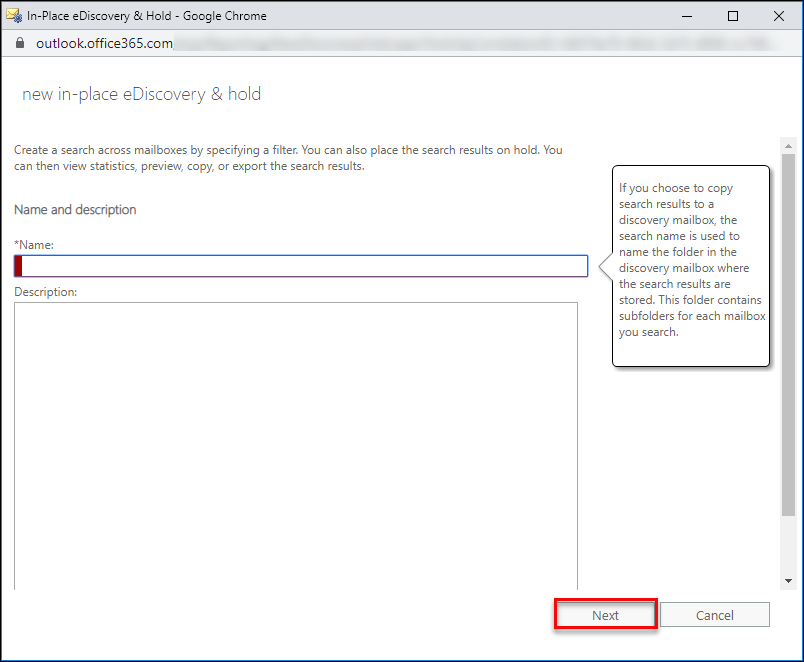 6: Specify the mailboxes that you want to export in this section. If you want to backup your whole mailboxes then select Select all mailboxes otherwise select the Specify mailboxes to search option and click on the "+" button.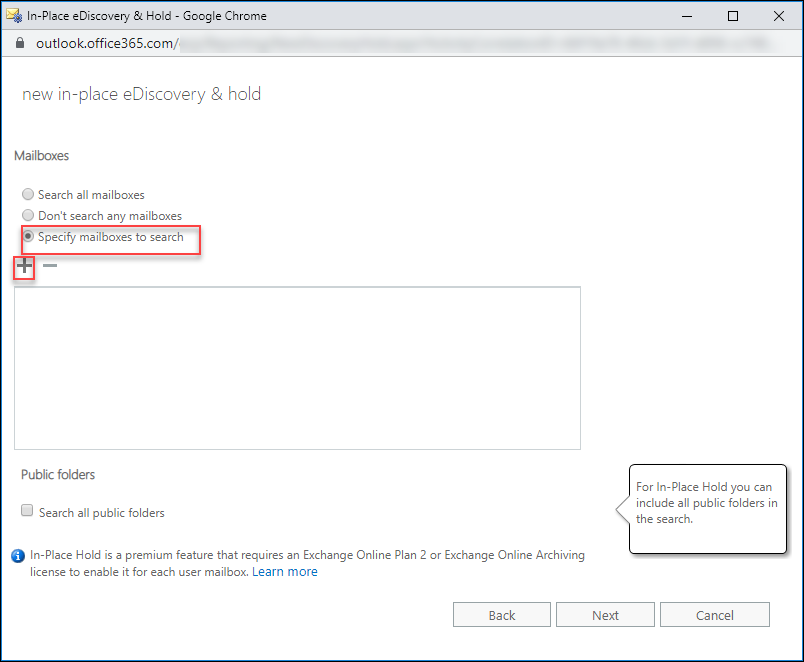 7: A new popup will appear with the all mailbox list. Select the mailboxes that you want to export and click on the Add. After completing the mailbox selection click on the OK button.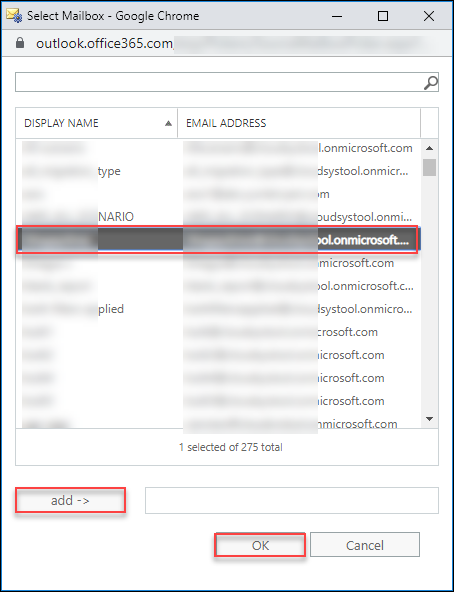 8: From this section, you can selectively export Office 365 user mailbox to PST through various filter options such as Keyword, Date, From/ To/ Cc/ Bcc fields, Message type, etc.
Choose the Filter based on criteria then apply the filters.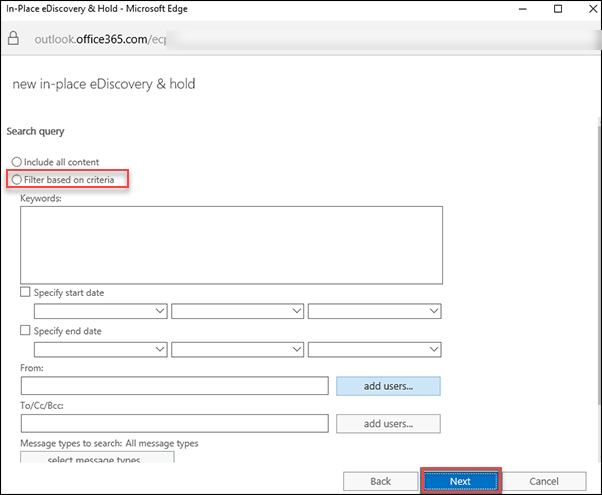 9: After that in the In-place eDiscovery & hold wizard provide the time duration for your data should be retained and click on the Finish button.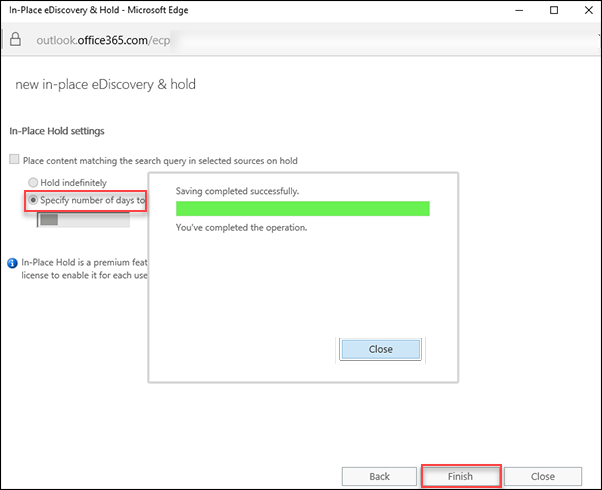 10: After closing the confirmation window you will get a generated list of the eDiscovery process.
To perform save or bulk export Office 365 mailbox to PST click on the Download button (down arrow). Then provide the destination location and click on Start.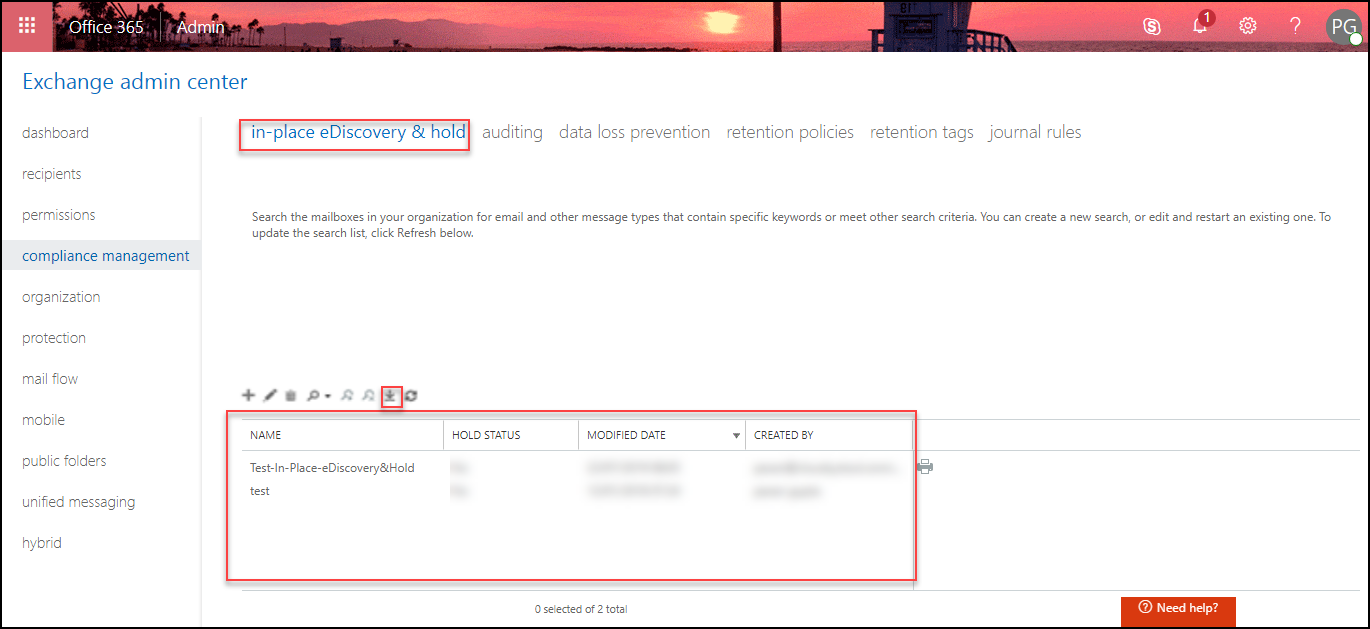 11: After completing the exporting process click on the Close button. Through the above steps, you can save or export Office 365 mailbox to PST file format.
Limitations:
Admin users can only perform the process.
It is a complicated process & required proper technical knowledge to perform this operation.
Lengthy process and consumes a large amount of time to complete.
It is an unfriendly method for non-technical users.
Method 3: Save Office 365 mailbox Using Outlook Desktop Application
This manual method is easier for non-technical users compared to other solutions. To save Office 365 mailbox to PST using the account configuration method user must have an Outlook desktop application on their system. Follow the below steps to understand the exporting process.
1: Configure Office 365 account in Outlook desktop application.
2: Go to the File section from the top menu bar.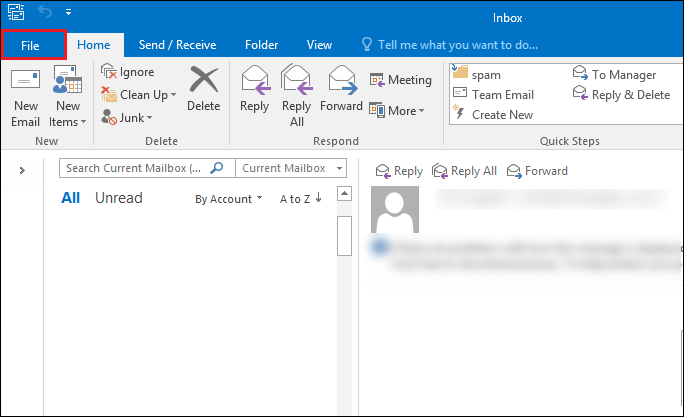 3: Select the Import / Export option from the Open & Export section from the left panel of the opened window.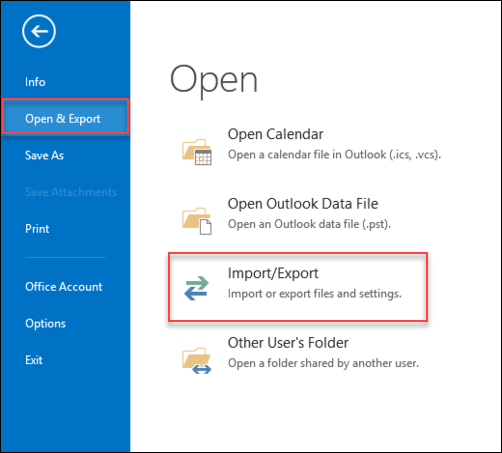 4: From the Import and Export wizard choose the Export to a file option and click on the Next button.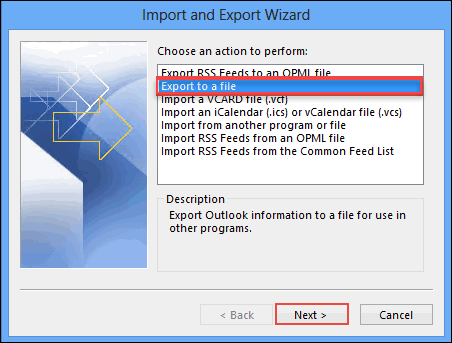 5: After that select Outlook file (.PST) to export Office 365 mailbox into PST file.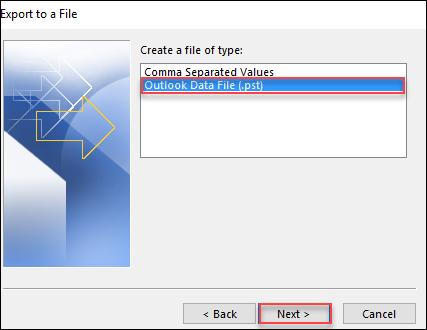 6: Check the option Include subfolders and click the Finish button to start the exporting process.
Limitations:
Users should have to install Outlook desktop Applications.
It is not possible to backup multiple user mailboxes together. You need to repeat the above steps for each mailbox.
It consumes a lot of time to transfer a bulk amount of mailboxes.
Wrapping Up
Users may need to save their cloud Office 365 data for the purpose of accessing them outside the cloud platform etc. The relevant manual approach to achieve it is by using the eDiscovery tool.
However, nowadays with time and effort being equivalent to money, this procedure may not be feasible for most users. Also, not able to save calendars, tasks and other items is also an issue. For these reasons users always prefer automated solutions.
In this blog, we have mentioned all possible manual methods and the most efficient two alternative solutions such as Office 365 extractor & Office 365 backup tool. It can bulk export Office 365 mailbox to PST quickly and reliably.