How to Convert Mail from eM Client to PST Outlook 2019, 2016, 2013, 2010?
For various reasons, users may need to migrate data between two email clients, one such migration is eM Client to Outlook. Thus, the necessity to convert eM Client emails to another email client may arise.
To address this topic, we will discuss how to convert the emails to another client i.e. PST & import them into Outlook 2019, 2016, 2013, 2010, 2007, 2003.
Before that, we will gather brief knowledge about eM Client and go through some user queries –
User Query 1: "I have been using eM Client email for a long time and am quite satisfied with its service. Due to some official work, I need to convert emails from eM Client to PST.

As I have never done this before, I am completely unaware of the process. Kindly tell me how to export the data."
User Query 2: "Recently, we have started to use Outlook email in our office. I got really attracted by the unique features of Outlook and willing to switch from to Outlook even at my home. But my main headache is data transfer. To access all emails data in Outlook, I have to convert them from eM Client. Can anyone tell me how to perform this conversion as I am ignorant of it."
Before Exporting eM Client to Outlook, Understand What eM Client is
eM Client is an email client that works exclusively on Windows OS. It can be called a new generation email client as it has been released only 10 years ago.
Besides emails, it also provides services like contacts, calendars, tasks, and chat. It supports POP and IMAP through which, it can be easily configured in Gmail, Outlook.com, MS Exchange, etc.
This email client also comes with a sidebar that is quite helpful to boost business productivity. With its own backup tool and fast searching feature, this has become the favorite email client of many users.
How to Convert Emails from eM Client to PST?
The entire process of eM Client emails conversion consists of two parts. In the first part, users have to extract the eM emails and then convert them in Outlook data file format.
Doing so becomes a complicated and lengthy procedure. If you want to convert your data directly in bulk without any delay, use the Swift IMAP Backup Software Tool for Mac.
This tool will transfer all the required emails from different folders by using various features that it consists of.
Let's convert eM client emails to PST by following the first method i.e. the manual method.
Part 1: Extract Selected Emails from eM Client
1: Open eM Client and navigate to the folder of your choice.
2: Select the emails you want to save as PST. If you want to extract all emails from any folder, press CTRL + A.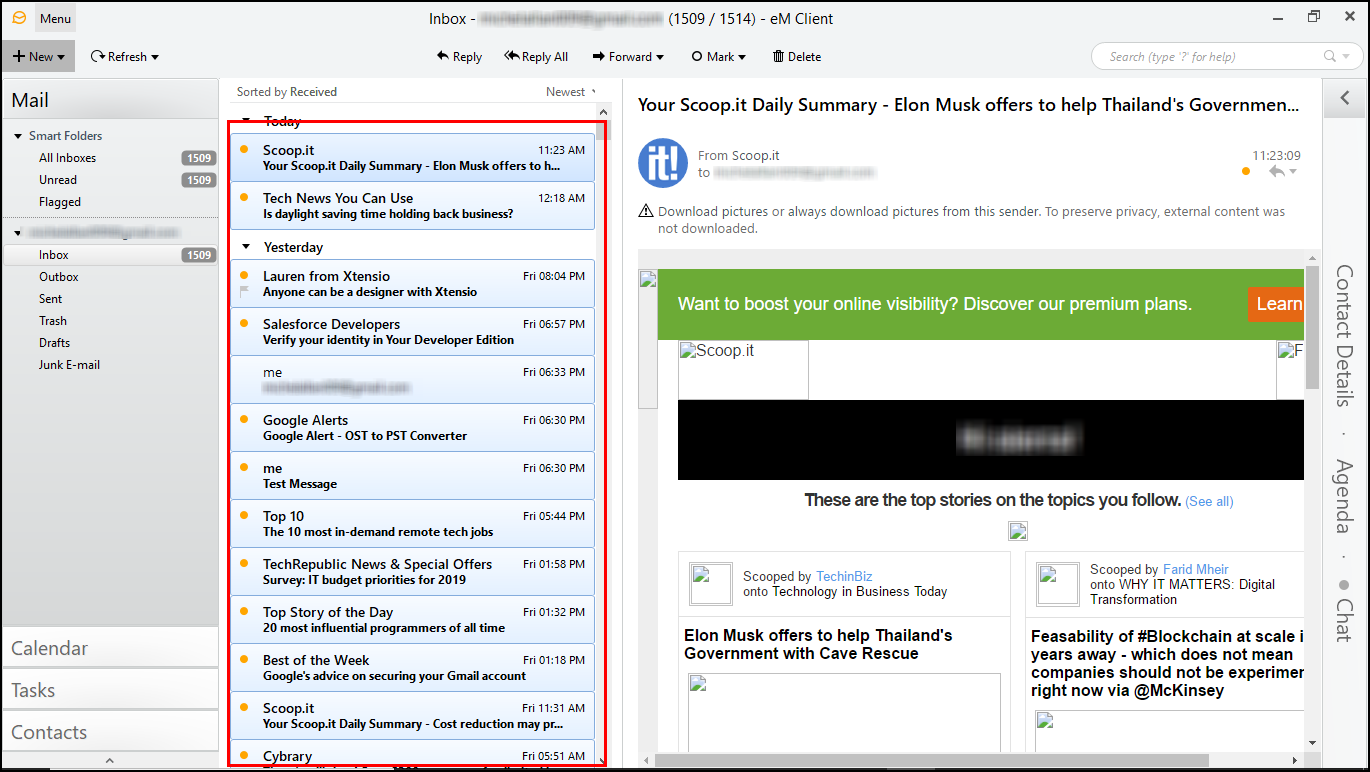 3: Now, right-click while putting your cursor over the selected emails. Select Save As from the list of options.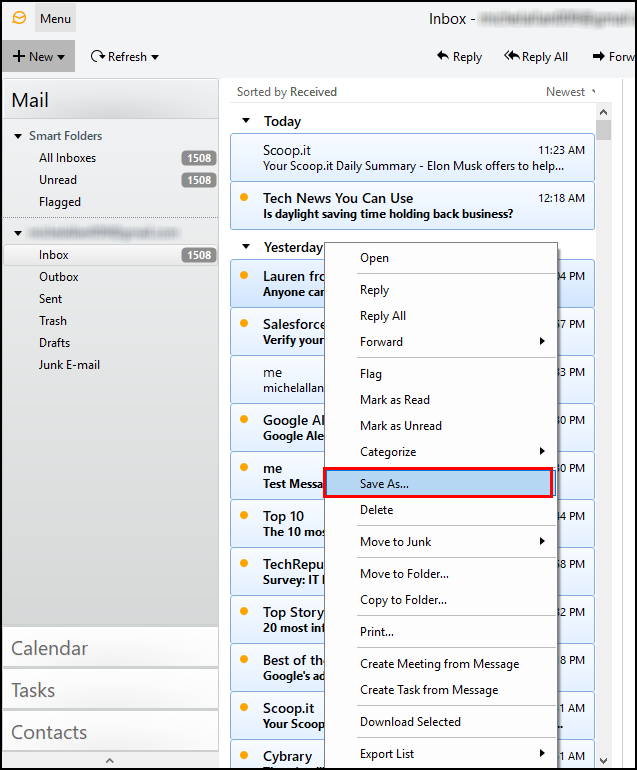 4: Choose the destination location for the extracted emails to move from eM client to Outlook. All selected emails will get saved as a .eml file extension.
Migrating emails in bulk is also explained in the below section:
1: Go to Menu >> Select File >> Export option.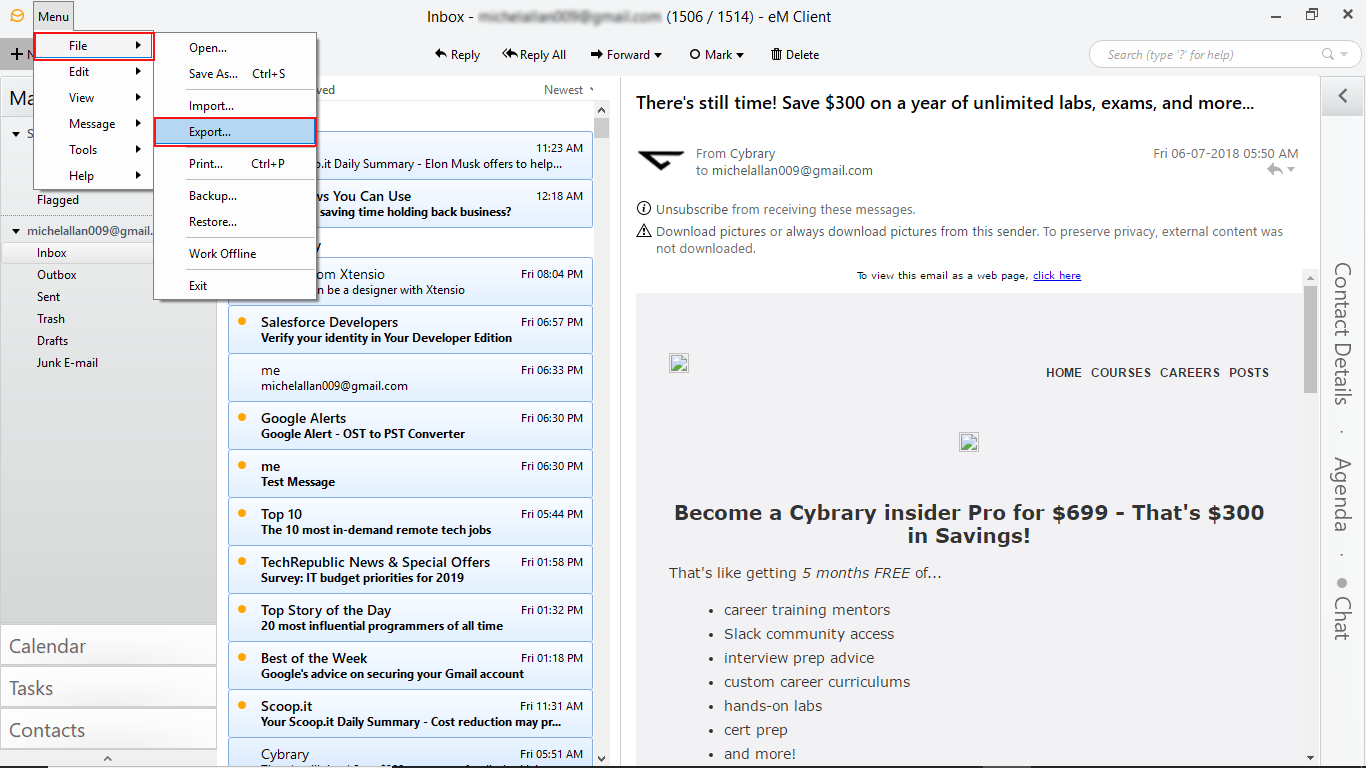 2: Now, Export Wizard appears on your screen, select option "Export to .eml files", then click on Next.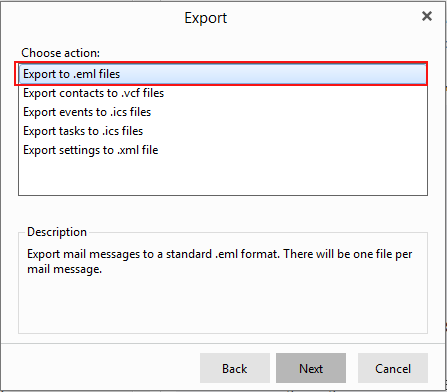 3: Now, Select the required folder (Inbox, Outbox, Sent, Trash, Draft, Junk E-mail) which you want to export & click on Next.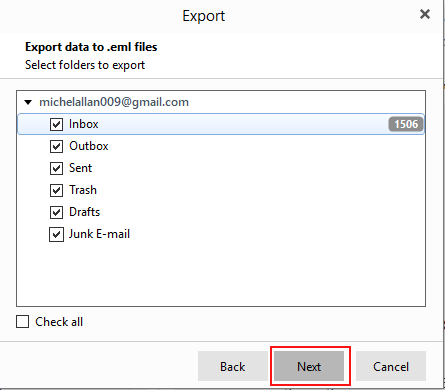 4: Then select destination location & click on Finish.
Perfect Solution to Convert eM Client Emails to PST Directly
For conversion in the first process, you will have to import the files in WLM & then, export them to PST format.
This is a lengthy process which is why this software is explained in this article.
The software has the following features:
Various other formats available to export the data in
Date-filter to transfer emails from specific time-period
Naming Convention feature for EML, HTML, PDF, EMLX, formats
Use the Split PST Option to break large files in smaller parts
Download the data & remove from mailbox via Delete after Download
Incremental Backup feature to save only newly arrived emails
Move eM Client to Outlook Using the Software
1: First download and install the software on your system and launch it. Click on the Other option and enter the details including IMAP Server & Port Key No. Hit Login.
2: Use the export types and hit the PST radio button. Apply the Advance Settings.
3: Then, choose the size in the Split PST Option. Set the dates in the Date-filter to download the data selectively. At last hit on Save button.
4: After that, click on the Delete after Download button to convert eM client to PST and remove data from server.
5: Lastly, click on the Change button and click on the Start Backup button.
The purpose of converting the emails to PST is to use the eM Client data in the Outlook email application. For that, users have to import the PST file in Outlook following the listed steps.
Conclusion
In this post, we have answered the question "how to convert emails from eM Client to Outlook". For that, users have to extract the emails from eM Client and then convert them into desired files. However, you can also transfer the data directly using the software.
After the conversion of to Outlook, users can import the file in Outlook (any edition 2019, 2016, 2013, 2010, 2007, 2003). Since this write-up stated all the steps in detail, users will be able to conduct the conversion reading this post.