Download Hotmail Emails to Computer – Hacks for Saving Emails
There are times when users need to download Hotmail emails to computer since emails stored in the mailbox are not always sufficient. Using Hotmail gives one advantage to the users the data is always kept safe from unexpected events. However, various scenarios show the data being hacked by anonymous hackers from the servers of Microsoft.
Table Of Contents:
Due to these cases, several users started keeping their data on local storage to keep it safe from such data-loss situations. Since these cyber-crime activities cannot be stopped, users prefer to download Hotmail emails to desktops as a way to keep the data safe.
Exporting data locally regularly is said to be a good practice which makes sure that the data is available at all times.
User Query: I have been a Hotmail user for quite some time now. There are a lot of important emails that need to be kept away from hacking or virus attacks. Please suggest a solution for downloading the emails along with the attachments.
Let's find the solutions to help troubled users like the above-mentioned problem.
Methods Guide to Download Hotmail Emails to Computer
When exploring manual methods to perform any procedure, we usually do not get a direct way. Or if there is, it is hardly useful and brings a few limitations with it.
The manual method for this operation is direct but it is not as suitable a technique as the automated technique.
Manually, you only have the option to save the entire mailbox to your storage device and not have a selective email backup.
Whereas the alternate solution helps to choose data from the mailbox as per your desire to be exported.
Also Read: Export Hotmail Emails to PDF
Method 1: Manually Export Hotmail Mailbox
Follow the given steps:
Enter the credentials for your Hotmail account.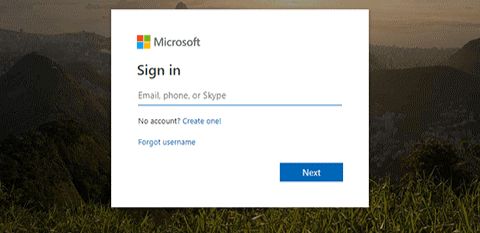 Then, choose the Settings Gear icon and go to the View all Outlook Settings option from the menu.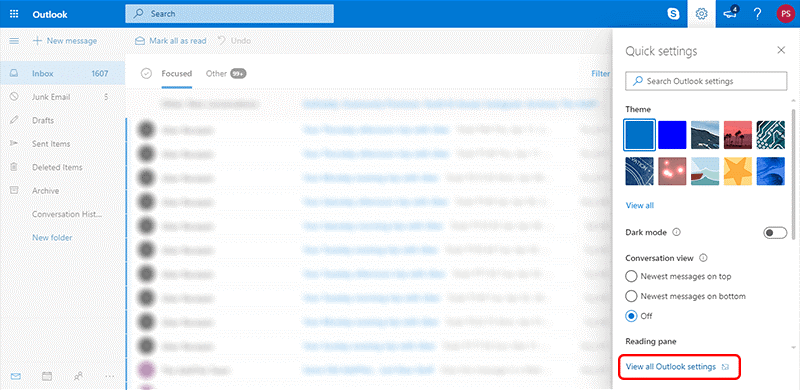 From the General tab, click on the Privacy and Data option to download Hotmail emails to Computer.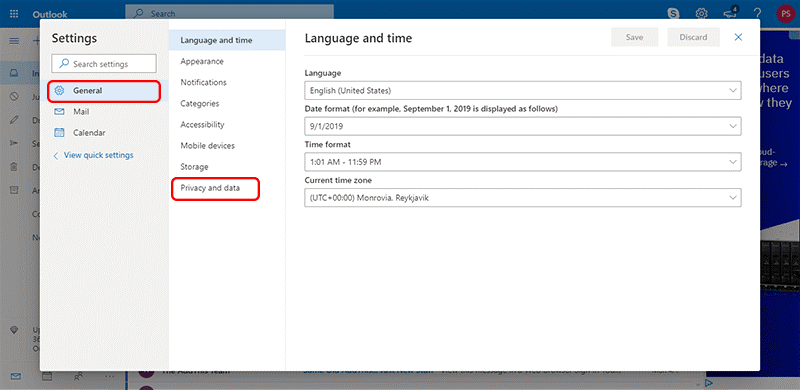 After that, press the Export mailbox button to initiate the procedure.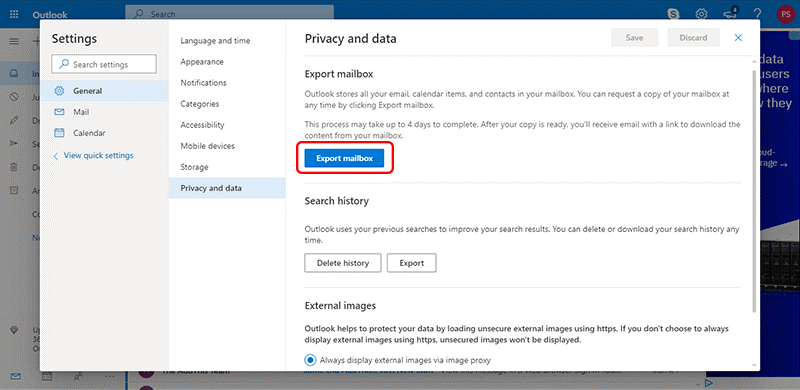 A message will be displayed showing that the export will take up to 4 days.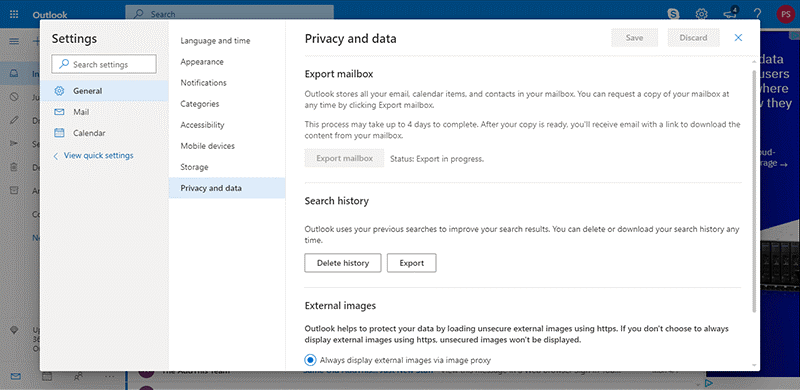 The data can be downloaded by a link that you'll receive after the process to download Hotmail emails to Computer is finished.
Method 2: Save Emails in PDF on the Desktop
Open your Hotmail account and select the email you want to save.
Then, click the Three Dots icon and choose Print from the drop-down menu.
Then, once more, press the Print button and select the Save As PDF option.
Finally, select a location on your desktop and press the Save button.
This is the only manual way that you can download the entire mailbox on your local device. But, there are certain limitations associated with this one.
Drawbacks of Manually Exporting Data to Local Storage
The major disadvantage of this method is that:
It takes a lot of time to complete the export procedure.
Also, if there is a need to download only a few important emails, there is no option for that. You will have to export data in bulk.
Folder structure maintenance is also not guaranteed.
After knowing the manual method to save Hotmail emails to a desktop. But still, you don't want to face any problems in archiving Hotmail emails to your computer. Then, you can follow the below-mentioned method. 
Method 3: Download Hotmail Emails to Computer – Automatically
The Hotmail Backup Software is the best solution that can download emails in various file formats at the choice of location. Using this tool offers you a choice to export emails from your mailbox as per a chosen time duration. Choosing the dates in the Date filter will make it happen easily.
Along with that, the folder hierarchy is maintained by the software during and after the migration procedure. You can backup data from Single as well as Multiple accounts in bulk with no data-loss situations.
Steps to Download Hotmail Emails on Desktop
Download the software on your desktop and fill in the details to log in.
Choose the file format as per requirement and click on the Browse button to enter the destination location for your results to download Hotmail emails to Computer.
You can remove the exported emails from the mailbox by choosing the Delete after Download option and hitting Yes when prompted with confirmation.
Set the dates in the Date filter for selective data migration by going to the Apply Filter section.
Hit the Start option to completely download Hotmail emails to Computer.
In a few minutes, the data will be downloaded to your chosen location and you can easily access it by opening the files in a supported email client.
If there are emails received after the first procedure, only that data can be exported by scanning the mailbox again via the Incremental Backup option. This way you will have your important and new emails downloaded with no duplicity issue.
That Would Be All
It is important to download your data from the web-based email service to keep it safe from external threats like hacking, virus attacks, etc.
Hotmail users look for solutions to download Hotmail emails to computers so that they always have access to their emails even if they are not available in the mailbox due to any mis-happening. The methods given are useful but for different situations. Choose the one that fits your needs.
Frequently Asked Questions

Q.1 – Is there any limitation on the number of files that I want to export?

Ans. There is no restriction applied on the amount of files you want to export. You can download any amount of data to your local system.

Q.2 – What if I want to export my data in PDF format? Can I save the files in the universally accepted file format?

Ans. The software has different file formats that you can export your data in such as PDF, EML, MBOX, PST, etc.