Error 3253 Connection to The Server Failed or was Dropped – Solved
Know complete solution for error Code 3253- "Connection to the Server Failed or was Dropped". Perform the steps mentioned in this post.
Microsoft has provided its facility of Outlook for Mac users, the most recent version is Mac Outlook 2016. The Mac Outlook faces a lot of problems, one of the most common errors the users face is error code 3253. This problem is related to the connection to the server. This is a common problem which the user may face on multiple platforms, but here we will discuss Outlook Mac 2016 error.
Extra Info:

Mac Outlook users can easily migrate to Windows Outlook. Use OLM to PST Converter Wizard and save all files in healthy format.
What Happens When this Outlook 2016 Mac Error Occurs?
When the users of Mac Outlook face this error code 3253, it lets the users receive emails normally but they are restricted from sending emails. On clicking the send button the emails get stored in the outbox, with a pending status. The major drawback of this error is that it appears suddenly, without any previous notification to the user.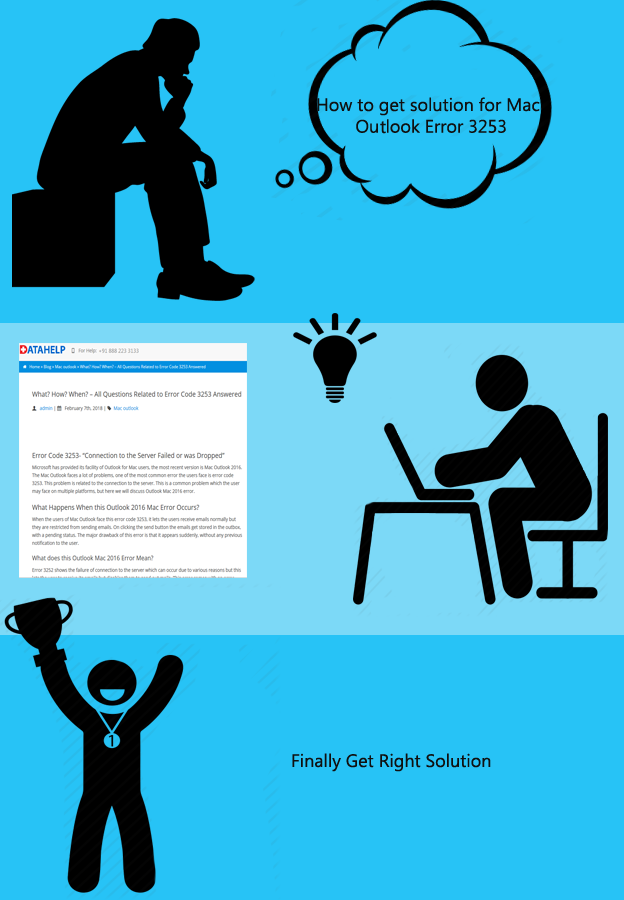 What does this Outlook Mac 2016 Error Mean?
Error 3252 shows the failure of connection to the server which can occur due to various reasons but this lets the user to receive its emails but disables them to send out emails. This error comes with an error code 3253 along with a message "Connection to the server failed or was dropped". The user then needs to fix these
issues either themselves or by taking expert help.
Causes That Lead to Error 3253
There are a variety of reasons which can cause this error code 3253 Outlook Mac, some of them are mentioned as follows:
User Queries
I am getting error-3253″Connection to the server failed or was dropped." I encountered this error suddenly, after which I am not being able to send emails, sometimes it works but most of the times it is not working. Though I am receiving emails as before.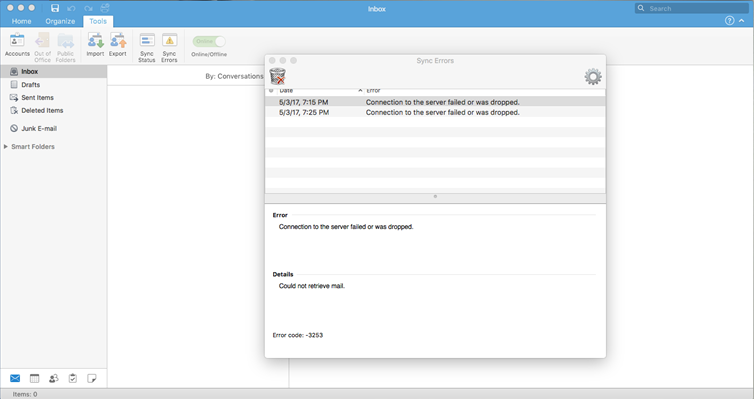 How to Fix This Error Code 3253?
The first approach towards finding out the possible error is to figure out the type of Mac Outlook 2016 account which can be any of them: POP3, IMAP. This can be easily found out from the Account Settings.
As we know that Mac Outlook error 3253 is a problem related to connection to the server, thus when we create a new account with proper server settings. Now we will talk about the steps to create a new account, if the steps are properly carried out by the user, then the chances of getting the error again are very less.
Steps to be Followed to Create a New Account:
Go to Applications.
Right-click on MS Outlook & click on Show Package Contents.
Then go to Contents>> Shared Support>> Outlook Profile Manager; double-click on it.
Click on Create a new profile & enter the profile name.
Conclusion
The connection problem to the servers is a very common error & here we have discussed the possible reasons which cause this Mac Outlook error 3253- "Connection to the Server failed or was dropped" & a solution catering to it. But one thing which is to be noticed is that the solution would work for Mac Outlook 2016.