How do I Import MBOX to Outlook?
Do you searching a solution for How to import MBOX to Outlook? Or Have you ever needed to open file in Outlook 2019, 2016, 2013, 2010, 2007, 2003 email application? – If answer is Yes, then you are visiting the right place. Here we are going to explain each & every step to export MBOX file to Outlook.
We have collected some user's queries if you have faced one of the following issues then follow the given steps that will help you to overcome these issues.
These are common query which is asked by many users but in different ways like –

How do I import MBOX mail data to Outlook?
Can I export MBOX files to Outlook?
How do I open an MBOX file in Outlook?
what is a direct way to convert MBOX file to Outlook?
How do I convert MBOX to Outlook?
Don't worry! we are here for you.
In this technical write-up, we will explain an all-in-one solution for the same. But before start the process you have to take a look…
Can You Import Data From MBOX to Outlook Directly?
The answer is no, you cannot directly import or open MBOX file into Outlook! you have to follow the proper steps to accomplish this task.
Do you know why this task become cumbersome for you? As we know MBOX is a universal file format accepted by multiple email application, however, MS Outlook does not provide support for MBOX file.
The outlook email application is only compatible with the PST file. Due to this, it becomes impossible for you to export MBOX to Outlook directly. We will make this task possible for you, but you have to follow the given instructions.
Before proceeding on "How do I import MBOX to Outlook?" you have to understand, by applying manual tip or tricks we cannot open MBOX file in Outlook email application. We have to follow the whole procedure (which is described below) properly to successfully import MBOX mailbox to Outlook.
Let's start the procedure –
How to Export MBOX into Outlook?
We know it is impossible to directly open MBOX in Outlook application. Although, we can import PST directly into Outlook. So, what we have to do? – we have to convert MBOX to PST. Afterwards, the resultant PST file can be easily import into Outlook email application.
This task is complicated itself, but we will simplify this procedure by using automated converter tool. If you do not want to use any automated tool, you can apply the manual procedure for that.
But remember there is no reliable manual method available in which you can trust. Many blogs suggest & describe manual method to perform this task, we have used these methods but not getting the exact data which is stored in MBOX.
These methods only increases the possibility of data loss. So, we don't recommend any manual methods.
Here we are going to suggest a reliable tool that helps you to convert MBOX to Outlook PST. Download the free edition of this tool & follow the given steps.
Follow The Working Procedure to Import MBOX into Outlook

Purchase Software
Step 1 – Now, select the MBOX file which you want to import into Outlook.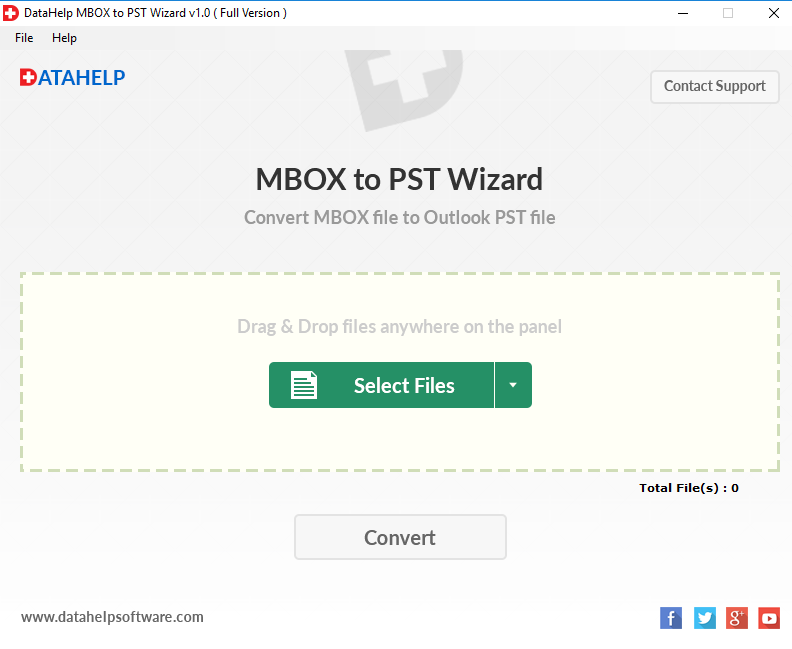 Step 2 – After that, click on the Convert button to start the conversion process.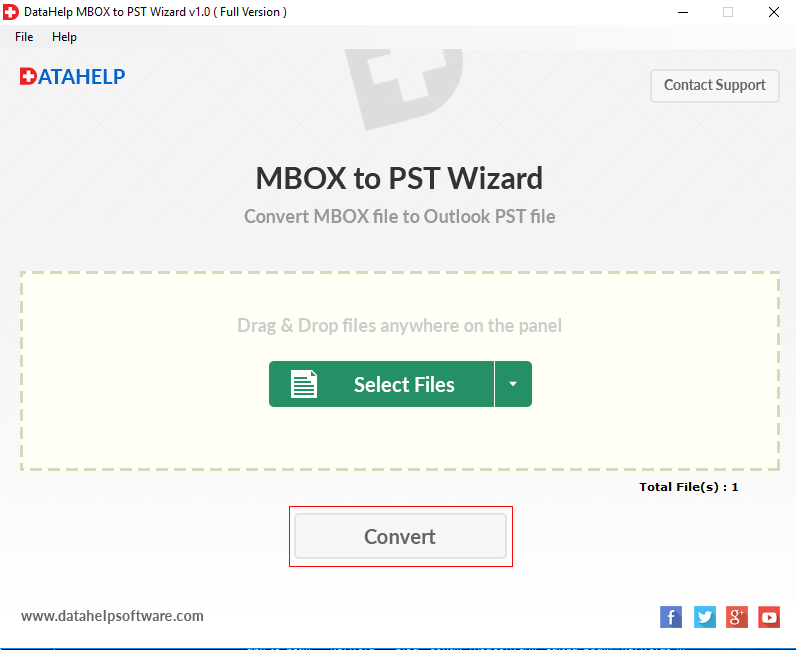 Step 3 – Browse destination location, you can also create a single (.pst) file. Click on the Ok button.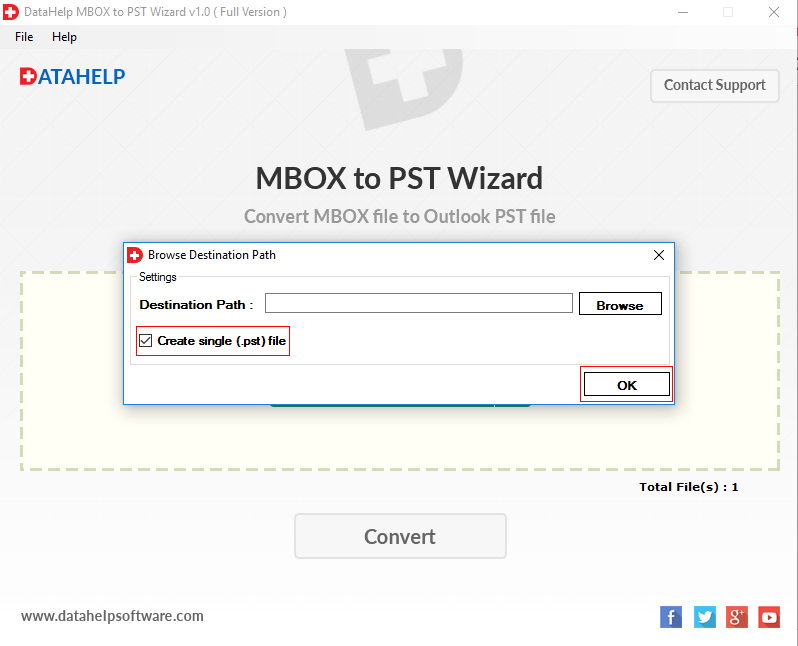 Step 4 – Now the conversion process starts.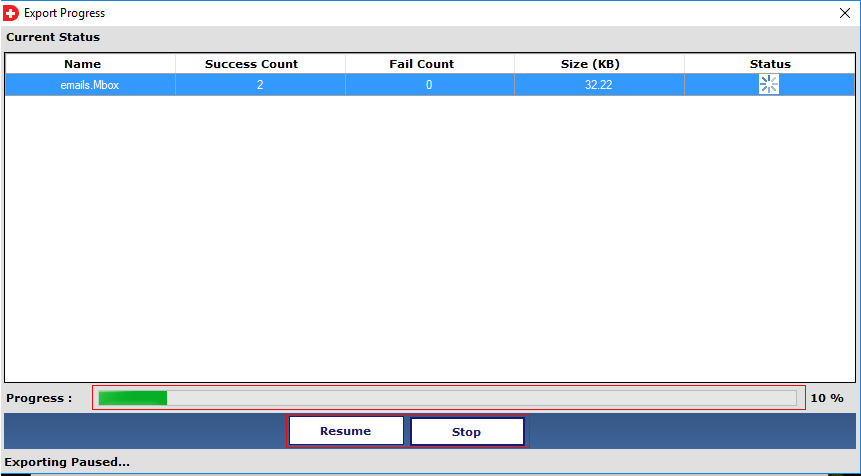 Now, we have PST file which is ready to import into Outlook email application.
Import PST into Outlook 2019, 2016, 2013, 2010, 2007, 2003
Procedure to import PST into different editions of Outlook is almost similar, we will utilize in-built Outlook Import/Export Wizard. Here we are using Outlook 2016. Go through the given steps to import PST file or converted MBOX into Outlook.
Start MS Outlook, go to File and select Open & Export then choose Import/Export.
Now, select "Import from another program or file" option from the Import/Export wizard panel. Click on "Next".
Select Outlook Data File (.pst). Click "Next".
Browse the PST file location which you want to import & click on "Next".
After executing the above instructions you can open & access data of MBOX into Outlook email application.
Bottom Line
As we said above, it is impossible to directly export MBOX into Outlook application. Because there is a file compatibility issue in Outlook as it support only PST file.
However, user can accomplish this task successfully with the above given workaround. In this write-up, we have explained the whole procedure in a comprehensive manner that proficiently answers the user query – "How do I import MBOX to Outlook?". So, try the above method.