How Can I Import Multiple VCF to Outlook | Detailed Explanation
Summary: Are you tangled up in a process and don't know how to import multiple VCF to Outlook 2019, 2016, 2013, 2010?  Certainly, you are in the right place, here, we will provide you with a hassle-free solution for VCF to Outlook import process.
Most probably, maximum users know vCard is a standard file format for digital business cards. Besides that, if we talk about MS Outlook, Which is frequently used as an email application. In order toImport multiple VCF to Outlook , an Import function is available in MS Outlook, but you can utilize Outlook's Import function for one VCF file at a time.
So, this is quite cumbersome to import bulk contacts from VCF to Outlook. Notwithstanding, we will expound on all available strategies for importing multiple vCard to outlook 2019, 2016, 2013, and 2010 versions. Before that, the following queries are to be reckoned with:
Note: Quick guide for converting CSV to vCard format.
Users Query While Importing VCF to Outlook
How can I import vCard to Outlook?
What is the procedure to import vCard(.vcf) contacts to Outlook?
Can I import multiple VCF cards into Outlook?
Is there any method available to import bulk vCards to Outlook PST files?
Don't worry you will find your answer here.  To your knowledge, there is a hassle-free method to import multiple vCard to Outlook. Now, let us have a look at the procedure for performing this import process manually.
Manual Steps to Transfer Multiple VCF to Outlook
Import multiple VCF to Outlook, an Import function is available in Microsoft Outlook, but it works for 1 VCF file at a time. In addition to that, this facility is not suitable for importing a complete folder. For instance, if you have lots of contacts then, it will be a tedious task to import a single VCF file one by one in Outlook. Nevertheless, we will explain how to implement this procedure.
For importing one VCF file, please follow these steps:
Step1: In MS Outlook, go to the File menu from the navigation panel.
Step2: Click Open & Export, and then, the Import/Export option.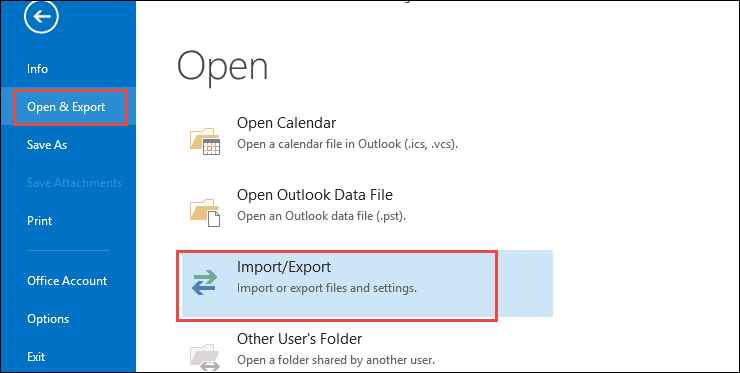 Step3: Select an option Import a .vCard file(.vcf) and choose Next button.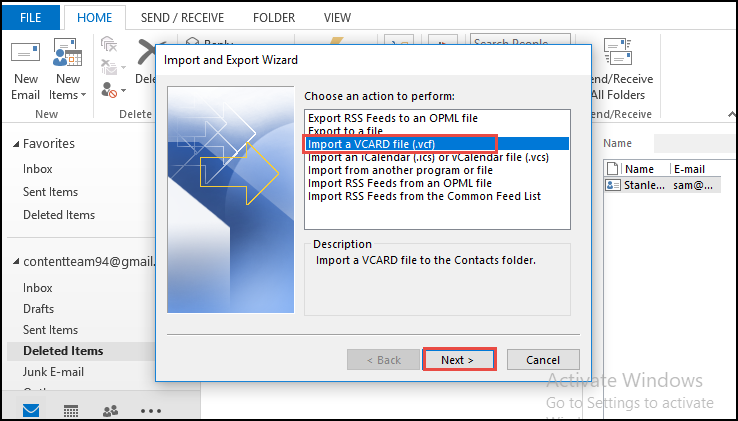 Step4: After that, you need to browse the vCard file that you want to export.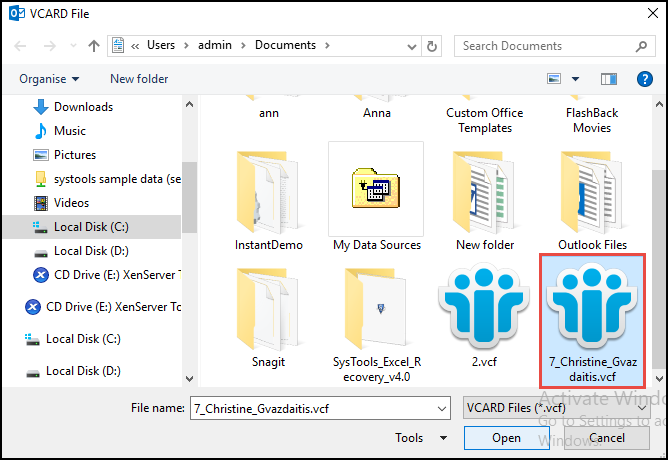 Step5: Click on the Next button. Finally, your .vcf files are stored in the specific location that you have mentioned.
Import Multiple vCard to Outlook – Smartest Way
This process is not able to complete the conversion task. That's why you need to opt for a commercial solution named as vCard Importer Tool. It is the best solution that helps to import multiple VCF to Outlook. Now, er are proceeding with the explanation of all steps required to get our work done.
In the below section, we provide you the steps 0ne by one, you must have to perform the below-described steps:
Working of the Tool
Step1: Download the tool and install it on your Windows system.
Step2: Under the Home Screen, click on Add File or folder option.
Step3: Now, click the Browse button to select the particular folder having vCard files. Locate the folder and click on Open.
Step4: This tool offers 3 import options Existing Outlook PST, MS Outlook profile, and New Outlook PST File. Now, You can choose one of the following options.
Step5:  After that, your VCF files are successfully imported into Outlook.
Time to Conclude
Definitely, now you are aware that the vCard is the universal format and saves all contacts which are supported by many email clients, smartphones, etc.  Therefore, we have discussed both manual and automated techniques to lets users understand how to import multiple VCF to Outlook. Furthermore, if you are having trouble importing contacts then, feel free to leave a comment below.