Searching How To Convert CSV File to vCard? The Best Solution Is Here
The vCard / VCF file format is a standard file format to store contact information like name, address, phone, email address etc., and it's being quite popular among users due to its portability. So, most of the users who were used to store their contacts in Excel CSV are searching the ways to convert CSV file to VCF file. While Scanning forum sites, we found several users are bothered with how to convert CSV file to vCard issue.
Some Typical User Queries
"I'm having a CSV file in my PC with around 1000+ contacts. Now, I want to import .csv contacts to my Android phone. But, the problem I'm facing is my smartphone is not giving me any option to import .csv file and asking to import .vcf. What's wrong? How can I convert CSV to VCF? Is there any solution to convert CSV contacts file to VCF? Thanks, any help would be appreciated."

-Nicholas S. Freeman, US
"Yesterday, I have purchased a new Android smartphone v7.1 and exported all my contacts from old PC in .csv file format. I want to access these .csv file contacts from my smartphone. Can anybody tell me how to convert CSV file to vCard or how to convert contact file from .csv to .vcf so that I can access contacts from my phone?"

-Marcus Robe, Australia
Well, if you're one among such users and searching the answer for how to import contacts from CSV to VCF query then, this technical guide is just meant to you. Here we're going to disclose the simplest and most powerful way to convert CSV file into vCard format. Let's begin!
How To Convert CSV To VCF File Format?
Excel CSV to vCard Converter is a most trusted program that allows to transfer contacts from CSV to VCF along with all the details. The software loads CSV contacts and displays a preview of entire contacts before performing the conversion. It is successfully tested with 40,000+ contacts and it can convert CSV file contacts to vCard in bulk.
Using this, one can either create a single .vcf file for every contact and the tool also allows to import empty email address. No matter in which language your Contacts are saved, it supports the Multiple Language Conversion and makes CSV contacts accessible from various email clients and mobile devices. It converts CSV file to VCF v2.1, v3.0, v4.0 and also allows to create separate .VCF for every contact of CSV.
What Can Be Converted?

Once users save multiple contact fields in CSV file format so the question is which fields can be converted from CSV to vCard using this software. Well, the software supports the conversion of entire CSV fields including:
Name (Full Name), Title, First Name, Middle Name, Last Name, Suffix, Nickname, Birthday, Gender, Company, Department, Job Title, Business Phone, Business Fax, Mobile Phone, Email, Business Address (Street, City, State, Postal Code, Country/Region), Website, Personal Website, Home Phone, Home Fax, Home Address (Street, City, State, Postal Code, Country/Region), Organizational ID Number, Profession, Other State, Other Postal Code, Other Country, Callback and all other.
Follow The Steps To Resolve How To Convert CSV File to vCard Issue
First of download the most reliable software to convert CSV File Contacts to vCard file format
For converting CSV file to vCard format, first launch the software on your PC and hit the

Browse

button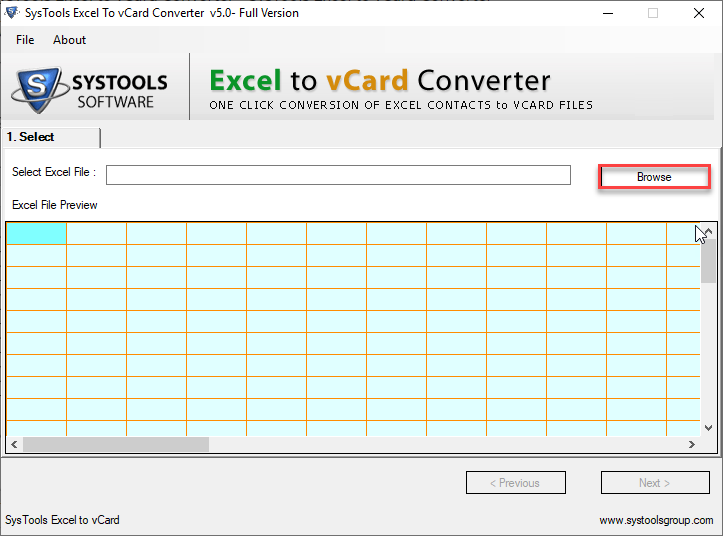 Now, navigate to the location of your contacts CSV file and select it. Click

Open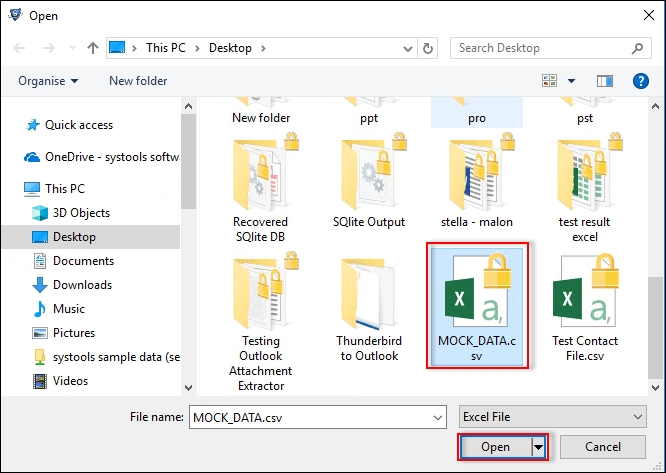 The software will load entire data of CSV file and display it in the screen. Click

Next >> Next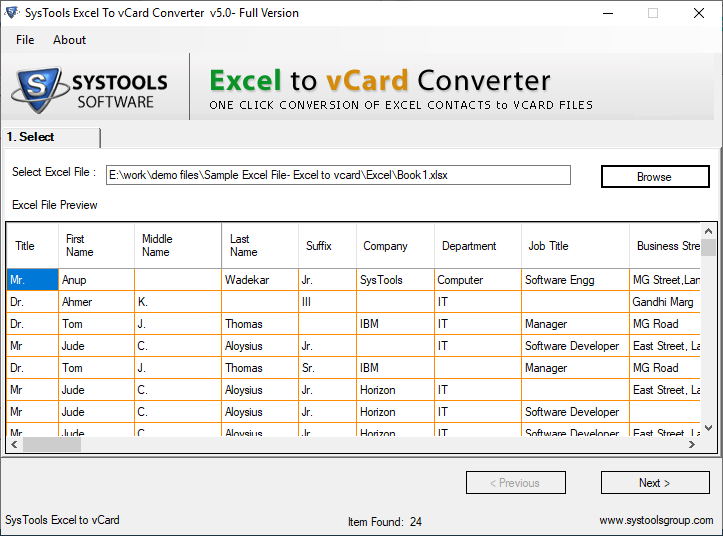 Now, you need to match Excel CSV fields with vCard fields. In order to do so, choose a CSV field from

Excel Fields

section and select the desired field from

vCard Fields

section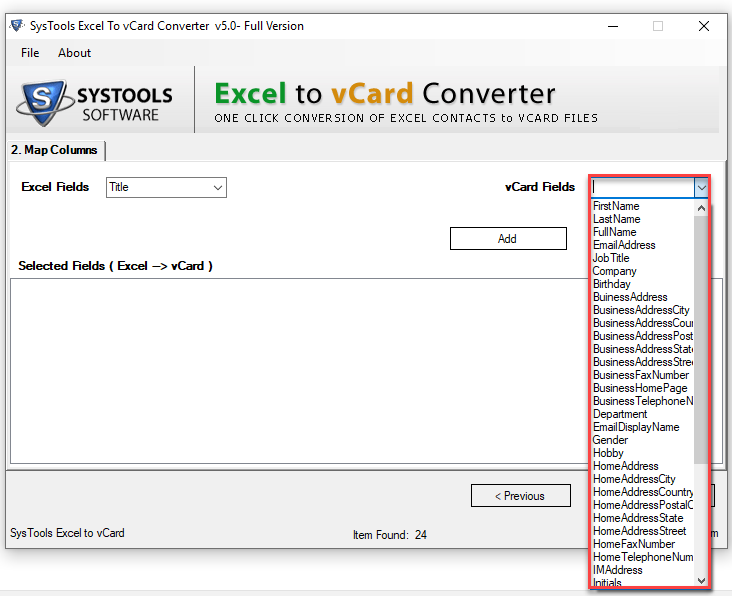 Once all the fields gets mapped, hit the

Next

button to fix how to convert CSV to VCF file problem
After this, select all the desired options you want the tool to manage throughout convert CSV contact file into VCF process. If you want to import empty email addresses then, check

Allow Empty Email Addresses to be imported

option. Moreover, to generate separate vCard for each CSV contact, you can check

Single vCard file for all contacts

option and select the desired vCard version. Click on

Change

and browse a destination location to save resultant VCF file. Hit the

Convert

button to transfer contacts from CSV to VCF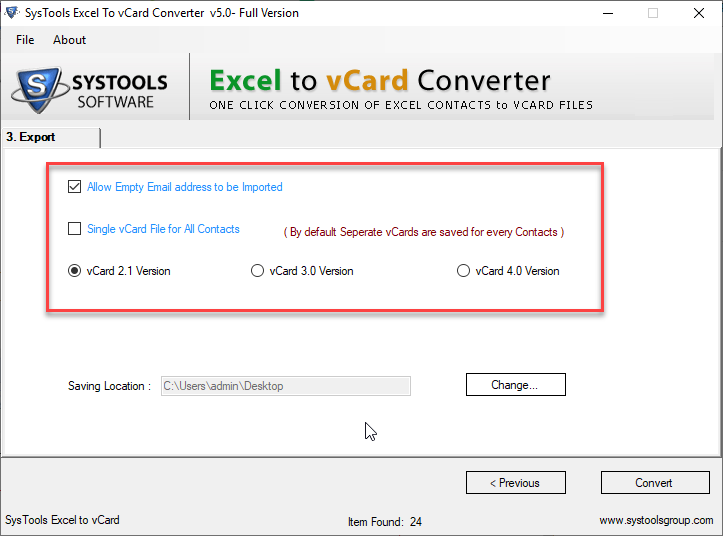 Convert CSV file into vCard format process will begin right after this and the tool will display the live status of on-going process along with the total count of empty email addresses and number of contacts added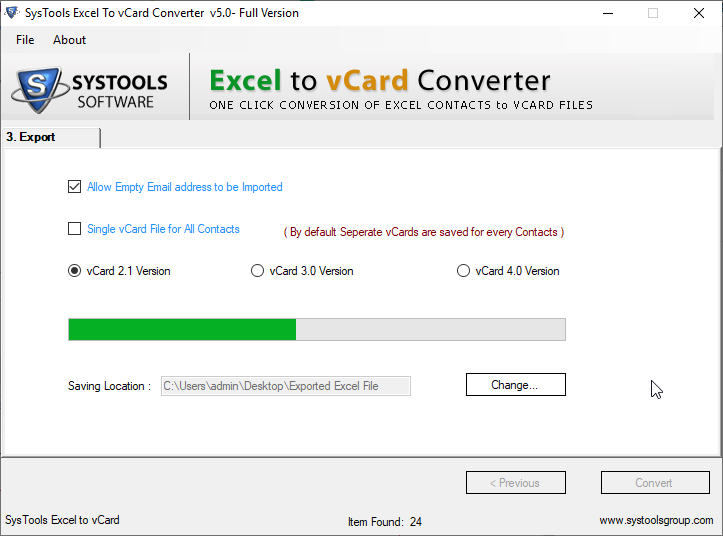 Once all the CSV contacts get converted into VCF file format, navigate to the destination location and access the VCF files.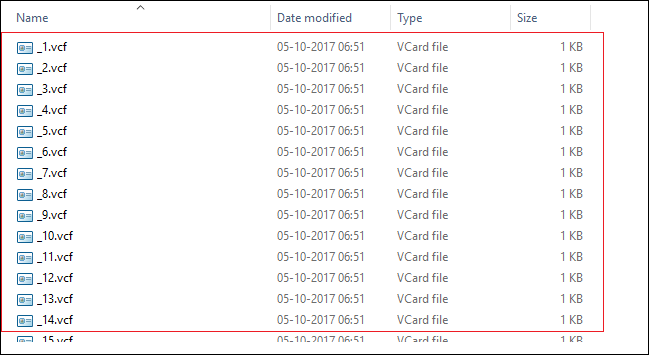 Now, how do I convert CSV to VCF query gets resolved and you can import VCF files into any VCF supported smartphone or any other device and access its data without any complications.
Final Words
This article talks about how to convert CSV file to vCard file format. The solution given here to convert CSV file to VCF file is a wise choice as executing manual solutions might result in permanent data loss. So, from now converting CSV file to vCard format will be no more complicated task for users.