Outlook Not Responding When Sending Email: Top 8 Reliable Solutions
This post will show you how to fix the issue of Outlook not responding when sending email in Outlook. Our solutions will assist you in resolving the Outlook Not Responding problem and restoring Outlook functionality. Outlook 2019, 2016, 2013, and older versions are supported by the solutions.
Microsoft Outlook is a subscription-based email client that can be installed on a user's computer and configured to send and receive emails. Personal information like calendar appointments and entries, tasks, contacts, and notes can also be kept track of with it.
The Most Common Causes of Error: Outlook Not Responding When Sending Email
MS Outlook is an out-of-date application
More than one process is using the Outlook application
Add-in conflicts in Outlook
A mailbox that is quite large
Any MS Office program can get corrupted
Outlook's data file or files are corrupted or damaged
Antivirus software conflicts with Microsoft Outlook
The Outlook profile of a user has been corrupted
Other apps that conflict with MS Outlook
What impact does This Issue Have on Microsoft Outlook Users?
The not responding notice shows on the title bar of the application's window when an application or process becomes stuck in execution or reaches a resource stalemate. On a Windows system, this is true of all applications. The best option most of the time is to wait things out, even if it is frustrating!
When this happens to Outlook, the stakes are significantly higher because you could be in the middle of a chat with a potential client at any time. Worse, you could be waiting for an update to fix a critical security flaw when Outlook stops operating.
When you try to click anywhere in the Outlook window, the entire screen turns transparent, and the title bar displays the message "Microsoft Outlook not responding."
Top Manual Methods to Tackle Outlook Not Responding When Sending Email Issue
You can attempt the following strategies to resolve the Microsoft Outlook stops working when sending email versions:
1. Updates Must be Installed
The version of Office on your computer is out of date. This can happen if your computer's Windows Update isn't set up to automatically download and install suggested updates. You can always fix problems by replacing out-of-date files and correcting vulnerabilities if you install crucial, recommended, and optional updates. As a result, make sure you have the most recent Outlook updates installed.
2. Outlook Processes That Aren't Working
Microsoft Outlook has an annoying habit of hanging around even when the user repeatedly tries to shut it down. In technical terms, this means that one or more outlook.exe processes would remain in memory, preventing the Outlook application from properly terminating and preventing us, the users, from starting a new Outlook instance. This issue existed in previous versions of Outlook, and it may still occur in Outlook 2013 and 2010.
The first step is to terminate any Outlook processes that are still running. To do so, press Ctrl + Alt + Del on your keyboard, or right-click the taskbar and select Start Task Manager from the context menu. Then go to the Processes tab and look for all instances of OUTLOOK.EXE in the list. Select each OUTLOOK.EXE by clicking on it and then clicking the End Process button.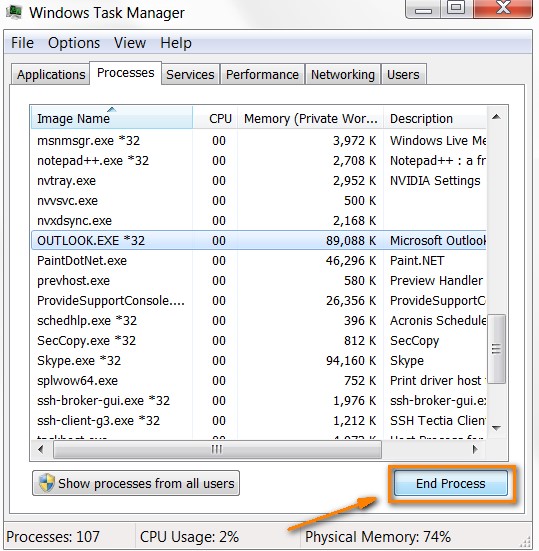 3. Remove Any Add-ons you May Have Installed
If Outlook is running well in safe mode but freezing or not responding when you exit safe mode and restart Outlook normally, then disable the Outlook add-ins that may be causing Outlook to stop working or not responding. To disable Outlook add-ins, follow these steps.
To open Run, press the Windows logo key + R shortcut.
In the Run bar, type Outlook.exe /safe and hit Enter.
Select selections from the File menu in Outlook. If you're using Outlook 2007, go to Tools-> Trust Center…->Add-Ins.
Select COM Add-ins from the Add-Ins menu. Go by pressing the Enter key.
Click OK after clearing all of the checkboxes in the list.
Restart Outlook and make sure it's working properly.
To find the cause, enable your add-ins one at a time.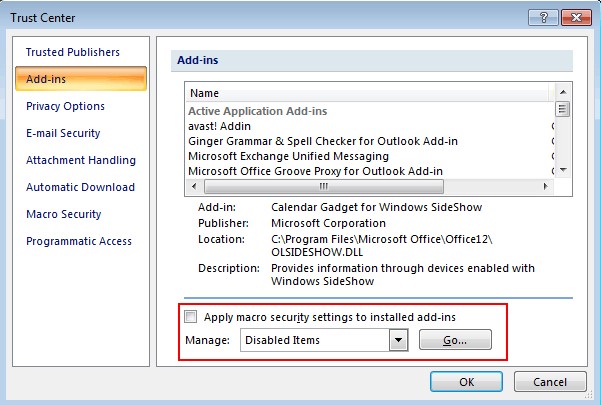 4. Launch Outlook in Safe Mode
When something goes wrong with Outlook, Microsoft advises starting it in Safe mode. What exactly does that imply? Simply said, your add-ins and customization files will not be imported into Outlook.
To start Outlook in Safe Mode, hold down the Ctrl key while clicking on the icon, or type outlook.exe /safe into the command prompt. When prompted, confirm that you definitely wish to start Outlook in Safe mode by clicking Yes.

5. Reduce the Size of your Mailbox
For Outlook not responding while sending an email, try creating more than one folder in Outlook because it will take significantly longer for Outlook to show email items from one folder while the user navigates to another. This method allows one to categorize emails while also avoiding errors.
Compact the Outlook Data File for Version 2010 of Microsoft Outlook.
Select Compact from the File tab.
Go to the Accounts Settings tab under Info, then to the Data Files tab.
Then select Personal Folder from the drop-down menu.
Then proceed to the General Tab by clicking Settings.
After that, click Compact.
Now compatible with Outlook 2013/2010 versions.
To begin, right-click the Personal folder and pick Data-File Properties from the context menu.
Select Advanced, then Compact Now from the drop-down menu.
Archiving outdated email items might also help to minimize file size.
6. Turn Off your Antivirus Software
The most common cause of Outlook goes into not responding when sending email is a conflict between the anti-virus application and add-ins, which causes Outlook to stop or hang. You might want to try updating your anti-virus software. If this does not resolve the problem, disable the anti-virus program and see if Outlook runs without any pauses.
7. Secure & Safe Method for Outlook Not Responding When Sending Email
When alternative ways fail to cure the error Outlook has stopped working when sending email with attachments, a guaranteed way to fix the problem is to utilize a solid commercial solution like DataHelp Outlook Repair Tool, which can recover lost data from Outlook PST files. Outlook users can also use the tool to fix corrupted Outlook PST files without using Scanpst.
Conclusion
We've gone over a few methods for dealing with Outlook not responding while sending email issues. Traditional approaches may not be effective in this instance; thus, it is recommended that you use PST repair programs like Microsoft's Scanpst.exe or a reputable third-party application like DataHelp for Outlook PST Repair. This is considerably superior to Scanpst.exe in many aspects.