How to Remove Document Open Password PDF File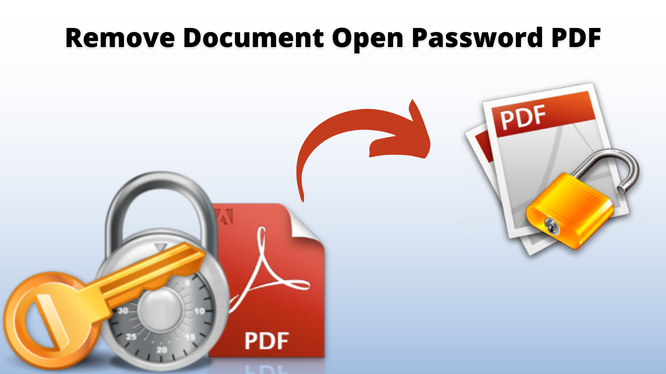 Have you ever been in a situation where you want to remove document or open password for an aadhaar PDF, insurance documents, billing notices, bank statements, or any other PDF with protection? If yes, then all your queries will resolve in one go. You can easily remove document open password PDF without any difficulty.
Many people limit the accessibility to a PDF document by setting passwords or restrictions. Basically, there are two types of password security applied to a PDF document one is document open passwords & the other is permission password security.
With the document open password, a file is under restriction from opening/ viewing. It can be difficult to open until and unless the appropriate password is entered.
With the document open password, a file is under restriction from opening/ viewing.
With the permission password, the file is restricted for copying, printing, editing, etc. Although in some cases these password security is beneficial, there are cases when it is required to be removed.
So, read the next section & know why it is required to take off the PDF password permanently.
User Query to Remove Document Open Password PDF
Whenever I opened my PDF file using Google Chrome or with any PDF reader a pop-up message gets generated i.e. PDF is protected. please enter a document open password. It becomes a really monotonous & time-consuming task for me to enter the password repeatedly. Although, I tried to save this password secured PDF as unsecured using Chrome but due to printing restrictions on the PDF file, I am unable to do that. So, is there anyone who knows how to take off PDF password even if the file is print restricted?

Remove User-Level Encryption From PDF Using Adobe Acrobat
Step-1: Open your password-protected PDF file in Adobe Acrobat DC Pro on Windows or Mac. Remember you will have to enter the Document Open password to open the file.
Step-2: Click on Tools › Encrypt › Remove Security.
Step-3: Click OK to remove it.
Top-Rated Application to Remove Document Open Password PDF
DataHelp PDF File Password Remover is one of the best utilities to remove password security from PDF documents. This application removes different types of restrictions from PDF documents on any Windows Operating system. The software has an intuitive and easy-to-use graphical interface which makes the process of removing PDF security easier. Further, the tool provides several other advantageous features also that make it unique among others.
These are as follows:
Quickly remove the document from Adobe PDF.
Remove restrictions from PDF like edit, print, copy, sign, etc.
Adobe Acrobat is not needed to take off the PDF password.
Compatible with all versions of Windows OS.
Enable PDF form filling and commenting permissions.
Steps to Remove Document Open Password PDF Using Automated Tool
For Windows
Download Software Purchase Software
For Mac
Download Software Purchase Software
Step-1: Click on Add Files/ Add Folder button for browsing PDF files from your system.
Step-2: Once you add PDF files to the software, enter their subsequent user password.
Step-3: Choose whether to Print or Save the resultant PDF.
Step-4: Click the "Unlock" button to start the process.
Conclusion
This software empowers users to remove document open password PDF documents in an efficient manner. It can easily remove known password security from any PDF document like bank statements, billing documents, e-aadhar, etc. Along with the password, restrictions can also eliminate with the help of this powerful utility.