UNIX Mail to Outlook Converter – Export UNIX Mailbox to PST
Mailboxes are generally saved in MBOX files in Unix system. Even if MBOX is not the default format, files can still be moved into MBOX later on. The article provides steps to import these Unix Mail to Outlook by converting Unix mailbox to PST files.
Outlook is the most popular desktop email client for Windows. It utterly dominates the other email apps with its plethora of features, familiarity and easy configuration with Exchange server.
That's why most of the users who switch from other Operating systems such as UNIX end up with MS Outlook as their primary email client. Thus, giving rise to the scenario of Unix Mail to Outlook conversion.
No user wishes to migrate and leave his/her database behind. In such cases, it is best to import UNIX mailbox to Outlook. Here, in this write-up, we have a reliable solution that can efficiently import mail from Unix to Outlook with all its attributes intact.
User Query:

Is it Possible to Import UNIX Mail to Outlook Directly?
No, there is no official solution that can import UNIX mail to Outlook directly. MS Outlook only supports importing the PST files and cannot identify the Unix MBOX files.
The best way to carry out this process is by converting UNIX mailbox to PST format and importing these PST files into Outlook. This method will ensure that the attributes are kept intact and the UNIX emails are added to Outlook with all its properties.
Do You Know?

There are a lot of email clients used by UNIX users for sending/receiving/managing email messages. Some of the popular ones are Mutt Mail, Alpine, Claws Mail, Sylpheed, Thunderbird, etc.

Most of the UNIX email clients work with Maildir and MBOX files. Since MBOX stores multiple emails in a single file, it is efficient to import MBOX file in Outlook (after conversion).
How to Get Around Unix Mailbox to PST Conversion Easily?
DataHelp MBOX to PST Converter is a perfect utility to convert Unix mailbox to PST in bulk. It can import multiple emails from Unix email client to MS Outlook at once. Additionally, the advanced protocols ensure that the conversion is quick and fluent without any loss of data.

Along with this, the tool has several other beneficial functionalities such as:
Two option to add Unix MBOX files – Drag and drop the files or import them via browse functionality.
You can also add single or multiple MBOX files at once without any issues.
No requirement of Microsoft Outlook for the conversion process.
Create a single PST file by merging all the Unix mailbox files for easier management
Step by Step Method to Import Unix Mail to Outlook
Step 1: Run the software and click on "Select Files" option.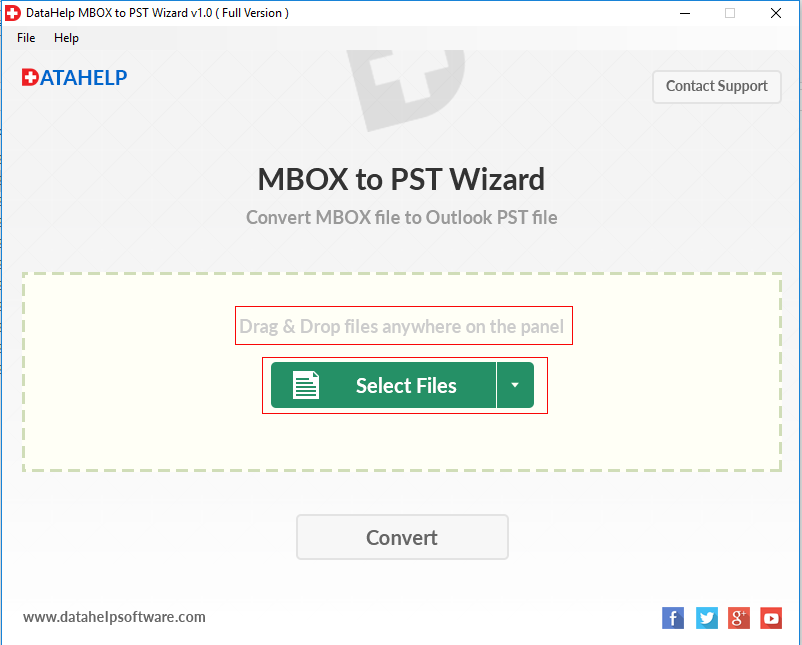 Step 2: Choose either "Select File" or "Select folder" to import Unix mailbox.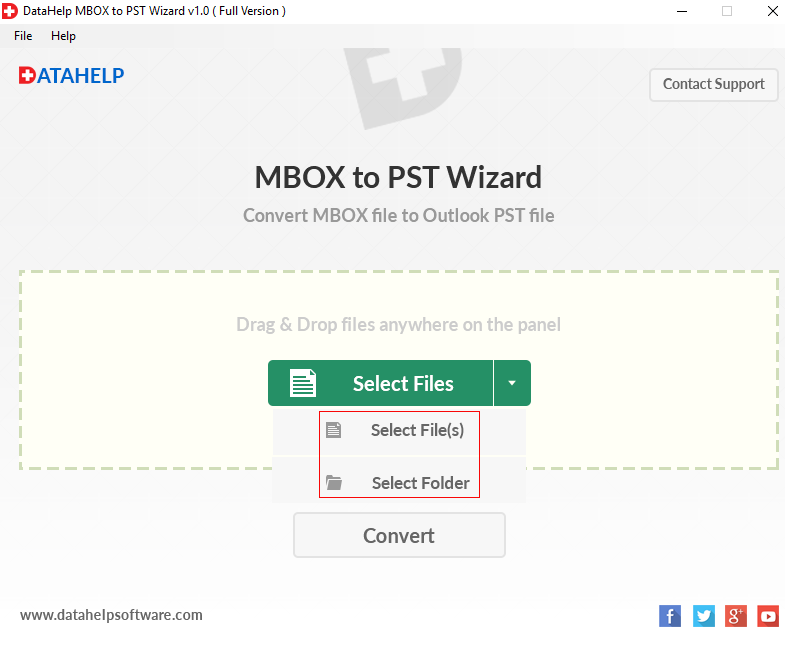 Step 3: Click "Convert" button.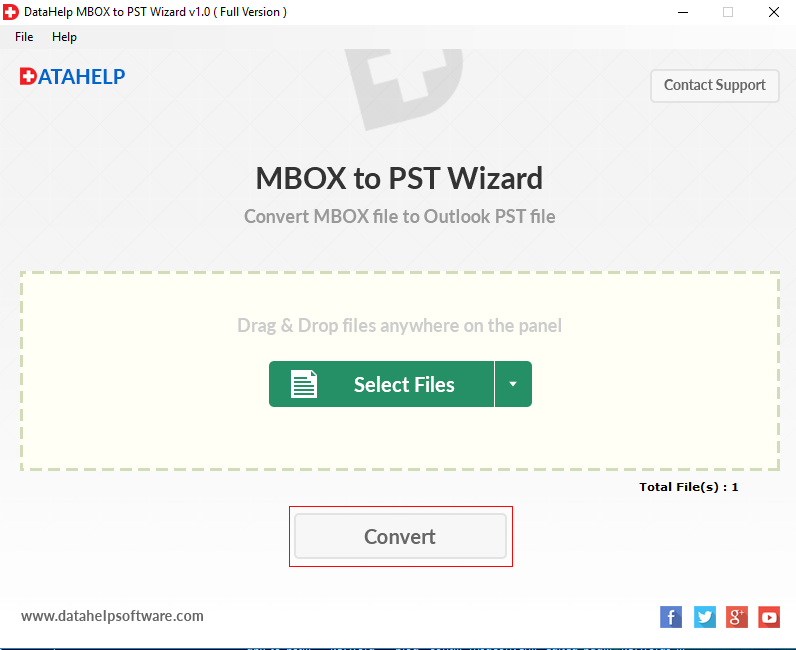 Step 4: Choose the location to save the Outlook PST files and click "OK".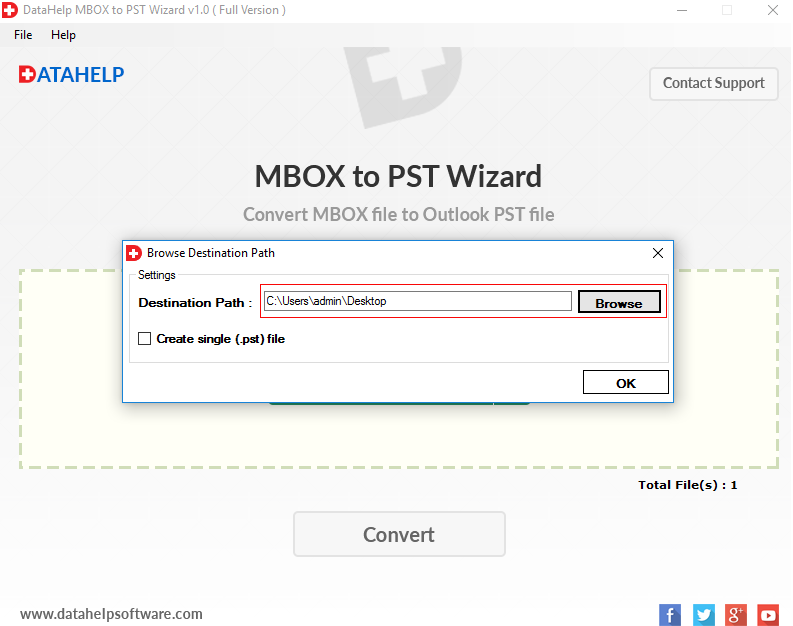 Step 5: After converting Unix mailbox to PST, click "Ok" on the confirmation window.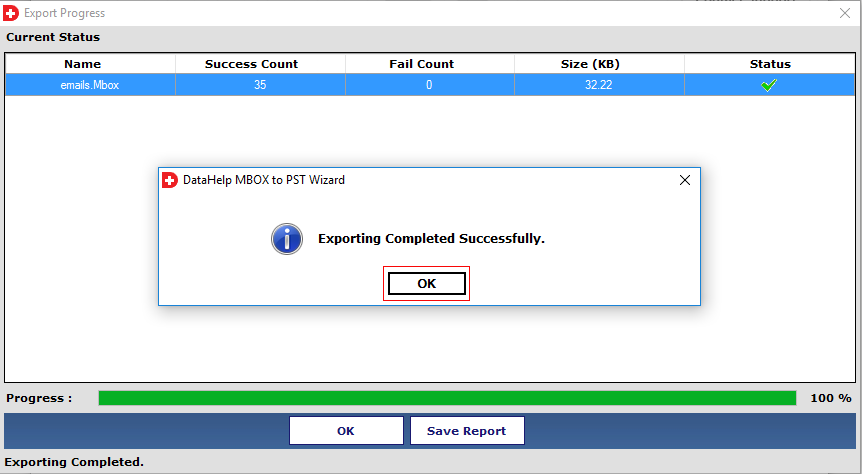 Note: Once the Unix mailboxes are converted into PST, these PST files are to be imported in MS Outlook. This can be done via the Import /Export facility provided in the article to import PST file in Outlook step by step.
Additional Info!
The aforementioned tool is available only for Windows. Therefore, to convert Unix mailbox to PST, it is a must to import the files from Unix to Windows.
First understand the format you are using to save the email files. If the format is MBOX, directly copy and import the files onto the Windows computer for conversion. Else go to the associated articles to prepare Unix emails in MBOX files.
Why Do We Care?
Outlook is the most used desktop email client for Windows. So there is a high probability that users switching from Unix to Windows will end up using MS Outlook. Therefore, in such cases, the best solution to import Unix Mail to Outlook is to use an expert program to convert Unix mailbox to PST.
Later the file can be imported in any Outlook version without restrictions. Thus, users will be able to maintain their workflow even after switching the Operating systems.
Some Queries:
Q. After the conversion, on what Outlook platforms can I import the converted files?
A. You can easily import them in Outlook 2019, 2016, 2013, 2010, 2007 & 2003
Q. I have all my UNIX emails saved in Maildir files. How do I import them in Outlook?
A. Use the Maildir to Outlook converter to convert the UNIX mailbox files. Then, import the converted files in Outlook.