How to Backup Gmail Email to Computer: A Step-Wise Walkthrough
In this article, you will learn various techniques to backup Gmail emails to computer with attachments. Read all the methods listed below and choose the methods that suit your requirement. Before proceeding further, let's take a step backup and discuss the benefits of taking backup of Gmail emails for safekeeping.
Why Backup Gmail Emails to Computer?
Gmail account is a widely used web application. It is used in schools, colleges, banks, hospitals, the private sector, the government sector, etc. Due to the availability of technology, white-collar people have become tech-savvy.
The paperwork has been digitalized due to its reliability, accuracy, and authenticity.
However, in today's time cyber hacking or cybercrime is very prominent. The hackers are smartly hacking the account and retrieving all the important and confidential data for their personal interests. So, it is important to take the backup of the data beforehand.
If we talk about the incident, there was a lady whose Gmail password was hacked and the hacker had been sending the offensive mails to her contacts. She received repeated calls from her concerned contact list and felt very embarrassed.

Later on, she was advised by one of her friends to change the password immediately and so she did. After the change of the password, the hacker couldn't get access to her emails again.
However, this is not the end of the solution. This teaches us a lesson that how important it is to take the backup of the data.
How to Download All Emails from Gmail Account via Takeout?
Gmail provides us the manual archiving of Gmail emails using 'Google Takeout' feature. This service is available for all Google account user and it can be used to take backup of Gmail emails and other applications quite easily.
The steps involved in manual archiving of Gmail emails using 'Google Takeout' feature are as follows:
1. Go to your Google account through this link – https://myaccount.google.com (as shown in Figure A) and add the Gmail account if not already signed in (as shown in Figure B).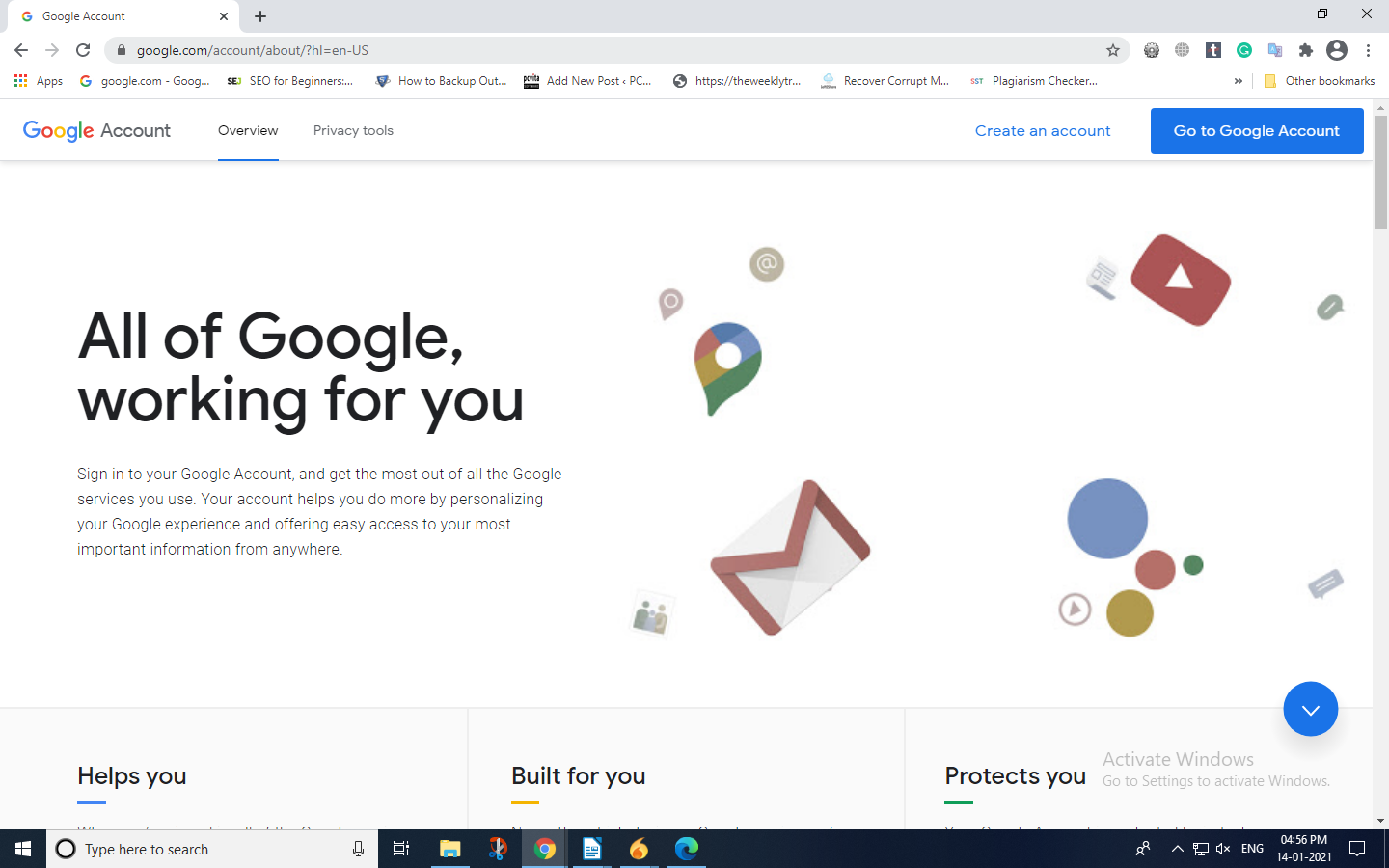 Figure A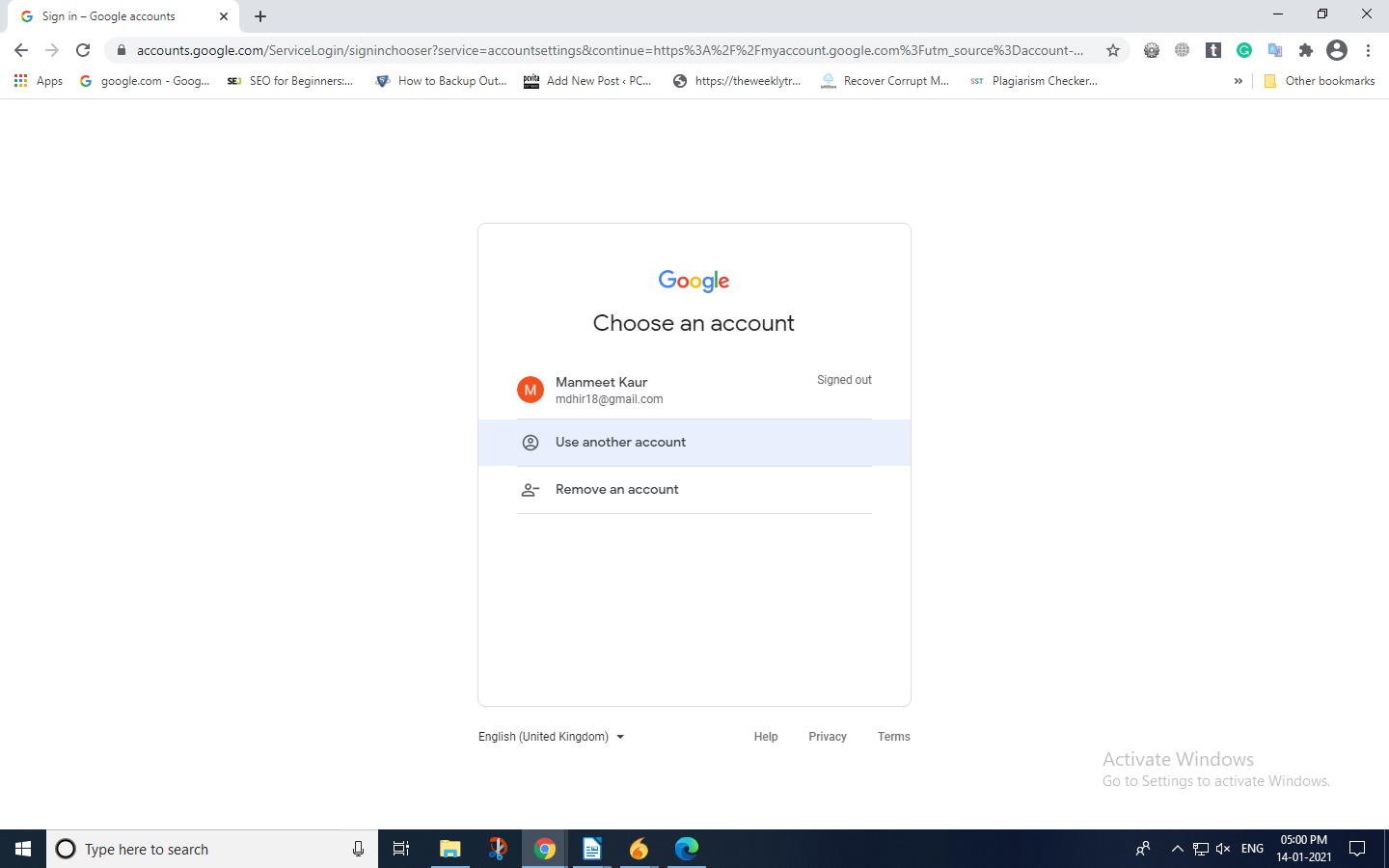 Figure B
2. After getting signed in, the Google account would open up a page. On the opened page click on ' Data & personalization' option and then click on ' Download your data' option. This can be seen in Figure C.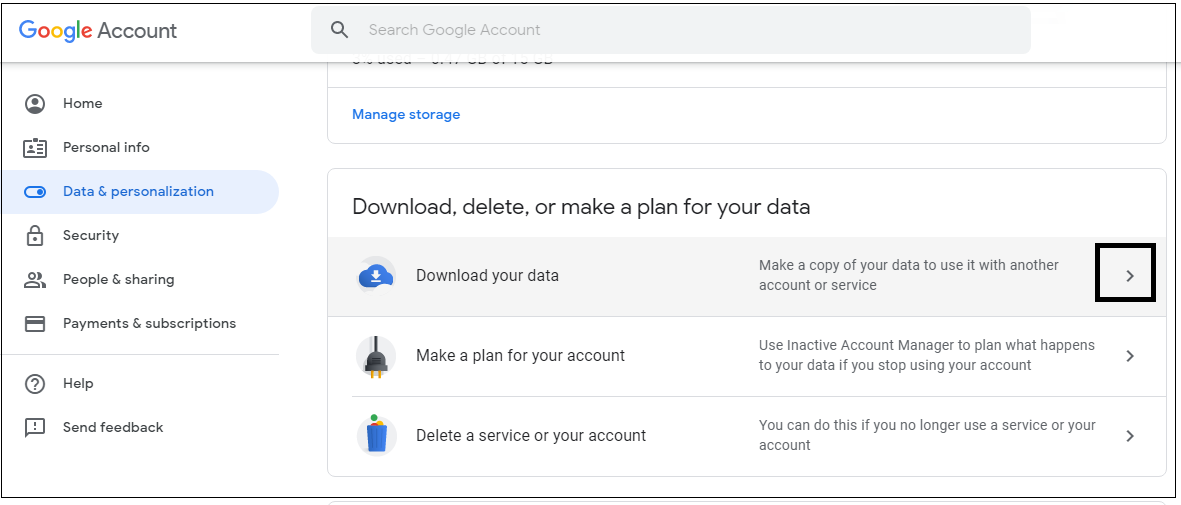 Figure C
3. Then the page is directed to Google Takeout where we need to deselect the option.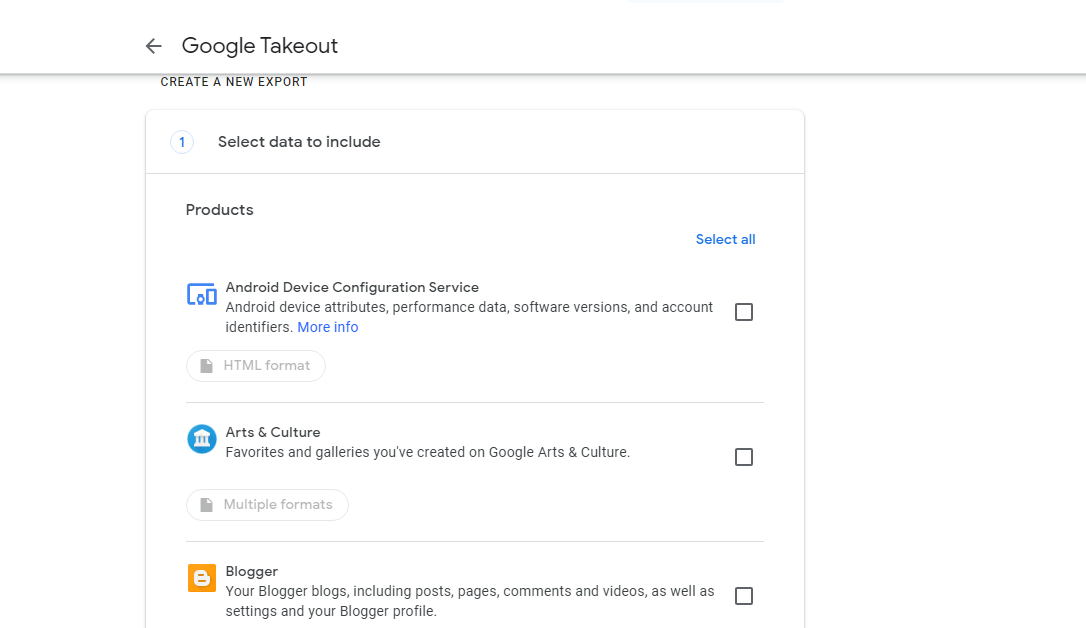 Figure D
4. In the given we need to select the option 'Mail' since we want to download or take the back up of only emails. This has been shown in Figure E.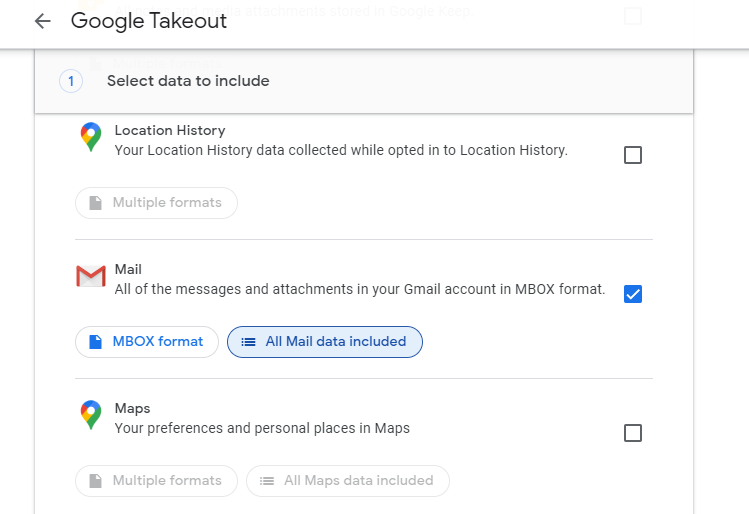 Figure E
5. After selecting the option 'Mails', click on the given below option 'Next Step'.
6. Now we can customize the archive format by selecting Export type, File type and Archive size and then click on the tab 'Create Export'. This has been shown in Figure F.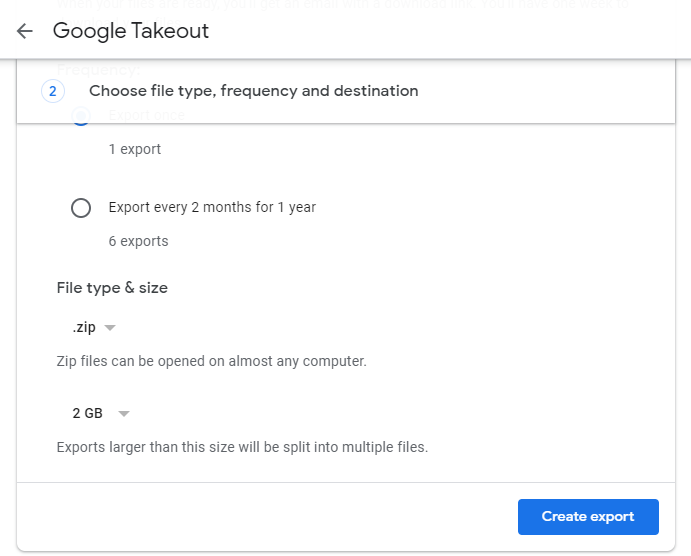 Figure F
7. In the last page we will find the 'Export progress' under which it is been written that 'The process can take a long time possibly hours or days'. This can be clearly seen in Figure G.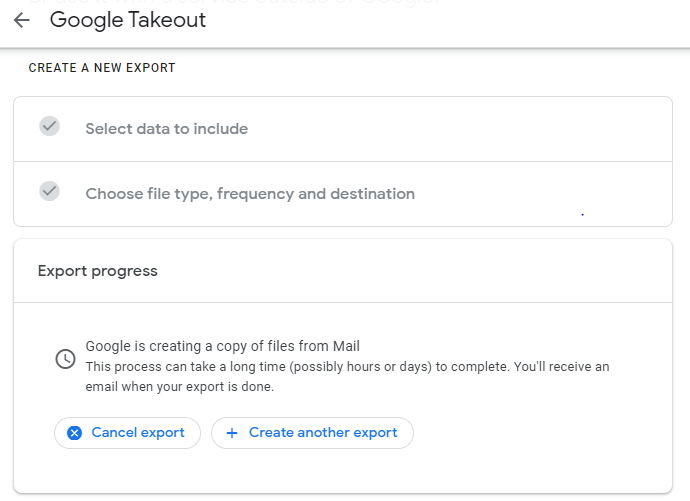 Figure G
In the last step of archive creation, we find the challenge of taking a lot of time to download the email data.
In today's time when we value time and speedy completion of task, here we cannot sit idle and wait for long. The other approach that we can adopt is using software that can enables you to backup Gmail emails to computer in the most proficient and reliable with lesser time. We will discuss about one such solution in the further section.
How to Backup Gmail Emails And Attachments to Computer Directly?
Hope from the above manual solution you may have understood that it's not quite easy to download emails from Gmail account quickly. Moreover, a manual solution (Google Takeout) is only good when backup needs to be taken in MBOX file, but for backup is required in a format other than MBOX, then it's better to take the help of automated Gmail account backup software.
This utility not only takes backup of Gmail emails in MBOX format but also allows to export Gmail emails to PST, PDF, EML, MSG formats. Using the incremental backup facility of this tool you can easily backup Gmail emails on your computer anytime (the backup will be generated of new emails only). Moreover, using this utility you can download emails from a particular folder of your Gmail account.
Following are the step to backup Gmail emails to computer:
1. Firstly download the backup utility and launch it on your system.

2. Login into the tool using your Gmail id and account password
3. Select the category of items to backup: emails, contacts, calendars and documents
4. Browse the location to download the backed up data.
5. Use the Apply filter option to select the folder to backup and hit the start button to backup Gmail emails.
Final Words
Hopefully, this blog gives you insights on how to backup Gmail emails to computers in lesser time and speedily. You can choose any of the methods that you find suitable. However, it is recommended to try backup utility as it's fast, secure, and provides the option to download emails from Gmail account in multiple file formats.