Use Best Ways to Crack Print Protection in PDF For Successful Unlocking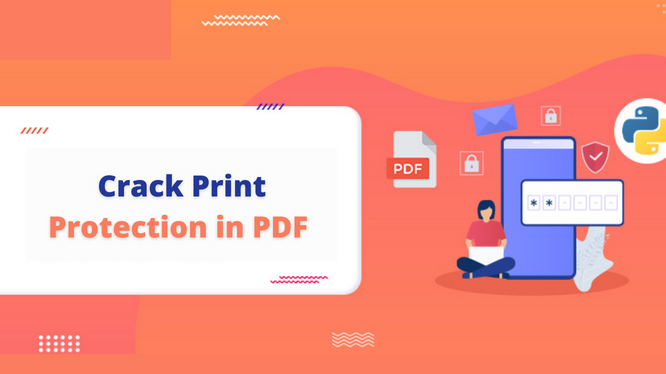 PDF is a popular means of storing documents. People choose PDF files over other file formats because of their portability, strict security, and retention of formatting. Especially for printing any document, the PDF file is usually chosen to keep the original format. But what if the PDF files are non-printable and you do not have the permission password to crack print protection in PDF files? Do not worry, as we have a solution for this issue too. Read on, as we will tell you an effective solution that will let you know how to unlock a PDF for printing.
User Query 1: "Hi all. I have collected some large-sized books from an online forum in PDF format. These books are really important for my course and the hard copy of these books are not available. I am unable to print these PDFs as these have got printing restriction enabled. Please tell me how to crack print protection in PDF document so that it could easily print. I am fine with any manual method or software. Thanks for taking the time to read my query."

User Query 2: Before going into the vacation, one of my colleagues gave me some PDFs. I need to share these files with the managing director before the monthly meeting. Now the problem occurred when I tried to print those files and I found out that the PDF files are restricted. Which means I do not have permission to print out those files. Since that colleague is inaccessible during his vacation, I have to sort this issue out by myself. So, my query is that is it possible to crack PDF security to print?
Ultimate Solution to Crack Print Protection in PDF Document
When it comes to unsecured PDF file, then the PDF Password Remover Software is the first solution that people trust. This application will crack all types of restrictions including the Printing of PDF documents. Users don't need to enter the permission password to remove PDF file security.
This amazing software also offers a trial version. Users can download the version for free from the official website and test its effectiveness. If they are satisfied with the performance, then they can opt for the license of the full version. The full version is available in three different licenses: personal, business, and enterprise.
Now, to remove printing password from PDF, perform these easy steps one by one:
Download and Launch the software on your Windows or Mac system to get the printing option back.
Click on the Add File/Folder button to insert the PDF file and remove printing password from PDF.
Choose the destination folder and click on the

Unlock button to e

nable printing in PDF files.
Now, the user has successfully cracked PDF security to print.
The next step to be followed is to navigate toward the location where the unlocked PDF is saved. Just open it and go to the Print option. You will notice that you have successfully enabled printing in PDF files.
Why Choose This Software to Crack Print Protection in PDF Files?
If you are wondering why you should choose this software to enable the printing option, here are some reasons:
This software does not ask for a permission password to crack PDF print protection.
With business & enterprise licenses crack restrictions from the bulk number of PDFs.
No file size limitations for processing PDF files.
Adobe Acrobat installation is not required to crack print protection in PDF.
Compatible with all Windows OS versions including Win 10 & 11.
Is it Possible to Enable Printing in PDF Files Using Manual Methods?
Yes, of course, there are native methods available to crack print protection in PDF documents & one among them is Adobe Acrobat Pro DC. With this, users can not only unlock secured PDF for printing but also for copying, editing, etc. But, the main drawback of using this program is that it will ask for a permission password. Also, if in case this password is forgotten or lost then, this method will not work.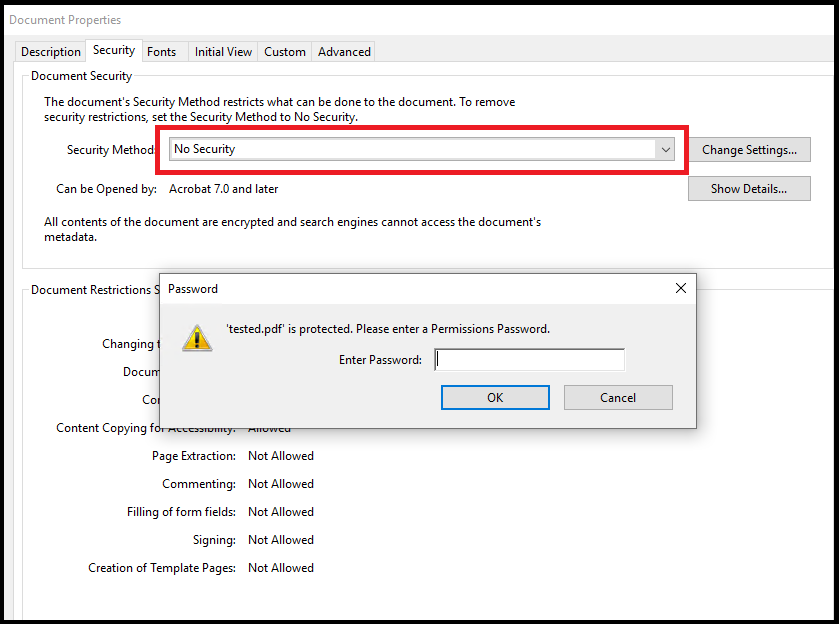 Also Read: Learn Quick Solutions to Compress Size of PDF Files
Conclusion
If you visit any PDF forum you will find hundreds of people asking this question, How to crack print protection in PDF documents? In this post, we have addressed this problem and mentioned how users can enable printing in PDF files. Users can try the manual method also but it will require a permission password to carry out the process. Therefore, to remove printing password from PDFs the above-mentioned software is a perfect choice.
Most Common Questions
Q1. Why I am not able to take the prints of a PDF file?
The PDF might have the print restrictions applied. You will need to remove the protection from the PDF file.
Q2. Can I use this software to disable the print restrictions for multiple PDF files?
Yes, the tool can help you remove the restrictions from multiple PDF files.
Q3. What type of restriction I can remove using this tool?
Using this tool, you get the option to unlock any type of restrictions like Editing, Printing, Copying, Commenting, and Signing.