How to Export Spicebird to Outlook? A Comprehensive Tutorial
Spicebird is a free personal information manager that is an open-source email client. It provide a facility of email, calendar, instant messaging, contacts, and task. Along with this, Spicebird offers the integrate Jabber chat client which means you can connect with GTalk and other Jabber-based chat clients. But after versions 0.8 the support for Spicebird is discontinued.
After Spicebird discontinued the supports many users want to migrate from Spicebird to other email clients. And Outlook comes first in this line-up because it is the most used and trusted email client developed by Microsoft.
Hence, if you are planning to switch from Spicebird to Outlook then, stay with us and learn how to export Spicebird mailbox to Outlook?
How to Convert SpiceBird Mailbox Data to PST?
Spicebird has no direct export facility for other email client. So, in order to convert Spicebird mailbox to Outlook PST, first you have to locate the file location of Spicebird mailbox data.
Method to Locate Spicebird Mailbox Data
To find the mailbox data of Spicebird follow the steps mentioned below.
Step 1: First, open Spicebird then click on the Tool option.
Step 2: After that, click on the Account Settings option.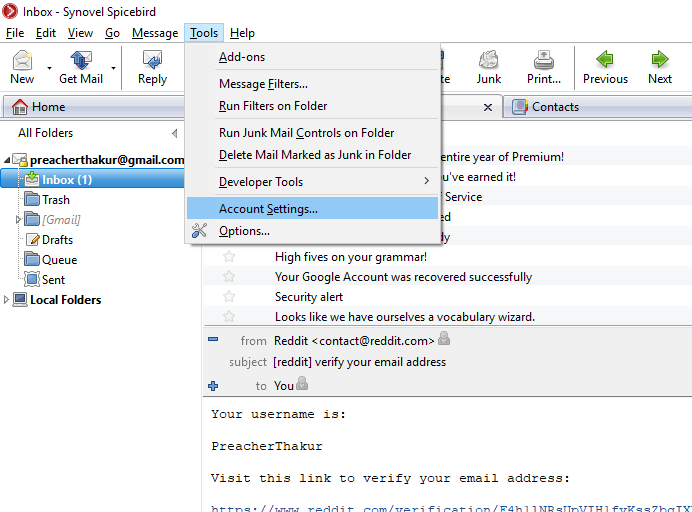 Step 3: Now, click on Server Settings under Account Settings window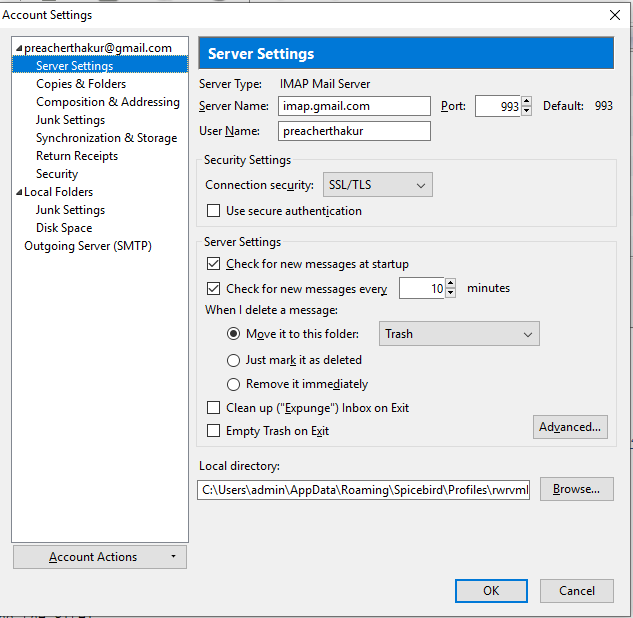 Step 4: After that, copy the Local directory path.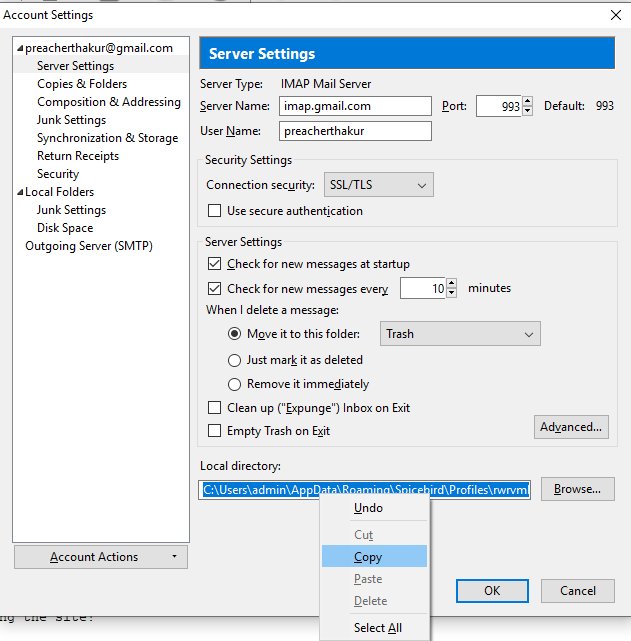 Step 5: Now, open the location of directory.
When you got your mailbox data from Spicebird default location, then you are capable for the conversion process.
Method to Convert Spicebird Mailbox Data to Outlook PST
Spicebird stores its data which has no extension (commonly known as MBOX) and there is no manual method to export mailbox data from Spicebird to PST. To import Spicebird data into Outlook email application you have convert in PST file. Because MS Outlook uses PST file format to store all its mailbox data.
To easily perform this task MBOX to PST Converter is available here. Built for accuracy and efficiency, it provides very simple UI with powerful features. This software convert all mailbox data from Spicebird into PST without any data loss.
Steps to Follow While Converting Process of Spicebird to PST
Step 1: Download and run the software.
Step 2: Now, click on the Select Files button to choose Spicebird mailbox data.
Step 3: Once you select the file which you want to export >> click on Open button.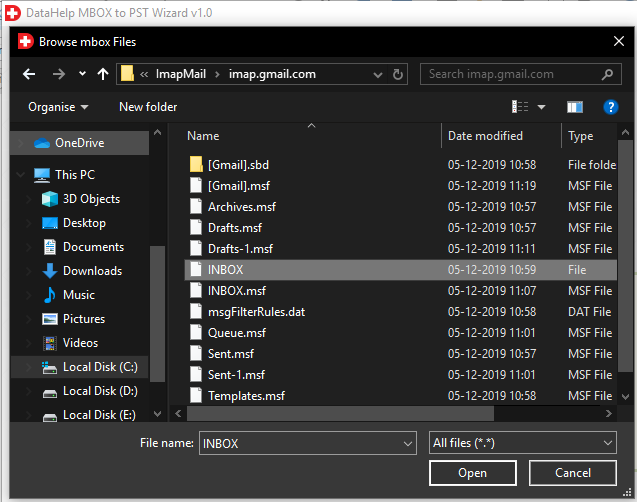 Step 4: After software added the file successfully, click on OK button.
Step 5: After all settings, click on the Convert button to start the conversion process.
Why Our Solution?
This tool is capable to export Spicebird mailbox data to Outlook 2019, 2016, 2013, 2010, 2007 and 2003 in a very effective manner. and also this software is loaded with lot's of features some of the main features are listed below.
This software is to maintain the accuracy and consistency of the data attributes during the conversion process.
This software gives you an option to create a single PST file or create multiple PST while conversion process.
The tool is capable to perform bulk conversion.
This software is also able to maintain the on-disk folder hierarchy after conversion of Spicebird to Outlook.
It has a drag and drop option which means you can drag any number of Spicebird files and drop them in software panel.
Final Thoughts
As we said above, Spicebird is an open-source email client which provides many features but due to support discontinued by Spicebird, there is no option available for its users. Hence, if you are one of them, then go through this write-up to convert mailbox from Spicebird to Outlook PST with the provided solution