Can't Sign PDF in Adobe Reader DC: Root Cause Answered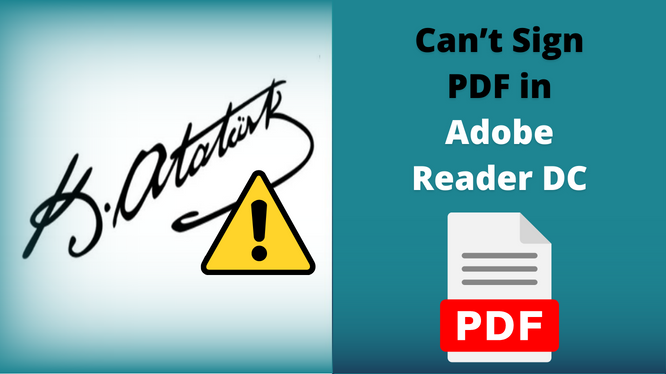 So, in this blog, we've gone through a step-by-step approach for resolving the issue "Can't sign PDF in Adobe Reader DC" or when PDF fill and sign aren't working without losing any data.
The term PDF stands for portable document format. There is a requirement to store files that are immutable, yet need to be easily shared and printed. Adobe Reader or another program that can read PDF files is almost universally available nowadays.
The most used file type is PDF, which helps to protect sensitive information. This portable document can utilize in a variety of situations, including university forms, office documents, and business transactions, among others. Furthermore, Adobe Reader must install before accessing a PDF document. However, when most users try to sign a PDF file, they may encounter a variety of complications, such as signing a PDF that isn't allowed or the sign button being greyed out.
How to Digitally Sign PDF with Adobe Reader DC?
Once you've received the tool's resultant PDF file, follow the procedures below:
To begin, open Adobe Reader DC or Acrobat Pro DC and open the PDF file you want to sign.
Click the 'Tools' menu in the second step.
Now select the 'Fill and Sign' option and click it.
The 'sign' icon, which looks like a pen in the center of the toolbar, will appear after that. After that, click on it.
If you're a first-time user or have never set up a sign previously, you'll see two options:
a) Add Signature
b) Add Initials
If you want to include a signature, select the first option, which is Add signature.
Unfortunately, we can't sign pdf in adobe reader dc to sign documents using a camera. However, this feature was previously accessible in Adobe Reader for Windows. Continue with the following three PDF signing options:
Enter a Sign in the default font.
If the user is unconcern that the sign is not written in his or her own handwriting. So, this choice will give you an easy and quick approach to solving your problem; all you have to do is write your name and click on it.
Create your own unique signature.
Users can use a mouse, webcam pen, or tablet to create their own signature in this step. Users can delete them if they are not pleased, and then simply click the 'Done' button when they are.
Just Upload a Photo of Your Sign
If users prefer to sign using a marker or pen, simply pick a white sheet and write in the middle with a black pen. Users can now either take a photograph or scan their documents, depending on their preference. After that, save it so you may access it on your local PC after you've finished scanning. PNG, JPEG, TIFF, BMP, and JPEG are all supported by Adobe Reader DC, so you can save your image in one of these formats. When you're ready to upload your image, pick it and click "Upload." If you're pleased, click "Done."
Users will be able to view the signature on the sheet after completing all three processes. Now that you have your sign on the website, you may resize it by moving the corners. As a result, Adobe Acrobat Reader DC will remember your signature; simply choose the sign symbol and click on your signature to upload it the next time you wish to sign.
Automated Software for Can't Sign PDF in Adobe Reader DC
Users may encounter difficulty and can't sign pdf in adobe reader dc at that time. They may discover that Adobe fill and sign is not working, preventing them from adding a digital signature to a PDF document. As a result, they begin looking for a commercial solution known as DataHelp PDF Password Remover Tool. The purpose of this application is to remove permissions from PDF documents.
The program allows you to remove certain restrictions from PDF documents. Furthermore, if the file has a document open password, the tool may remove it as well. The password, on the other hand, must know by the user. Furthermore, the program can handle both 128 and 256-bit encrypted PDF files.
For Windows:
Download Software Purchase Software
For Mac:
Download Software Purchase Software
Steps to Enable PDF Document Signing
Follow these simple steps to activate PDF signature permissions or modify signing permissions from "Not Allowed" to "Allowed":
1. On a Windows or Mac OS X computer, open the software and run it.
2. Insert PDF File that you can't sign using the Add Files / Add Folder option.
3. Depending on your needs, choose either "Save" or "Print."
4. Change the target location for the resulting PDF by clicking Change.
5. Enable PDF signing by clicking the Unlock button.
6. Finally, the message "Process Completed" appears on the screen.
Also Read: How to Enable Highlight Text in PDF Document
Wrapping Up
Most users try to save their data in PDF files these days because they are the safest file format. However, users may occasionally encounter a difficulty, such as can't sign PDF in Adobe Reader DC. As a result, we've gone over the entire method in depth to remedy this issue. When Adobe fill and sign are not working, this method will entirely assist users.