How to Resolve Outlook Cant Find OST File Issue?
OST files are offline storage files created by Outlook with an Exchange Server environment. It allows users to access the mailbox data in offline mode. It means you can access emails, attachment tasks, contacts, notes, reminders, etc without any internet connectivity. Its all because the OST data resides in the user's local machine. Once it gets connected to the exchange server, it starts synchronizing the OST files with the Exchange server.
However, sometimes users may receive an error while accessing the offline OST file. Suddenly, a pop-up message stated that "Outlook cannot find OST file" appear on their screen.
Besides these, there is numerous error that makes their OST file inaccessible to the users that are mentioned in the subsequent section.
Know some common Outlook OST Errors
Microsoft Outlook cannot find the OST file is the most frequent error faced by Outlook users. But there could be many other errors due to which the user cannot find ost file Outlook 2019, 2016, 2013, 2010, 2007, 2003.
1: OST is in use by another application or program.
2: Microsoft Outlook not responding.
3: Outlook OST is in use and cannot be accessed.
4: The set of folders cannot be displayed.
One of the user's queries that is related to the above mentioned Outlook OST error is given below.
"Hi, I have recently started receiving "Outlook 2016 cannot find ost file" message while working with Outlook 2016. I searched on the web and found several ways to fix this problem. But, they didn't work for me. So I want to know what causes it and how can I fix this "outlook error cannot find ost file" issue?"
Why "Outlook cannot find OST file" Error Occurs?
There are several reasons behind this error such as:
Abruptly termination of Outlook.
Synchronization error between OST and Exchange server.
Importing OST files inappropriately.
Improper installation of Outlook.
Virus and malware infections.
Substantially, the main reasons for Outlook error cannot find the OST file is due to the OST file corruption issue.
So, here in the next section, we are going to discuss some of the methods that can help to repair the corrupted file.
How to Fix Outlook can't find OST file Issue?
There are some of the manual techniques that help the users to fix Outlook error cannot locate OST file.
1: Close all MS Outlook Processes
To end all the entire Outlook processes and restarting the Outlook application may helps you to fix this error.
Close Microsoft Outlook application.
Go to Task Manager and click the Process tab.
End these processes like Communicator, Lync, Outlook, or Ucmapi. Then restart your system.
This simple trick might fix the error Outlook cannot find OST file error to some extent.
2: Disable the Cached Exchange Mode
You can troubleshoot the Outlook error cannot find OST file issue by disabling the cached Exchange mode in Outlook. This is the way to fix the MS Outlook configuration in your system, which might allow you to open OST files.
Follow the steps to disable the cached Exchange mode in Outlook:
Close MS Outlook application >> Go to the control panel.
Click on Mail option >> select Email Accounts and then hit on Email Tab.
Now, click on Exchange account and then on Change button.
Uncheck the use of the Cached Exchange Mode option under offline settings.
Click on the Next button to finish the process.
Disable Outlook Add-ins.
Disable Outlook Add ins.
Sometimes disabling the Add-ins will be beneficial for the users to repair the Outlook issues. To disable an Add-in in Outlook, you need to run the Outlook in safe mode. Also, you can follow the below steps:
Go to the shortcut icon for Outlook application.
Now, press and hold the CTRL key and double-click the Outlook.
Click 'Yes' when a window prompt appears to ask you to start the application in Safe Mode
Using ScanPST.exe
Microsoft provides the Inbox Repair Tool also known as ScanPST.exe to resolve the minor corruption issues with the OST files. Read More..
The above mentioned manual methods do not guarantee that they will provide 100% reliable solutions.
Also, these methods are very tedious and time-consuming. Apart from this, if the outlook data file is highly corrupted especially files, then these manual tricks won't work.
So, we have a better solution that can easily fix this issue caused by OST file corruption.
Resolve Outlook cannot Find OST File error – An Instant Solution
Tool for OST recovery is a right solution to fix Outlook can't find OST file error which is occured due to corruption.
It helps the users to recover permanently deleted emails, contacts, calendar from OST file. You can save recovered items into multiple formats such as PST, MSG, EML, PDF, Office 365 from a specific date range.
In addition to this, the software performs Quick scanning to rebuild the OST file in Outlook 2019, 2016, 2013, 2010, 2007, 2003.
Advantages Of Using the Automated Tool
The Software comes with tons of impressive features that make it easy for the users to fix Outlook 2016 cannot find OST file error. Some of them are listed below:
1: Rapidly repair corrupted and restore the deleted OST files data in multiple formats.
2: Tool provides a quick and advanced scanning mode to repair severely damaged OST files.
3: Able to recover the password protected files.
4: Tool enables to generate a preview of all OST items after the recovery process.
5: Maintain and preserves the folder structure of OST data.
6: Compatible with Windows 10(32/64 bit) & All Below Versions.
Quick Step Process to fix Microsoft outlook cannot find OST file Error
You have to follow these few steps to repair & recover the corrupt OST file.

Step 1: Download, install and run the software.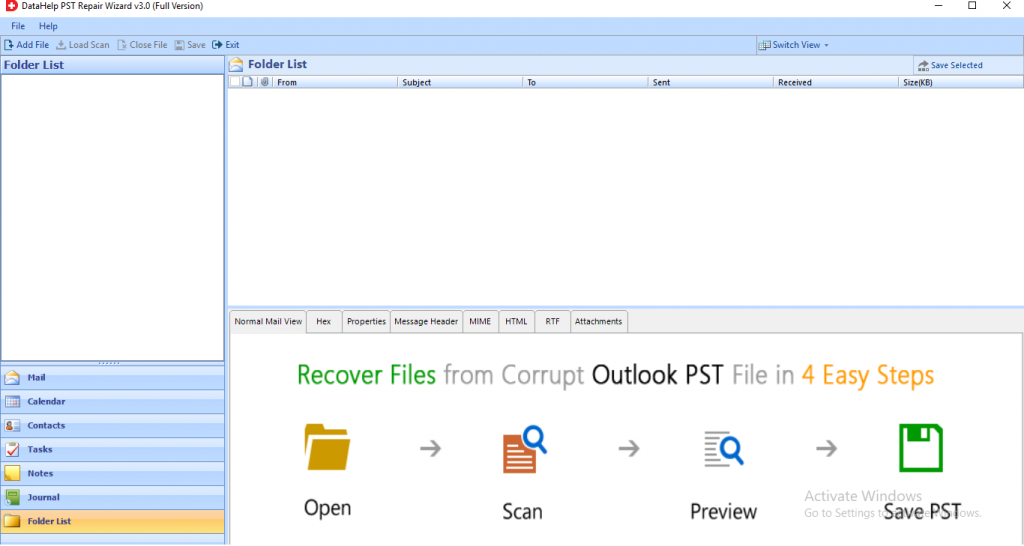 Step 2: Click on the Add File option to insert the corrupted OST files into the software panel.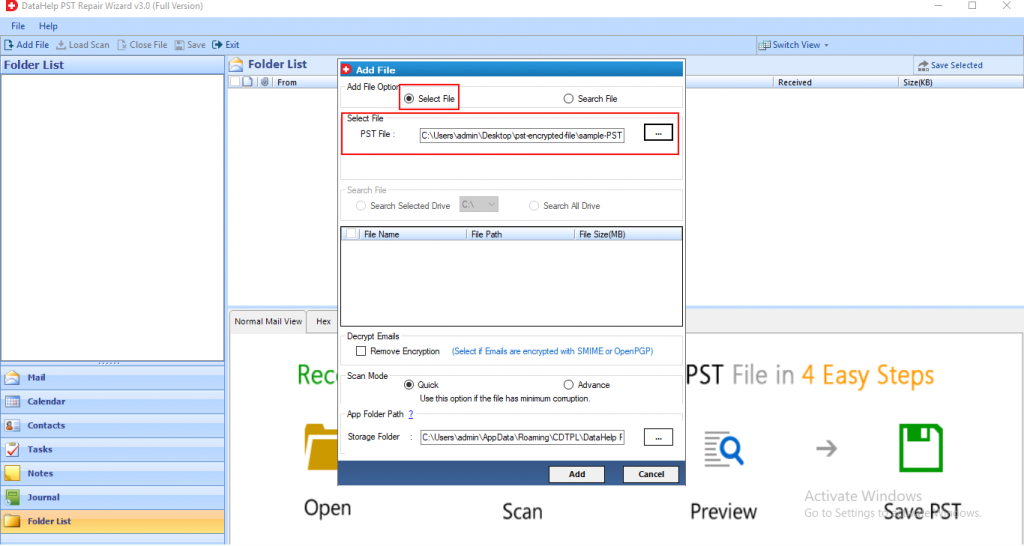 Step 3: Software provides the Quick and Advanced scan option to repair corrupted OST files. Choose as per your requirement.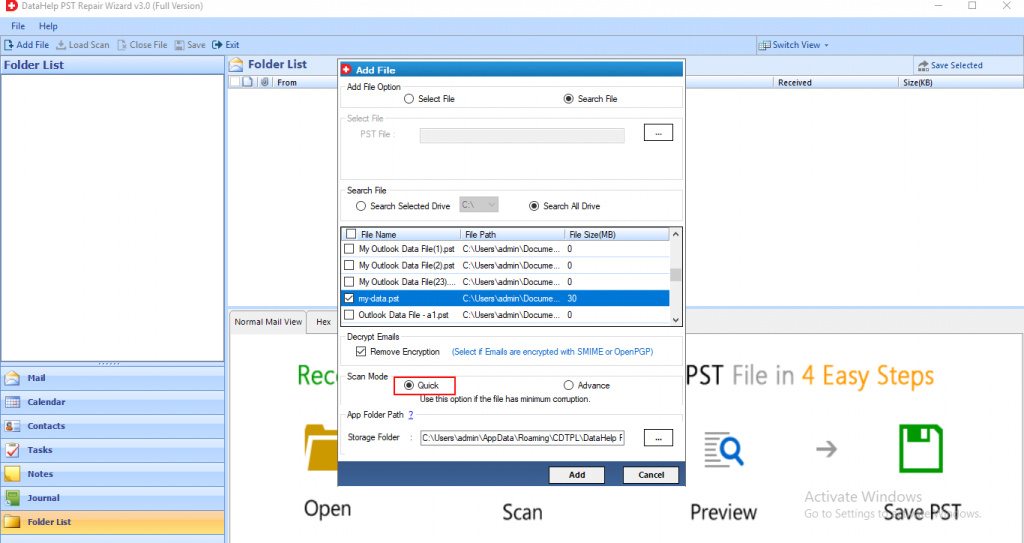 Step 4: Now, the tool starts the scanning process. Once the process is completed view all the data in the left panel of the tool.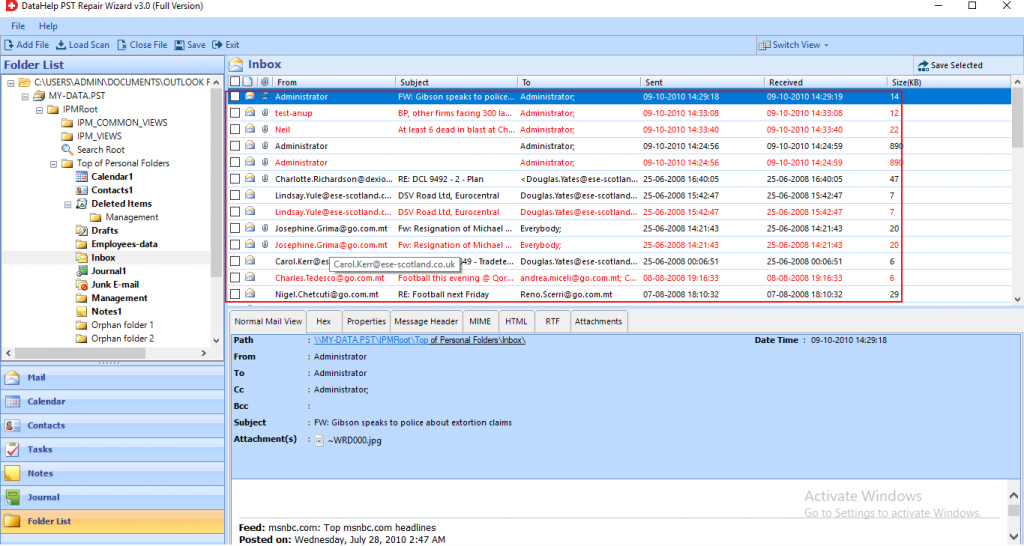 Step 5: Finally, the OST file is successfully repaired. Click on the Export button.
Wrapping Up
While using the Outlook many users encounter many errors such as "Outlook cannot find OST file" issue. In this article we have mentioned resones & solutions of this error. The manual way is not the safest and reliable way to tackle Outlook issues as it may cause data loss.
So, we recommended the automated solution that is a secure and trustworthy solution to fix corruption issue.