How to Import Phone Numbers from Excel to Gmail Using Expert Solution?
Do you need to Import phone numbers from excel to Gmail? Regrettably, you are not aware of the manual process for doing the same. You may use Google Contacts to import a large number of contacts from an Excel spreadsheet into Gmail. If this is the case, you must first convert your Excel contacts to vCard or CSV format. It's because Gmail doesn't allow you to import Excel XLS / XLSX files directly. We'll walk through the complete process of how to import phone contacts from Excel to Gmail in today's article (Gmail).
Excel is a popular tool for storing and organizing huge amounts of information. The majority of users choose to keep contact information in an Excel spreadsheet that includes first and last names, phone numbers, email addresses, and other details.
Gmail, a user-friendly and free email tool, is widely used for both personal and corporate purposes around the world. Contacts or phone numbers play a significant role in many people's lives. Furthermore, users do not want to lose their data in the future due to technical or human faults. As a result, it's critical to back up or duplicate your contacts to a secure platform like Google Contacts. Apart from that, users may quickly call or send emails from their Office computer, so they can import Excel contacts to Gmail in a variety of ways.
As a result, users may need to know how to transfer phone numbers from Excel to Gmail. Because Gmail includes an inherent feature for importing phone numbers in CSV format, the process may complete quickly and easily.
Reason to Import Phone Numbers from Excel to Gmail
Gmail offers strong security and requires verification when you sign in. Therefore, many users are looking for a solution to import Excel contacts to Gmail account. It provides large files for attachments up to 200 MB.
Google Mail also offers some advanced features:
Gmail is a highly secure platform for storing, sending and receiving emails. Built on Google Cloud Platform, it offers the highest security standards available today.
The free version of Gmail offers 15 GB of storage per user, while the Google Workspace Basic plan offers 30 GB of storage, so you always have plenty of space for incoming messages and attachments.
Google Workspace admins let admins control how data is protected, view reports, and manage mobile device security.
Provides criteria for marking messages as important, unread, etc.
Easy to configure Outlook, Thunderbird, Yahoo, etc.
Automated Solution to Import Excel Contacts to Gmail Account
Excel Converter Tool easily convert Excel file contacts to vCard without losing any information. It allows users to export the generated VCF file to any Android mobile device. In addition, the vCard version has nothing to do with Android phones, users can easily import Excel contacts to Android phones. Hence, vCard files are known to be a compatible format to export/import contacts on various mobile devices like Samsung, Huawei, WhatsApp, Motorola, OnePlus, Blackberry, Nokia tablets etc.
The software allows users to export XLS files to vCard with just a few clicks. With the help of this Excel contacts to vCard converter utility, user can safely transfer multiple address books from Excel file to vCard. It is an automatic device that is easy to use, especially suitable for beginners. No experience or guidance is required to perform Excel file conversions. With all available contact information, contacts are securely transferred from XLSX file contact to VCF file format. After that, users can freely import email addresses from Excel to Outlook, Android, iPhone, etc.
Complete Guide to Import Phone Numbers from Excel to Gmail
First you need to XLSX to VCF Converter Software
To convert excel contacts to Google contacts, open the software on your computer and select Browse
Select your contacts Excel file by navigating to its location. Click the Open button
The software will load and display the whole contents of the file on the screen. Then Click on Next option
You must now match the Excel CSV fields to the vCard fields. To do so, go to the Excel Fields section and select a CSV field, then go to the vCard Fields section and select the required field
Once all of the fields have mapped, click the Next button to resolve the issue of how to import contacts number from Excel to Gmail
Choose the vCard version and other options you want
Finally, click the "Convert" button to convert the Excel file to vCard
Following that, conversion will begin, and the tool will provide the current stage of the process, as well as the total number of empty email addresses and contacts added.
Click Yes to view the files that have been successfully converted.
Step 2: Import the vCard File into Gmail
Sign in to your Gmail Account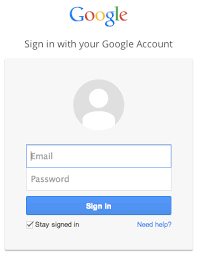 Click on the "Google Apps icon" and select "Contacts"
Select the "Import" option to import contacts from Excel to Gmail
In the import contacts wizard, "Select the CSV File created in step 1″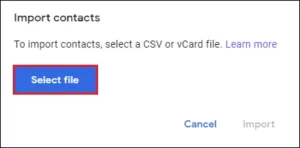 After selecting the .csv file, click the Import button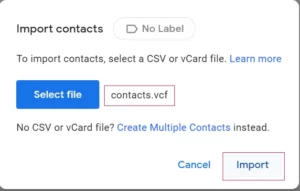 Complete! Thus, you can easily save contacts from Excel to Google Contacts for free.
Final Words
In today's environment, contacts are essential. As a result, we've demonstrate how to import phone numbers from Excel to Gmail. Simply export Excel contacts to vCard/VCF format to import them into Gmail. In this article, we've covered the simple steps to import your Excel file into Gmail.