How to Save Bulk Contacts in Phone from Excel?
If you are seeking how to Save bulk contacts in Phone from Excel? If yes, then this is the right place for you to save all contacts into the Phone from an Excel document. In this article, we will discuss the two methods which are manual & automated methods. They both help you to make your task easy and simple without facing any trouble.
As we all know that in today's life smartphones are ruling the world and every high-end mobile device is running on the Android OS. Mobile devices are very important to communicate, without contact information it is not possible to communicate with anyone.
Several users are managing all their contact information like email addresses, business addresses, images, names, etc., in an Excel sheet. So, if you are also one of those users who use Excel sheets to manage their contacts information and want to know how to import bulk contacts in Phone from Excel then it is impossible to directly copy these contacts. You need to use automated solutions for the same.
So, let us move towards the automated solution first and go to the manual method for saving multiple contacts in Phone from Excel one by one.
Also Read: How to Import Email Addresses From Excel to Outlook?
Smart Solution to Save Multiple Contacts in Phone From Excel
We recommend you to use Excel Contacts Converter Software for an easy and quick solution for saving multiple Contacts phones from the Excel document. It is compatible for both Win OS and Mac OS. This tool is completely safe & secure to download and run. It also comprises a user-friendly interface due to which every technical and non-technical user can easily use it without facing any hassle.
For Windows:
For Mac:
And, it is designed with an interactive user interface that requires no technical expertise. However, users can easily save multiple or single contacts on the phone from excel without facing trouble while performing this task. So, we suggest you use the software for an easy and simple process to complete your task.
Now, after knowing about the software that how it works. Let us move towards its working steps which are mentioned in the below section step by step:
Working Process Explained For the Software
Follow these steps to finish the task to save bulk contacts in Phone from excel using the tool. Let's start the process:-
1. Download & run the software on your Windows machine. And, go to the start menu>>All Programs>> Software>> Click on the software to launch the Software.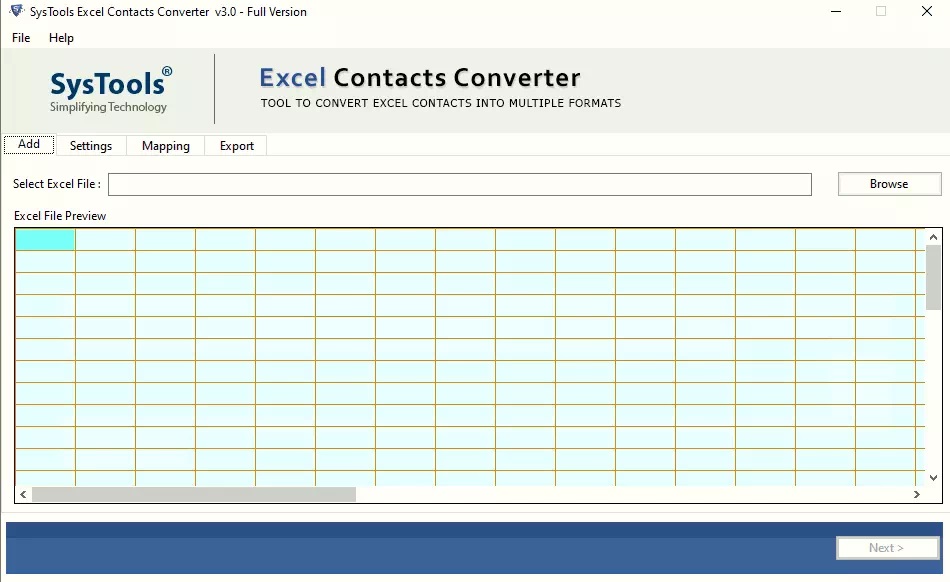 2. After the Excel Contacts file scanning process completes, you can see the "Preview" of your added CSV contacts file in the Excel File Preview section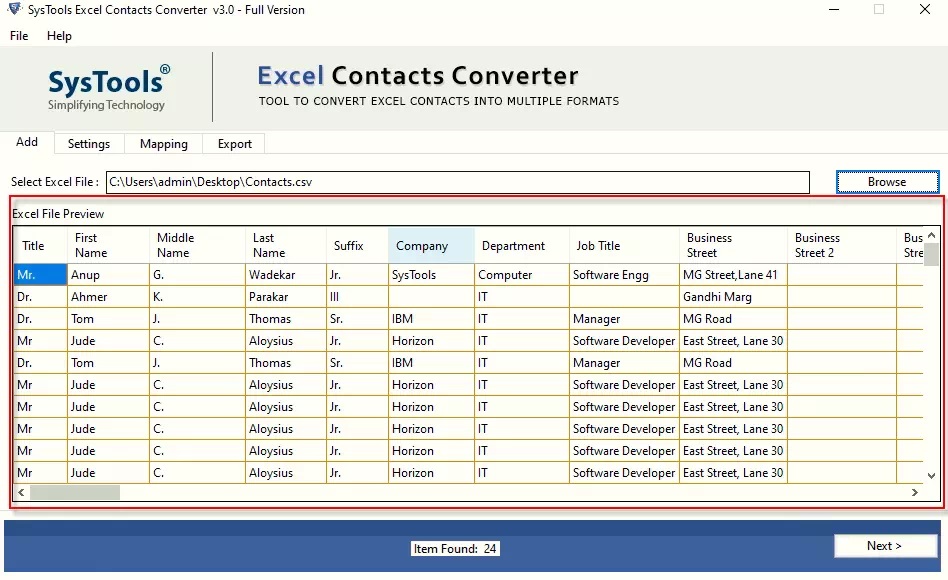 3. Now, select the "vCard" radio button from the "Export option"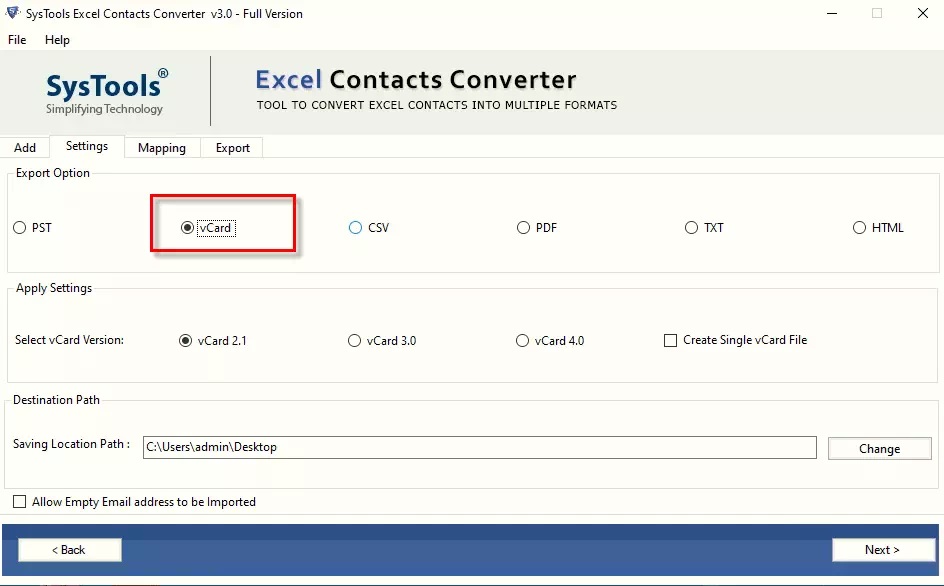 4. Then, the mapping is completed click on the Export button to start the process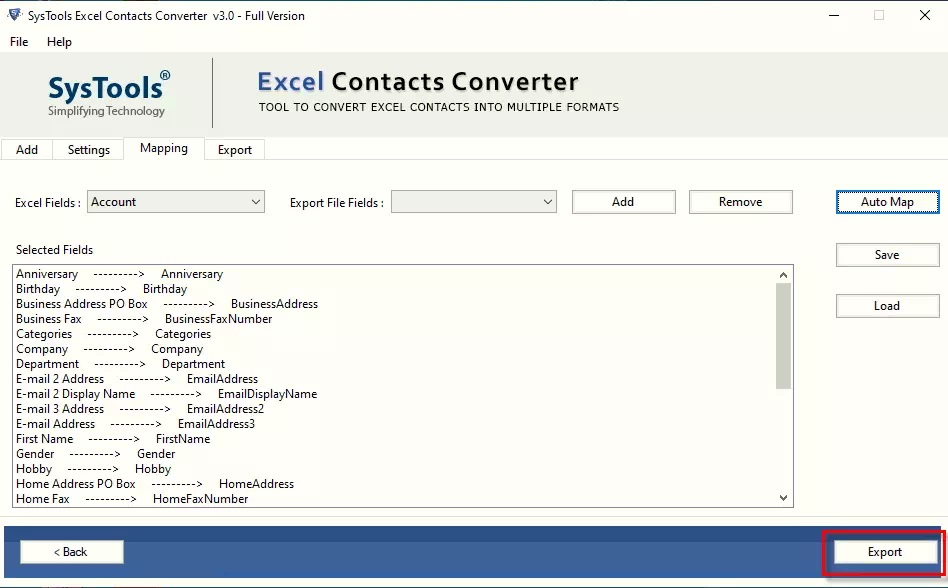 5. Finally, the Contacts have been exported successfully, would you like to open a folder containing the exported file? And, click on the "Yes".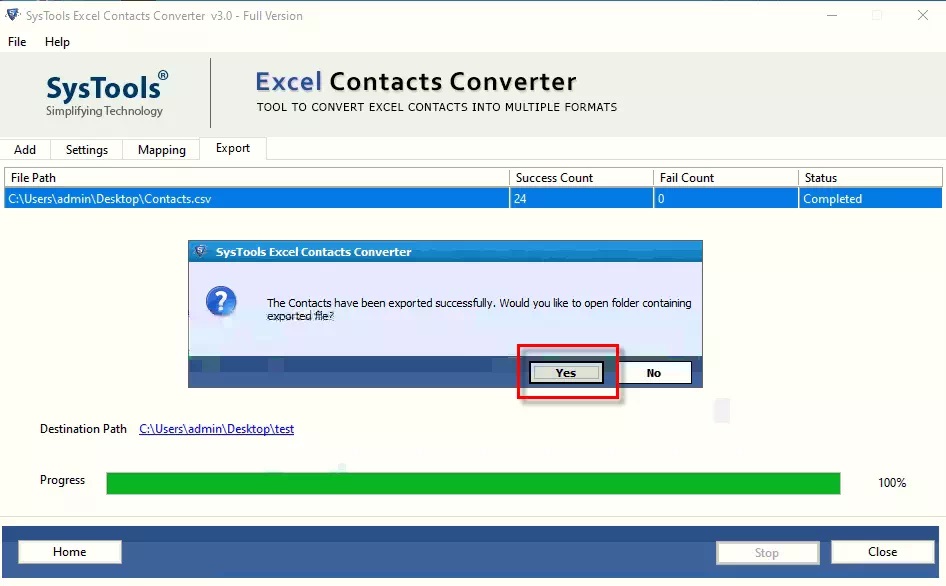 So, this is how we completed the process in an easy & simple manner without facing any errors. Now, let us move towards the manual method that works for saving contacts on the phone from Excel documents.
Also Read: Import Phone Numbers From Excel to Gmail?
How to Save All Contacts in Phone From Excel Manually?
To perform the manual method you need to follow the below steps by importing CSV contacts to Phone in easy steps:-
Firstly, you need to sync Phone contacts with iCloud. If you have already done this, just skip this step.
If not, on your Phone, go to the Settings. Tap your name and then tap iCloud. Now, turn on Contacts.
Now, in the ContactsMate, click on the Add Account in the app's toolbar, which brings up the Internet Accounts window
Select iCloud and sign into it with your Apple ID. Then, select Contacts, as shown in the screenshot. Close the window
After that, you should find a new group called iCloud on the sidebar in ContactsMate. If the group doesn't appear, then quit the app and relaunch it
Select the group iCloud and then click on Import in the toolbar. Now, select the CSV file that contains the contacts you want to import to your Phone and click on Open
Finally, the changes are synced to the Phone, and you can successfully import CSV contacts to your Phone.
Note: This is a manual method which is a difficult and confusing process for non-technical users. And, users have to face several challenges to perform manually. So, we just suggest you use the above software to save all your Contacts on the Phone from Excel without any trouble.
Also Read: Best Way For Exporting Contacts From Excel to WhatsApp
Conclusion
In this blog, we have discussed how to save bulk Contacts in Phone from Excel? Here you get two methods which are manual methods & automated solutions. As you read the above post you find that the manual method is a challenging process for non-technical users.
So, you don't need to worry, we also suggest an expert recommended automated software which is an easy & quick solution. It supports both technical and non-technical users to save multiple contacts on the Phone from the Excel document. This utility supports both Win OS & Mac OS. Now, it's up to you which is better for you and saves your time & efforts.